The Global Water Partnership-Caribbean (GWP-C), in collaboration with the GEF CReW+ and UNEP Caribbean Environment Programme (CEP) and Cartagena Convention Secretariat, are pleased to offer a limited number of full and partial scholarships to successful applicants interested in completing a Water and Wastewater Operators Course. It is important to note that applicants must be residents and nationals of a Caribbean country.
The Water and Wastewater Operators Course will be delivered by The University of Technology (UTech), Jamaica, through their Faculty of Engineering and Computing.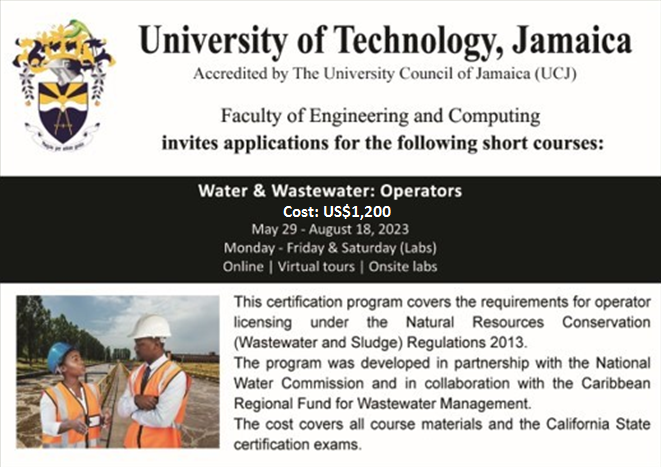 Application Deadline Date for Scholarships
Interested scholarship applicants must complete the required UTech course application form here and submit it to info@gwp-caribbean.org by May 14th, 2023 at 11:59 p.m. AST.
Note: Only successful scholarship recipients will be notified by GWP-C.
Access the following key downloads, which provide further details on the Water and Wastewater Operators Course:
Wastewater Management Training Brief