The International Water Resources Association (IWRA), along with the Ministry of Water Resources of the People's Republic of China (MWR), is pleased to announce that the call for abstracts and special sessions is now open for the XVIII World Water Congress on "Water for All: Harmony between Humans and Nature," to take place in Beijing, China, September, 11th – 15th, 2023.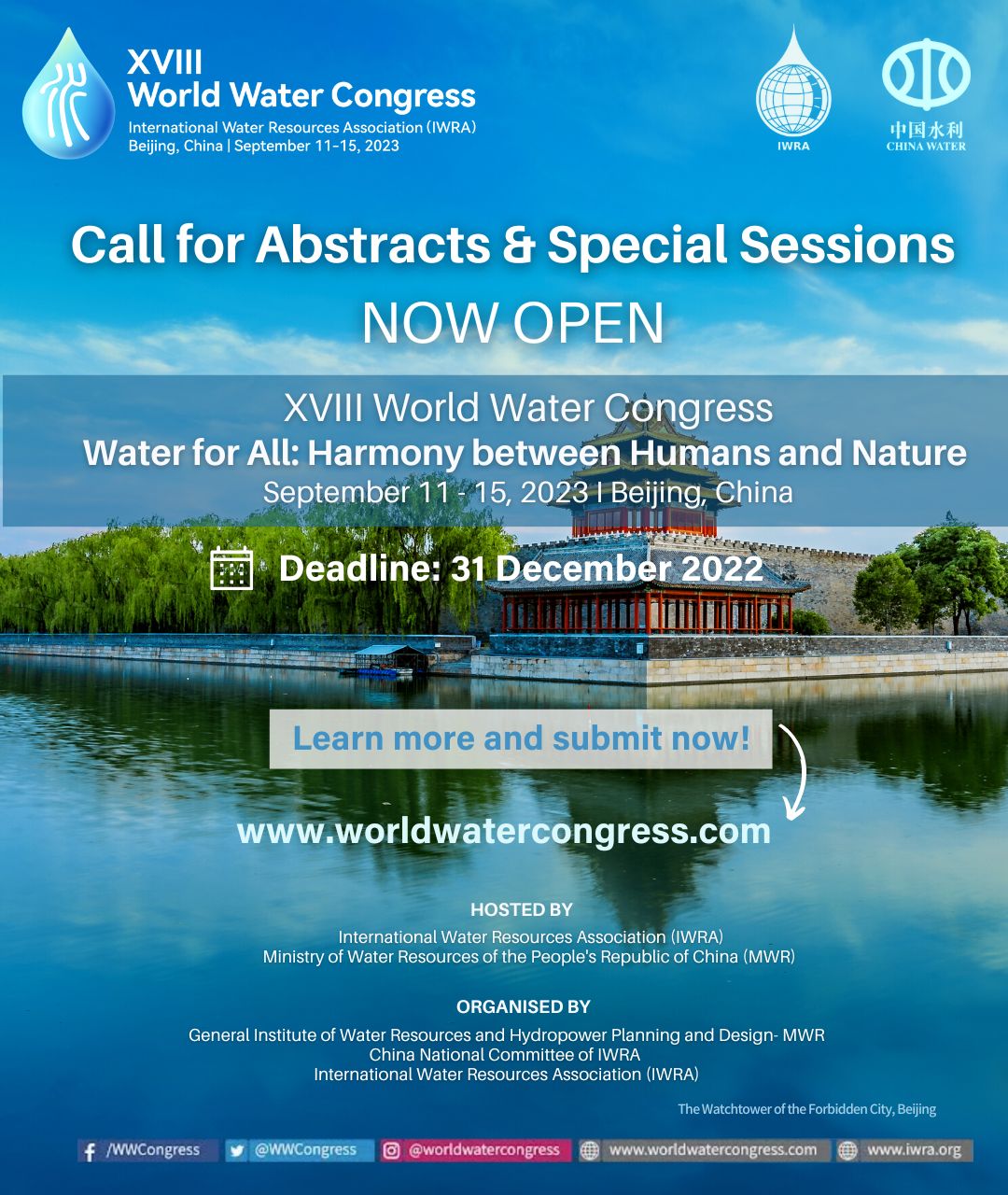 The Congress will facilitate knowledge and experience sharing, focusing on investigating the relationship between water, humans, and nature, identifying and reconciling all water-related factors in a coordinated manner, and formulating and implementing water management strategies and policies using systematic approaches.
Call for Abstracts
The International Scientific Committee (ISC) welcomes papers for oral presentations and poster presentations at the XVIII World Water Congress, which will be presented during the main congress programme. Experts, academics, policymakers, water professionals, private sector practitioners, and civil society stakeholders, from all disciplines and perspectives who wish to share their work and experiences during the Congress, are invited to submit abstracts. Abstracts can only be submitted online through the official Congress website.
Get all abstract submission guidelines and submit your abstract here: www.worldwatercongress.com/abstracts.
Please Note:Individuals submitting abstracts must first register for the Congress before submitting their abstracts. Presenters of accepted abstracts will have to pay the registration fees in order to present their work at the Congress.
Call for Special Sessions
Special Session proposals are welcome from organisations or groups that wish to run a session or workshop that presents their work on subjects related to the themes of this Congress. The format can vary from panel discussions to workshops. Innovation is welcome. These sessions are part of the main programme and open to all Congress attendees. There is no charge to hold a special session, but all speakers should be registered, and any additional expenses beyond the provision of the room and standard audio-visual equipment will be managed by the session organisers.
For more information about the submission process, please visit: www.worldwatercongress.com/specialsession.
The Deadline for the submission of Abstracts and Special Session Proposals is December 31st, 2022!