My name is Adelin Pierre, and I am a young professional and a climate activist from the beautiful island of Hispaniola, Haiti. I attended the recently held 17th UN Climate Change Conference of Youth (COY 17) and the 27th Conference of the Parties (COP 27) of the United Nations Framework Convention on Climate Change (UNFCCC) in Sharm El-Sheikh, Egypt. I want to highlight my experience from COY 17 and COP 27 as a member of the official youth delegation from Haiti.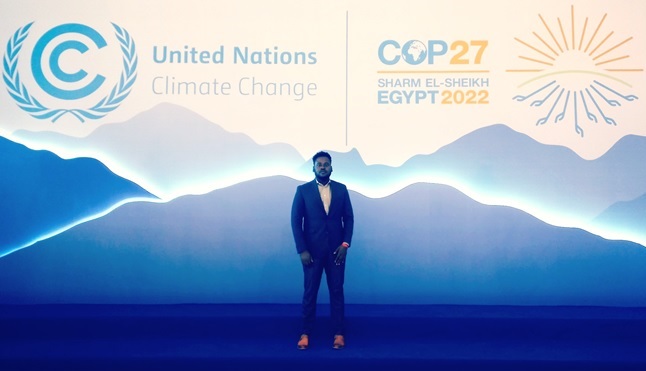 As one of the organisers of the Local Conference of Youth on Climate change in Haiti (LCOY Haiti), it was a privilege to present the demands of Haitian youth and those from the Caribbean region at COY 17. A Conference that brought together more than 500 young people, activists, and entrepreneurs from around the world. At the forum, I provided my input on the Global Youth Position Statement, which includes the demands/recommendations from youth worldwide. Also, I prepared some critical messages in collaboration with other activists from Latin America and the Caribbean. These were showcased during COP 27.
Besides being a young islander and climate activist, I have been nominated by the Ministry of Environment of Haiti to follow the themes related to Action for Climate Empowerment (ACE) and Gender and Climate Change. During the two (2) weeks of COP27, discussions on different matters took place, especially on adaptation, mitigation, and finance. From my experience, it was difficult for parties to agree on specific issues, but they found a way to develop an action plan and adopt some articles in the proposed text for both ACE and gender and climate change.
As a Caribbean youth delegate at COY 17, it allowed me to strengthen my capacity and connect with other young leaders and activists from around the world and finalise the Global Youth Position Statement. This Statement was presented to the Minister of Youth Affairs, the Executive Secretariat of UNFCCC, and the COP 27 Presidency.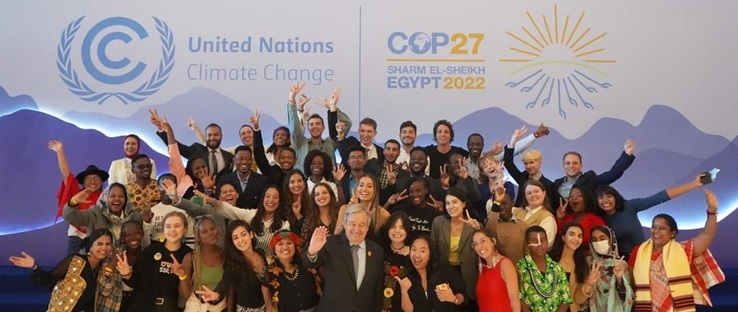 At COP 27, I had a significant opportunity to participate in a meeting with the UN General Secretariat. We discussed the problem our planet is facing, including climate change, and presented the Global Youth Position Statement. At the Meeting, I stressed the need for attention to be given to the Caribbean region, because we are very vulnerable to climate change; we are facing the effects of the climate crisis every single day and need urgent funding to adapt to it.
One of the outcomes of COP 27 in Egypt is the agreement for Loss and Damage. This is a mechanism to provide financial support to developing countries, especially those most affected by climate change, such as Small Island Developing States (SIDS).
I believe "We need to create a safe space for young people in the Caribbean where they can meaningfully engage in the climate change and water sectors to come up with innovative solutions in their community.''
This is why I call on all national governments in the Caribbean region to develop a youth ambassador programme to engage young people under 30 years in climate change and to support to the regional Conference of Youth on Climate by providing experts, funding, and resources to youth-led organisations.
Young people from developing countries are among those most severely impacted by climate change. We cannot address the climate crisis without them. I expect the next COP will be more inclusive and support more people from Small Island Developing States to showcase their ideas and raise their voices during the high-level political conference on climate change.
About the Author
This youth feature was contributed to the Global Water Partnership-Caribbean (GWP-C) by Adelin Pierre who is also the President of one of GWP-C's Partners in Haiti: Parlement Haïtien de la Jeunesse pour l'Eau et l'Assainissement (PHJEA)/ Haitian Youth Parliament for Water and Sanitation.