Following the successful completion of the study, GWP-C saw an opportunity to share knowledge and build capacity of environmental professionals in the DR, on the technical management of climate data sets and tools for rainfall projections and climate scenarios. GWP-C therefore partnered with Consejo Nacional para el Cambio Climático y Mecanismo de Desarrollo Limpio (CNCCMDL) and the NDC Support Unit in the DR, to put on a series of four (4) virtual half-day training workshops under the theme "Climate Scenarios" focusing on "Rainfall Projections" and "Flood and Landslide Risk Assessments." The training events were held on:
February 3rd & 4th,2021 – Training on Rainfall Projections and Statistical Downscaling
February 10th and 11th, 2021 – Training on the Use of Environmental Software to Develop Risk Assessments
There were two (2) Facilitators for this training event. One being Dr. Kerian Ferreira, a Climate Scientist and Lecturer with experience in natural resources management and atmospheric sciences. Her areas of research and expertise include variations in tropical atmospheric circulation and tropical precipitation over time and space, implications due to climate change, and impacts on the hydrological cycle and water resources. This also includes an assessment of projected impacts on climatological extreme events such as flooding, drought, storms, as well as sea level rise. She also examines the role of topography and zonal asymmetries in land and ocean in relation to regional inhomogeneities in tropical atmospheric circulation and precipitation patterns.
The other Facilitator was Dr. Ronald Roopnarine who is a Geospatial/Geotechnical Soil Scientist with experience in Regional Land Management and Hazard Assessments, Integrated Water Resources Management (IWRM), Disaster Risk Management, Remote Sensing, Land Degradation, Climatic Modelling, Hydrodynamics and Sustainable Development. Dr. Roopnarine has a wealth of experience in various aspects of land and water management in Caribbean Small Island Developing States which include Trinidad and Tobago, Barbados, Grenada, Jamaica and the Dominican Republic.
Training on Rainfall Projections and Statistical Downscaling (February 3rd and 4th, 2021)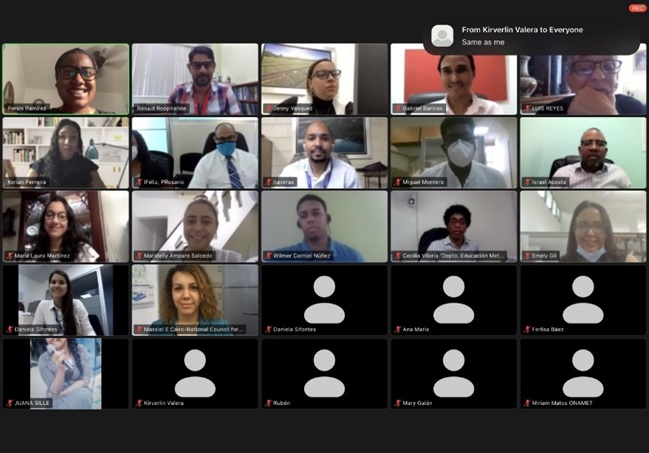 This session was developed in response to capacity development needs identified by the DR. Recognising the needs of decision-makers to prepare for climate change, downscaling tools are utilised to provide climate projections at spatial and temporal scales, much finer than those made by Global Circulation Models (GCMs).
Downscaling relies on the assumption that local climate is a combination of large-scale climatic/atmospheric features (global, hemispheric, continental, regional) and local conditions (topography, water bodies, land surface properties).
Training on the Use of Environmental Software to Develop Risk Assessments (February 10th & 11th, 2021)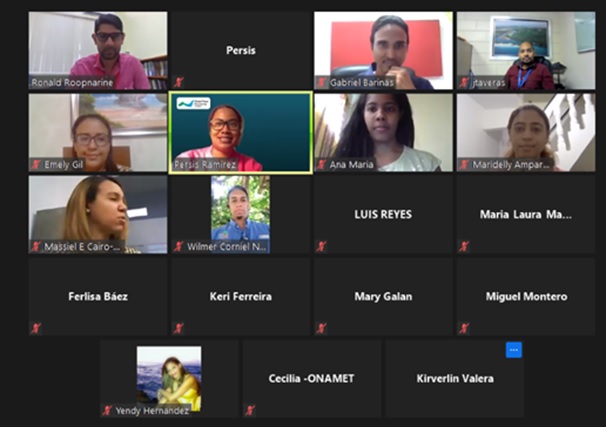 A change to proactive management of natural disasters requires an identification of the risk, the development of strategies to reduce that risk, and the creation of policies and programmes to put these strategies into effect​.
This workshop focused on Risk Management as a fundamental activity geared towards the evaluation of schemes for reducing but not necessarily eliminating, the overall risk, as in many cases risk cannot be entirely eliminated​. It also looked closely at the steps associated with risk assessment and management.
The two-week training workshops were attended by over thirty (30) participants from the following institutions in the DR:
Ministerio de Medio Ambiente y Recursos Naturales
The Nature Conservancy (TNC)
Instituto Nacional de Recursos Hidráulicos (INDRHI)
Ministerio de Economía, Planificación y Desarrollo (MEPYD)
Oficina Nacional de Meteorología (ONAMET)
Instituto Nacional de Aguas Potables y Alcantarillados (INAPA)
Oficina Nacional de Estadística (ONE)
Pontificia Universidad Católica Madre y Maestra (PUCMM)
Overall, participants indicated that the training was valuable and helped to improve their understanding of management of data for climate scenarios.
NEW RESOURCES
Policy Brief on "Improving Climate Risk Resilience through National Data Management in the Dominican Republic" (English & Spanish Versions)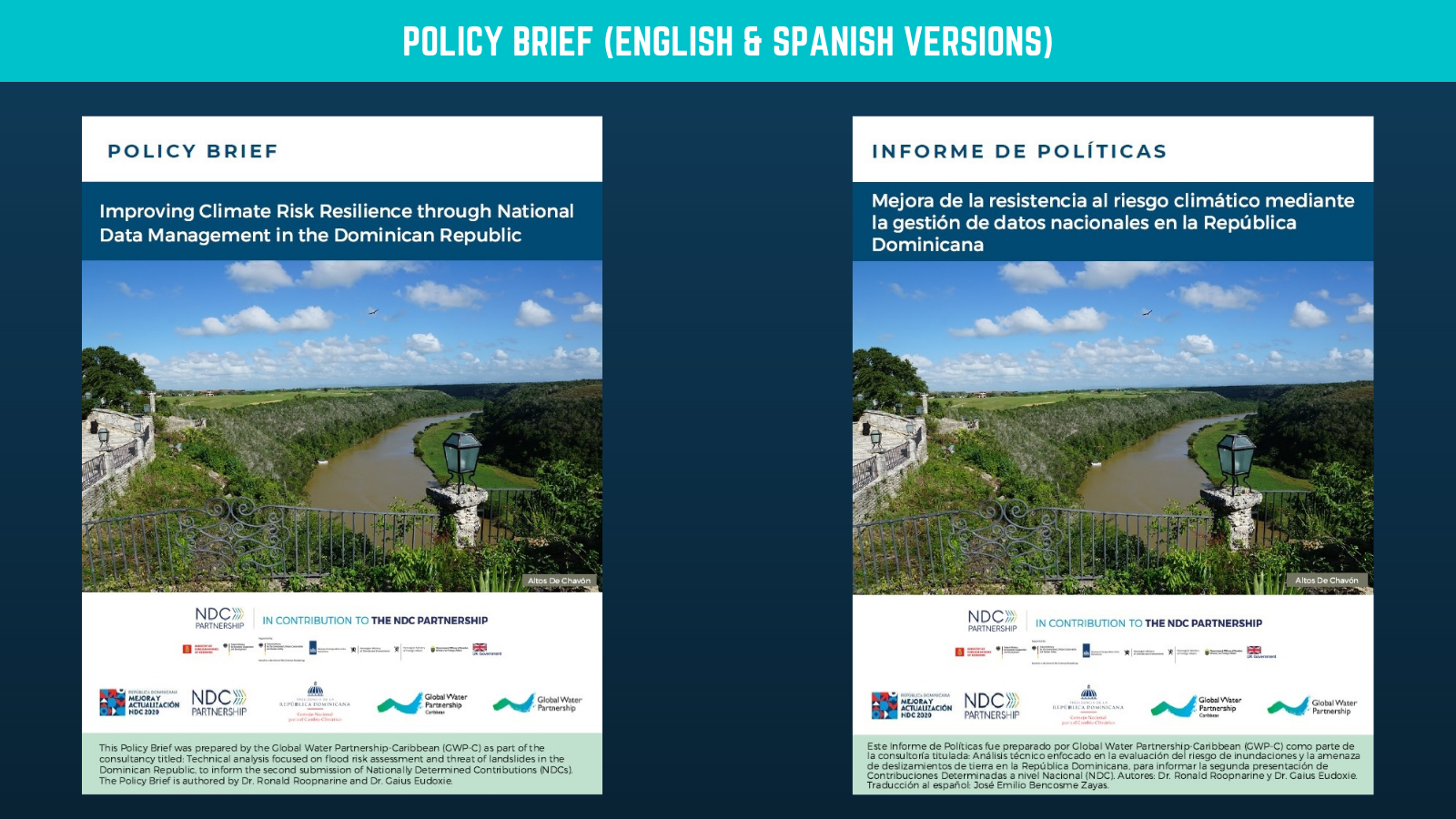 Download the English and Spanish versions of the Policy Brief below:
In addition to the training workshops, a key output produced in February 2021 coming out of the overall technical study on flood risk assessment and threat of landslides in the DR was a Policy Brief. The Policy Brief (available in both English and Spanish) is titled "Improving Climate Risk Resilience through National Data Management in the Dominican Republic." It was prepared by GWP-C and authored by Dr. Ronald Roopnarine and Dr. Gaius Eudoxie with the Spanish translation done by José Emilio Bencosme Zayas.
Recent hydrometeorological disaster risk assessments performed in the DR, support the critical role of data collection and management in achieving the National Development Strategy 2030, particularly objectives under strategic axis four, which aims to create "A society with a culture of sustainable production and consumption, which manages risks and the protection of the environment and natural resources with equity and efficiency and promotes adequate adaptation to climate change." The Policy Brief aims to complement other similar and related works to solidify the position that environmental data collection including climatic data and subsequent analysis and management, is critical to the DR's developmental agenda.