Important Information Required
The following participants listed below in our Theme Song Challenge, are kindly asked to send us a verification e-mail at info@gwp-caribbean.org stating your name, using the same e-mail address from your submitted entry. Please e-mail us by Thursday, September 3rd, 2020.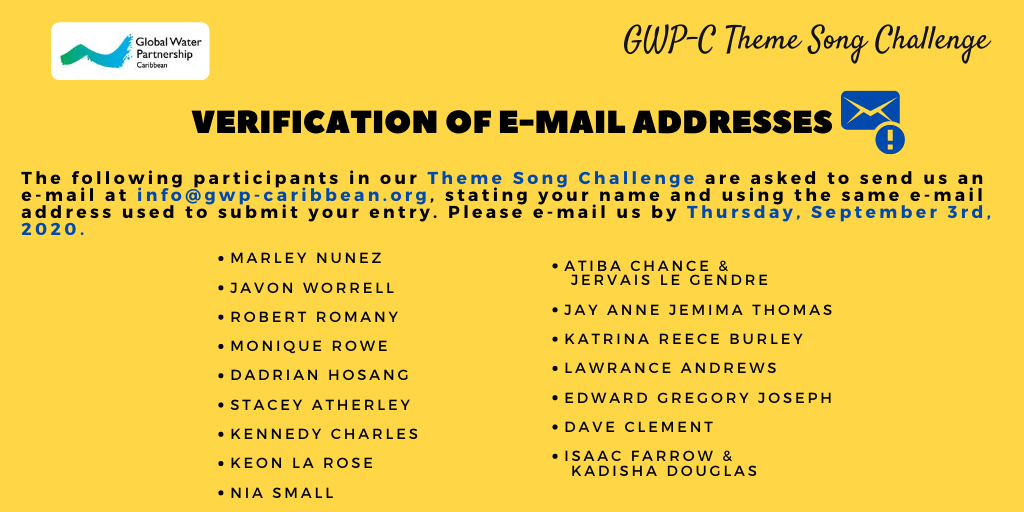 The judging process in the Global Water Partnership-Caribbean (GWP-C) Theme Song Challenge is in its final stage! The winners of the competition will be announced on GWP-C's website, Facebook and Twitter pages on Wednesday, September 9th, 2020.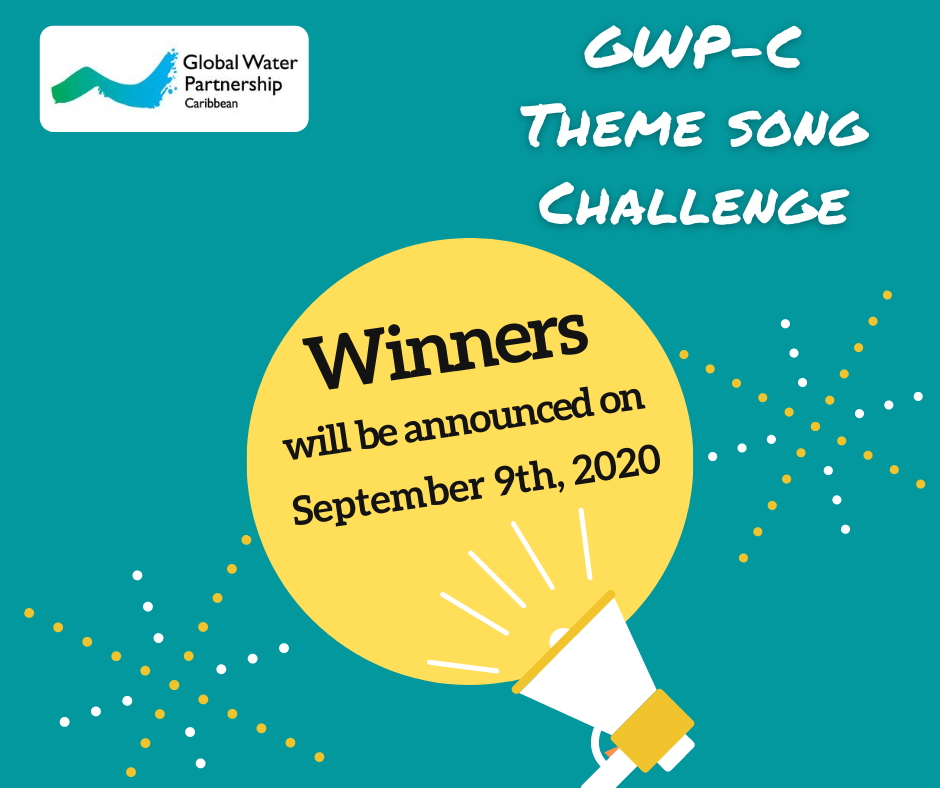 Here's a look at the participating countries in the competition! All the best to all entrants. We thank you for taking-up this challenge!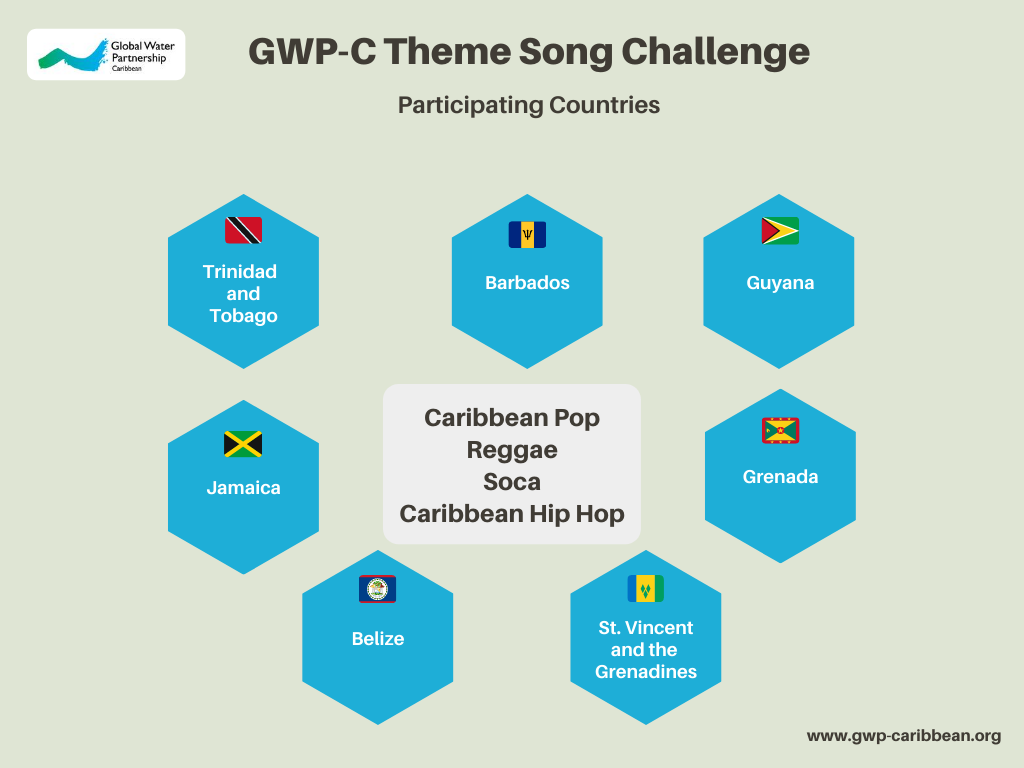 About the GWP-C Theme Song Challenge
This year marks the 16th anniversary of the Global Water Partnership-Caribbean (GWP-C). Since being established in 2004, GWP-C continues to work towards its vision of "A water secure Caribbean."
To commemorate its 16th anniversary, GWP-C has launched its "Theme Song Challenge." A competition to engage Caribbean creatives, singers, songwriters, music producers or anyone willing to take-up the challenge of writing and producing a GWP-C theme song. One that creatively describes GWP-C's work, mission and vision. Here are the rules!
Who Can Enter?
Caribbean nationals of all ages.
Music Genres
Theme songs submitted should be from one of the following genres:
Caribbean Pop
Soca
Reggae
Caribbean Hip Hop
Length of Song
The song should be 2 to 3 minutes long. It should not exceed 3 minutes.
Instructions
Applicants have full creative control in writing and producing the theme song but must include the following in their entry:
The name Global Water Partnership-Caribbean (GWP-C).
GWP-C being a network of Partners seeking to achieve the common goal of a "Water Secure Caribbean."
The mission and vision of GWP-C.
GWP-C promoting the process of Integrated Water Resources Management (IWRM) as the best way to manage water resources.
Explain IWRM in simple terms.
Download a list of key links here which will provide relevant information on GWP-C to support the song writing process.
Each applicant is required to submit a song not exceeding three (3) minutes, in any of the four (4) genres specified above. The song can be performed as a solo, duet or group.
Judging Criteria
Submissions will be judged based on:
Creativity
Originality
Lyrics
Music and Melody
Song Structure and Composition
GWP-C Information Incorporated in Song
How to Apply
All entries must be submitted using this online form: https://forms.gle/rpPCMb5WgzHfCq3z9 (you must sign into a Google Account) which would allow the upload of the audio file. The lyrics for the entry should also be submitted.
Deadline
The GWP-C Theme Song Challenge ends on Sunday, July 19th, 2020 at midnight Atlantic Standard Time (AST).
Important Information:
Only original music will be accepted. By taking part in this competition, applicants give GWP-C the right to use their material in the promotion of its work. GWP-C will always give creative credit to any material used.
Prizes:
1st Prize: 1,000 Euros
2nd Prize: 500 Euros
3rd Prize: 250 Euros
The applicant with the winning entry, must be willing to work with GWP-C to make further changes (where relevant) based on feedback to produce a final product.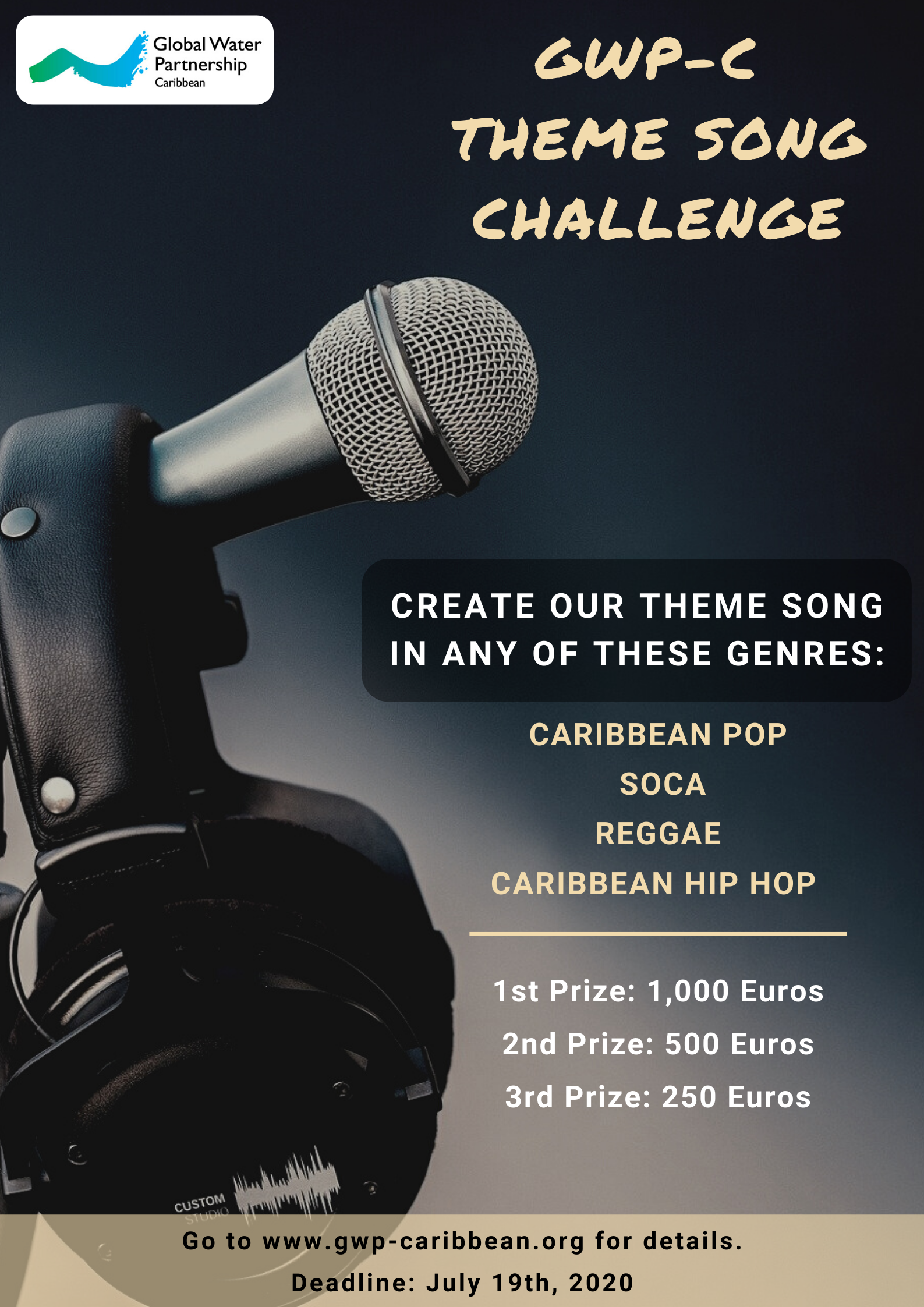 Contact Us
If you have any questions about the competition or require technical assistance with your submission, contact us at: info@gwp-caribbean.org.