Assuming office as Regional Coordinator on October 1st, 2018, Ms. Lewis was tasked with navigating through the repositioning of the GWP-C. An organisation that even through some turbidity prior to her appointment, never wavered on its vision of "A Water Secure Caribbean."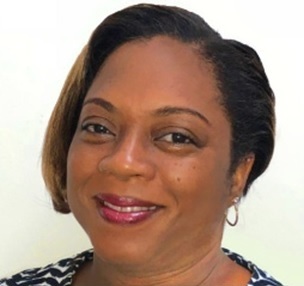 Simone Lewis - GWP-C Regional Coordinator
The past two years with Ms. Lewis at the helm has been a mix of rebuilding, having vision, strengthening of the Partnership network, teamwork, mobilising resources, forming strategic partnerships, collaboration, building capacity (both internally and externally), creating value, being innovative, engaging for impact, being proactive and adaptable, being decisive, consistent and resilient, just to name a few. She is not only passionate about investing in her team but strives for continuous growth of GWP-C.
Here's a look at some milestones of the GWP-C over the past two years (2018 – 2020) under the leadership of Ms. Lewis:
GWP-C and the Caribbean Community Climate Change Centre (CCCCC) hosted a Regional Green Climate Fund (GCF) Project Development Training for Caribbean Water Stakeholders (water utilities and water ministries).
GWP-C and Caribbean WaterNet (Cap-Net UNDP) carried out three (3) national training workshops on Drought-Risk Management in Antigua and Barbuda, St. Vincent and the Grenadines and St. Kitts and Nevis.
GWP-C and Caribbean WaterNet (Cap-Net UNDP) carried out two (2) capacity building workshops in The Bahamas on: Groundwater Management in IWRM and Hydro-Climatic Disasters in Water Resources Management.
GWP-C played a role in supporting the Grenada National Water Policy Review Process in 2019.
GWP-C launched the first-ever Young Caribbean Water Entrepreneurs Shark Tank Competition in 2019. The 2020 edition of the competition has been launched in partnership with the Caribbean Climate Innovation Center (CCIC).
The GWP-C Technical Committee (TEC) was operationalised. In May 2020, the GWP-C TEC produced a Perspectives Paper on "The Implications of the COVID-19 Pandemic for the Caribbean Water Sector."
GWP-C gained nine (9) new Partners from the following countries: Grenada, Barbados, Guadeloupe, St. Vincent and the Grenadines and Jamaica.
GWP-C mobilised resources (Over 238,174 Euros). The activities implemented with the additional funds raised were as follows:
GWP-C in partnership with the Statistical Institute of Jamaica, produced a Sustainable Development Goal (SDG) 6 Monitoring Guide for Caribbean Small Island Developing States.
GWP-C provided financial support to four (4) Caribbean countries in their reporting to UNEP on the monitoring of SDG Indicator 6.5.1 (Degree of IWRM Implementation). These countries include: Trinidad and Tobago, Grenada, St. Lucia and The Bahamas.
GWP-C is currently supporting the Government of the Dominican Republic (DR) with two (2) major activities to support the updating of the country's second Nationally Determined Contributions (NDC) Report. These activities include a Flood Risk Study for the DR and the development of a Bankable Investment Portfolio for Financing Climate Change Projects in the DR. GWP-C was also able to recruit an additional staff member on a part-time basis for a period of nine (9) months. These activities are financed by the NDC Partnership.
GWP-C built national capacity in Grenada on Integrated Water Resources Management (IWRM) through the Global Water Partnership (GWP) SDG 6 Support Programme. The global Programme is coordinated by GWP in close collaboration with the UNEP-DHI Centre and Cap-Net UNDP.
A Technical Workshop on Project Preparation for Transformational Climate Resilient Water Project Concepts in Latin America and the Caribbean (LAC) for the Green Climate Fund (GCF) was held during August 2019 in Panama. It was organised by GWP in collaboration with the Inter-American Development Bank (IDB) and the Caribbean Community Climate Change Centre (CCCCC), with technical inputs from the GCF Secretariat and the World Meteorological Organisation (WMO). The main outcome of the activity was a Project Preparation Partnership for Climate Resilient Water Projects in LAC for the GCF, between GWP, IDB and the CCCCC.
GWP-C was selected as a member of the Technical Advisory Committee for the Caribbean Community Climate Change Centre (CCCCC) EU Funded Project to Enhance Climate Resilience in CARIFORUM Countries. GWP-C will play an integral role in the Project component "Building Climate Resilience within the Water Sector."
GWP-C established In-Country Focal Points in its Partner countries.
GWP-C established a Partner of the Year Award and In-Country Focal Point of the Year Award.
GWP-C launched its Call for Papers for the first-ever Caribbean Science Symposium on Water, which will take place virtually in March 2021.
GWP-C in collaboration with its Partner, Haiti Survie executed a "Water and Food Security" project to benefit some communities in Haiti that have limited access to water. The activity began in 2019 and continued into 2020, with the reworking of some activities due to the COVID-19 pandemic. Embodied in the project, was a large component of capacity building of stakeholders at the community level. They were trained in areas such as: water and agriculture, hygiene and water sanitation, optimal management of agricultural water with emphasis on drip irrigation.
GWP-C signed a Memorandum of Understanding (MOU) with the Inter-American Institute for Cooperation on Agriculture (IICA).
GWP-C renewed its MOU with the Caribbean Public Health Agency (CARPHA).
GWP-C awarded ten (10) IWRM Youth Scholarships to Partners 35 years and under to do one of four online IWRM courses offered by the Galilee International Management Institute (GIMI).
Shared knowledge on GWP-C and experiences in regional and international fora, as well as Partners' activities in areas such as: Climate-Smart Agriculture, Water Vulnerability Methodologies, Water Scarcity in Agriculture, Water Security in National Adaptation Plans (NAPs), Building Climate Resilience in the Caribbean Water Sector, Enhancing the Climate Science Basis of GCF Funded Activities and more.
We take this opportunity to thank and acknowledge Ms. Lewis for her dedication to the organisation over the past two years. Based on her work and contributions to GWP-C thus far, it is evident that the Partnership will continue to be forward-thinking and inclusive in its efforts to promote and foster better water resources management in the Caribbean region.