In February, Khadija received the news that she was selected to participate in the 2019 Peace Boat Ocean and Climate Change Youth Ambassador Programme. The Peace Boat who is responsible for the Programme, is a Japan-based international non-governmental organisation (NGO) which promotes peace, human rights and sustainability. Established since 1983, the Peace Boat holds Special Consultative Status with the Economic and Social Council of the United Nations (UN). Interestingly, the Peace Boat carries out its main activities through a passenger ship that travels the world, with a goal of promoting the Sustainable Development Goals (SDGs).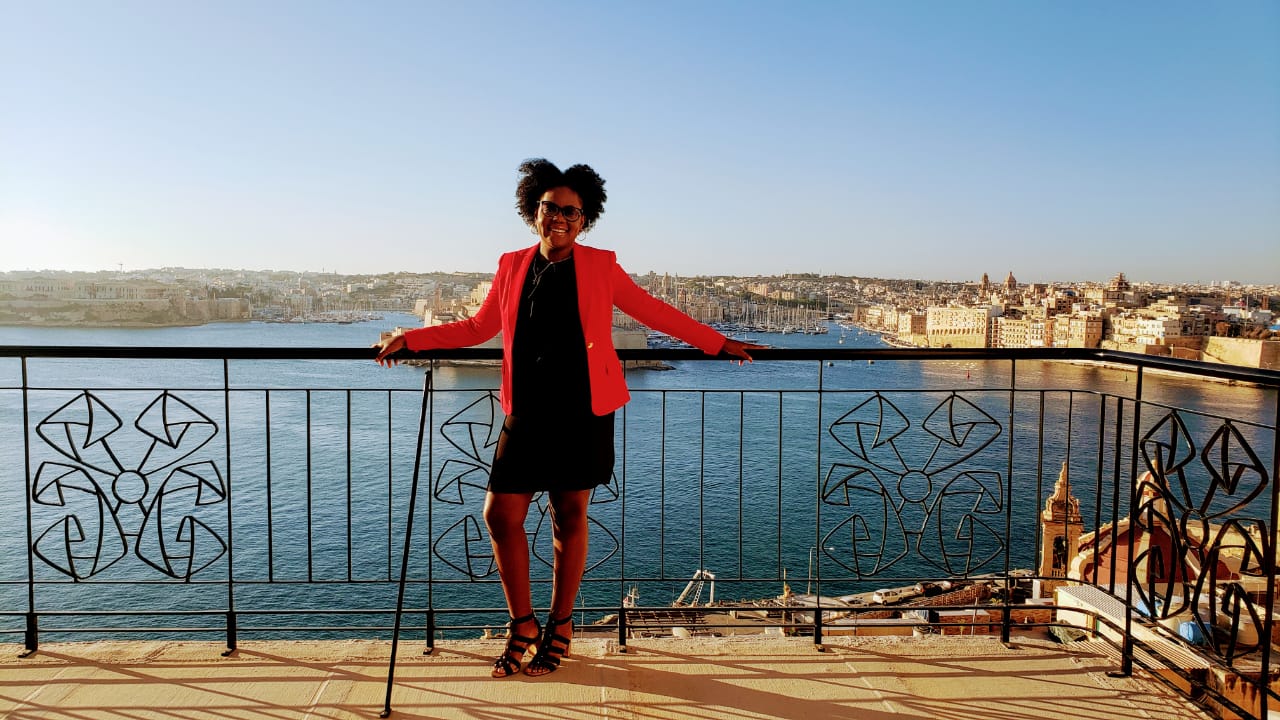 Khadija Stewart at the official start of the Peace Boat Ocean and Climate Change Youth Ambassador Programme in Malta.
The young Trinidadian learned of the Ambassador Programme through the World Youth Parliament for Water, of which she has been a member for over a year. She applied and was selected to represent Trinidad and Tobago based on her professional and personal skills, as well as her academic and professional background.
As a Peace Boat Ocean and Climate Change Youth Ambassador, Khadija embarked on a life-changing voyage from May 23rd – June 9th, 2019 with stops in Malta, Spain, Portugal, Morocco and New York. The Youth Programme was launched three (3) years ago at the 2017 UN Ocean Conference. It brings together young professionals and leaders from small island states, who are on the front line of climate change and marine degradation. Furthermore, it provides them with capacity training and the opportunity to share their messages on climate change and related issues with government and civil society representatives in the countries they visit. Khadija was 1 of 8 young professionals from across the globe, chosen to be part of the third instalment of the Programme. The other youth ambassadors came from Fiji, Montserrat, Seychelles, Singapore, St. Lucia, Tuvalu and Palau.
The Youth Ambassadors touring Ponta Delgada from an environmental lense with Professor José Manuel N. Azevedo, PhD student Afonso Prestes and marine biologist Ignacio Moreu.
The first stop on the three-week voyage was Malta, and it is here that Khadija got one of her biggest take-aways on the trip. A session was organised for the Youth Ambassadors at The University of Malta, there Khadija said, "I was introduced to the concept of Eco Schools and a Children's Parliament on environmental issues." She explained that at the Children's Parliament, kids between the ages of 5 – 12 years meet and are presented with various climate change and environmental problems facing Malta. The children are given the chance to come up with solutions and projects to address the issues, as well as present them to Government Ministers of Malta.
According to Khadija "The fact that these kids play such a powerful role in policy development was mind blowing." She expressed the contrast in children having this type of opportunity in Trinidad and Tobago or in a Caribbean context. She further stated, "The Children's Parliament in Malta holds Ministers accountable; if the kids present something and no action is taken, the Ministers have to respond."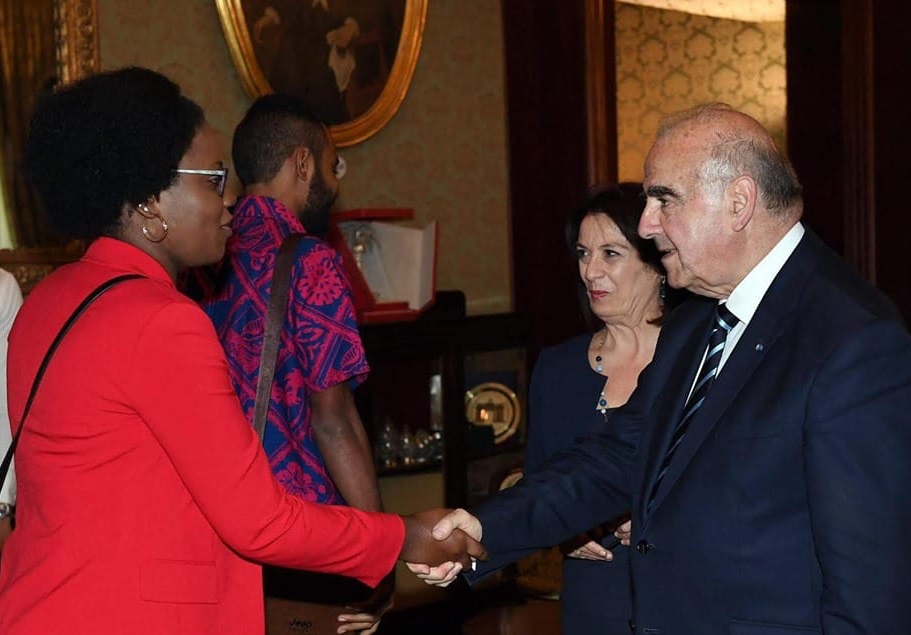 Khadija Stewart meeting the President of Malta, His Excellency Dr. George Vella.
On the Peace Boat voyage, the Youth Ambassadors engaged with government officials, environmental Ministers, NGO leaders, youth organisations, UN officials and more, on climate change and related challenges in their countries. While in Malta, they met His Excellency Dr. George Vella, President of the Republic of Malta who asked them questions about the major environmental issues facing their islands.
Khadija also gave an account of meeting Jeremy Gilley on her journey, founder of the non-profit organisation "Peace One Day." The organisation was established based on Gilley's relentless efforts to have an annual day dedicated to global ceasefire and non-violence, which was unanimously adopted by UN member states in 2001. Since then, September 21st (The UN International Day of Peace) has been declared a period of non-violence and cease-fire. "Jeremy went from having his vision to where it is now, even though he had certain doors slammed in his face" said the 27-year-old. She pointed out that his story was very inspiring, as all the Youth Ambassadors could relate to the underlying message of not giving up.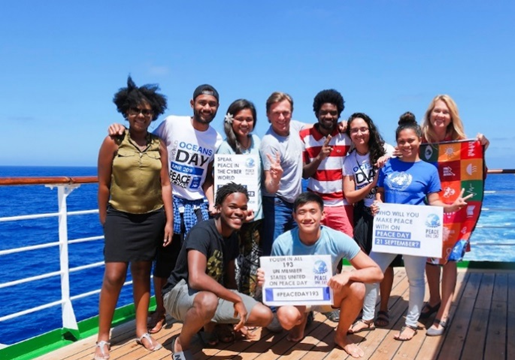 The Youth Ambassadors on board the Peace Boat with Jeremy Gilley, founder of "Peace One Day" and Laura Hildebrandt, Global Policy Specialist of the United Nations SDG Action Campaign.
During the stop in Morocco, a high-level event titled "The Climate Crisis and the Sustainable Development Goals" took place on the ship. It included three (3) discussion panels and Khadija served as a panellist on the one that connected the climate change crisis with education. This session enabled her to share a bit about Trinidad and Tobago in the context of climate change and education.
The Youth Ambassadors also contributed to educational sessions aboard the vessel, on climate change and related issues. In one of these sessions, Khadija focused on climate change and water scarcity and what this means for Small Island Developing States (SIDS). She highlighted water-stressed issues currently facing the Caribbean Region, such as the increasing intensities of the dry season and what this means for water resources. During this session, she also made-mention of the Global Water Partnership-Caribbean (GWP-C) and their efforts to build climate resilience in the Caribbean water sector.

Left Photo: Khadija Stewart seen presenting on Trinidad and Tobago and the country's climate change issues in an interactive session at Malta University. Right Photo: The 27-year old is seen presenting to passengers on the Peace Boat on climate change and her country, Trinidad and Tobago.
These sessions, along with other activities provided a space for inter-regional sharing and cultural exchanges among the eight (8) Climate Change Ambassadors. When GWP-C asked Khadija about her top inter-regional highlights, it was evident that there were too many to list. She recalled her fellow Ambassador from Montserrat, speaking about climate change and the 1995 volcanic eruption on the island. She indicated that he spoke about the psychological effects on citizens because of displacement caused by the eruption and linked it to climate change. She said, "this opened my eyes to the psychological impacts of climate change." She also explained that her colleague from Tuvalu, shared that at high tide the entire island is like a sponge and because of this, people there started to migrate to New Zealand. Khadija stated that the situation in Tuvalu is also linked to the psychological effects of climate change and migration.
Another highlight for Khadija was the knowledge shared by her colleague from Palau, who explained that the country is a tourist-based economy. According to them, at one point the country could not handle the volume of tourists visiting the island and someone very important in the country, declared that "the environment is the economy and the economy is the environment" and started cutting down the number of flights available to limit tourists. Khadija said that she was astounded to learn that Palau has a pledge that requires visitors upon arrival, to vow to be mindful of the environment and not to engage in activities to harm it.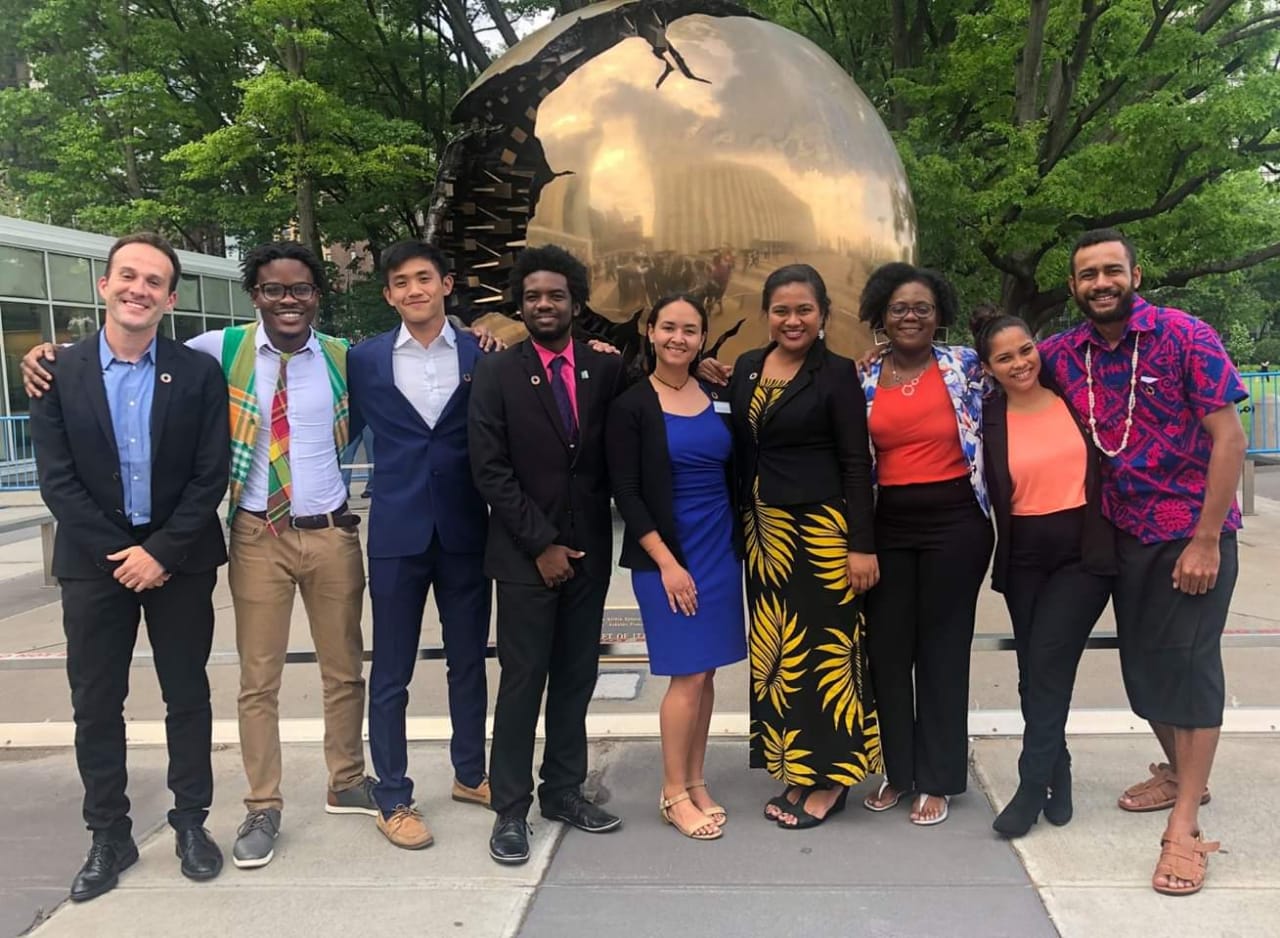 From the Left – Right: Chema Sarri (Program Coordinator ) along with the Youth Ambassadors Ashneil Jeffers, Nathaniel Soon, Jeovanic Henry, Elsei Tellei, Tapua Pasuna, Khadija Stewart, Nathalia Lawen, Eparama Qerewaqa at the United Nations Headquarters in New York.
The three-week experience culminated in New York, to commemorate the UN World Ocean's Day observed on June 8th each year. As part of the World Ocean's Day celebrations, the Youth Ambassadors participated in a 4Ocean beach clean-up. 4Ocean is a global movement actively involved in removing trash from oceans and coastlines. Following this, Khadija along with three (3) of the other Youth Ambassadors, were chosen to speak at a side event at the UN headquarters under the theme "Global Youth Perspectives from Awareness Raising to Action."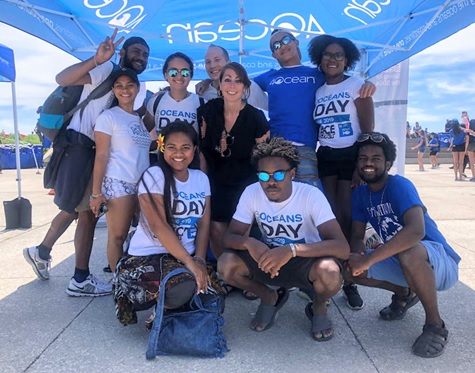 At the 4Ocean Beach Clean-Up in Rockaway Beach New York with Peace Boat US.
Khadija's Peace Boat journey was an invaluable one; compounding her passion for the environment. The 27-year-old is currently pursuing her second master's degree, a Master of Science (MSc) in Climate Change and Development at The University of London. She holds an MSc in Sustainable Environmental Development with Management Studies from Kingston University London and a Bachelor of Science (BSc) degree in Environmental and Natural Resource Management and Geography from The University of the West Indies, St. Augustine Campus.
She describes herself as an enthusiastic environmentalist, which led to the creation of her environmental blog "EcoVybz." She also has a passion for travel and making her mark on the world by moulding her life around three (3) important words: awareness, appreciation and change. Khadija also serves as the Communications Specialist for the World Youth Parliament for Water in a voluntary capacity.
During her interview with GWP-C, she was asked about what sparked her passion for the environment. According to her "Since I was very young, I was always glued to National Geographic and my mom could never get me to move away from the channel…in Form 6 I was introduced to Environmental Studies and my love for it came so naturally…I think because of National Geographic it was in my sub-conscious and because of Environmental Studies I became aware of our relationship with the environment and environmental degradation."
While pursuing her BSc, Khadija was introduced to a course on Policy, Air and Water Pollution, which continued to solidify her knack for environmental studies. However, she claims that by the time of her first master's degree, she truly fell in love with the area of study because of a course she did on Land and Water Management. According to her "The course introduced me to the critical issue of water scarcity, which led to me doing my thesis on Water Quality and Quantity in Santa Cruz, Trinidad."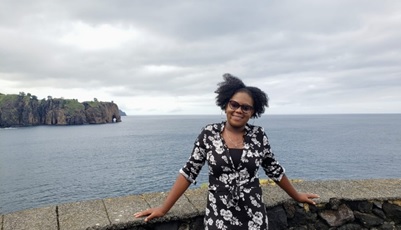 Khadija Stewart - 2019 Peace Boat Ocean and Climate Change Youth Ambassador.
When asked what would be her advice to other young people, particularly those that are passionate about environmental issues and are trying to be part of the global conversation, Khadija said "My mom always told me I am not entitled to anything and I can't sit around and wait for an opportunity…you have to put yourself out there to seek and create opportunities for yourself." She added "I follow several environmental and youth organisations that share opportunities and it is important to make genuine connections…it can be depressing sometimes in terms of finding opportunities, but you can't give up, you have to go out there and make it happen for you."
GWP-C connected with Khadija Stewart for the first time in January, when she partnered with the organisation to raise awareness on the importance of water conservation. Together with GWP-C, she organised a run for water in Trinidad. The activity served to support the global Running Dry Movement to achieve 100 marathons in 1 day; a campaign to spotlight the issue of the global water crisis.
Empowering young people from the Caribbean to engage with water management and governance processes and systems, as well as to participate in decision-making is important to GWP-C. We thank Khadija for sharing her experience as a 2019 Peace Boat Ocean and Climate Change Youth Ambassador. Moreover, we hope her story encourages other young professionals to follow their dreams and to be aware of the pivotal role they play in sustainable development.