GWP-C continues to work towards its vision of "A water secure Caribbean." At its core, it supports Caribbean countries in the sustainable management of their water resources by promoting an Integrated Water Resources Management (IWRM) approach. Often a concept, not widely known or understood by persons outside of the "water box." This is a key reason why GWP-C explores innovative and creative ways of sharing knowledge on the importance of good water management and water security in various ways to different target audiences. To raise awareness on how and why everyone has a role to play in contributing to better water management.
The GWP-C Theme Song Challenge therefore sought to actively engage Caribbean artistes (singers, songwriters, musicians, performers, music producers) or anyone willing to take-up the challenge of creating its theme song. One that not only artistically describes GWP-C's work, mission and vision but one that conveys in simple terms, the meaning and importance of IWRM.
Integrated Water Resources Management (IWRM) has been defined by Global Water Partnership (GWP) as "a process which promotes the coordinated development and management of water, land and related resources, in order to maximise the resultant economic and social welfare in an equitable manner without compromising the sustainability of vital ecosystems."
Water is often taken for granted, overused, abused, and poorly managed. IWRM is therefore about good water governance and management. In order for people to have clean water to lead healthy lives, for communities to be protected from water-related threats, none of this can happen unless there is good governance – having water polices, laws, financing and institutions that are transparent, coherent, inclusive, and integrated across sectors.
The competition stipulated that entries should fall within any of the following genres:
Caribbean Pop
Soca
Reggae
Caribbean Hip Hop
Submissions were judged by a well-balanced expert panel (inclusive of Caribbean musicians) on the following criteria:
Creativity
Originality
Lyrics
Music and Melody
Song Structure and Composition
GWP-C Information Incorporated in Song
GWP-C received a significant number of entries from across the Caribbean region. It also recognises the level of creativity, originality, skill, time and effort by all entrants who took up the challenge, which must be commended.
The results are in and GWP-C is happy to announce and congratulate the winners and honourable mention awardees in its Theme Song Challenge:
1st Place: Stacey Atherley (Barbados) | Prize: 1,000 Euros
2nd Place: Sheereen Brizan (Grenada) | Prize: 500 Euros
3rd Place: Atiba Chance and Jervais Le Gendre (Trinidad & Tobago) | Prize: 250 Euros
Honourable Mention Awardees (each receiving US$100 Amazon Gift Cards):
Jamal Gittens (Guyana)
Edward Gregory Joseph (Trinidad & Tobago)
Diana Chapman (Guyana)
GWP-C had the opportunity to interview the winners of the competition. Get to know them below!
Meet the Winner – Stacey Atherley
Stacey Atherley is the winner of the GWP-C Theme Song Challenge with her Caribbean Pop entry "Save Water." Press play below!
Stacey Atherley is from the island of Barbados and describes herself as a fun-loving creative who enjoys music, fitness and sports. From a young age, she was always active in sports like netball and volleyball and involved in any artform, whether it was singing, dancing or performing a dramatic piece. As Stacey explains "I felt at home on stage…as I got older I fell in love with reading, (inspired by my sister) and eventually started writing short stories and poems, which then graduated to songwriting in my spare time."
While studying for a Bachelor's degree in Psychology, she realised that she enjoys doing research and learning new things; skills that have served her well, in many areas in life including songwriting and managing and executing several projects.
When asked about where her passion for music stems, Stacey shared "My passion for music, specifically songwriting, came from growing up listening to music genres like "Oldie Goldies" and Old R&B Classics, that my mother would play on the radio. I always enjoyed the stories they told and found them really creatively written and it inspired me to create my own. I also enjoy singing but I prefer to write songs for other artistes to bring to life. I find joy in using words as a tool to connect people to the therapy that is music."
The GWP-C Theme Song Challenge Winner found out about the competition from a friend, also an artiste who saw the Challenge poster on Facebook. Stacey explained that she was compelled to enter, as she likes to test her skills in challenges. According to her "they force you to go outside of your comfort zone and widen your scope. That's how I gain experience."

One of the rules of the competition, called for entrants to explain "IWRM" in simple terms in their song. This is particularly important, as GWP-C saw this as a way to build awareness among participants, on the importance of good water management and Caribbean water security. According to Stacey "I had never heard of IWRM before. However, this competition has opened my eyes to the crisis we're in as it relates to water. Growing up, I was always reminded not to waste water, but with no in-depth reason why, but now, I'm more aware of the gravity of the situation."
As the winner of the GWP-C Theme Song Challenge, Stacey Atherley said "I am truly honoured and grateful to be named the winner! Whenever I write a song, it is my goal to make it memorable and for it to have purpose. "Save Water" is definitely that for me. I just want people to enjoy the song, while still heeding the message and being informed. When that happens, it's a win, win."
Meet the 2nd Place Winner – Sheereen Brizan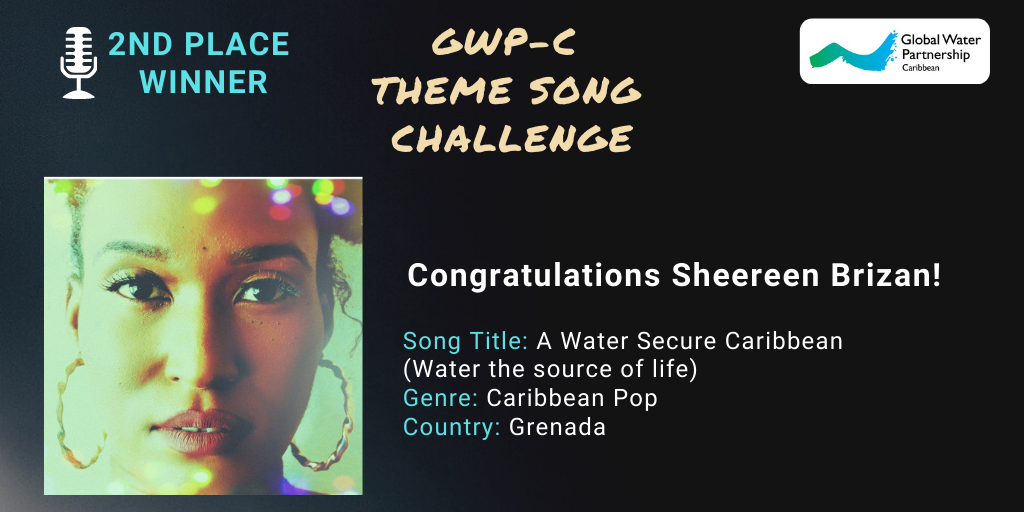 Sheereen Brizan placed 2nd in the competition with her Caribbean Pop entry "A Water Secure Caribbean (Water the source of life)." Press play below!
Sheereen Brizan is a Grenadian vocalist who harbours a great passion for music and her art, namely singing and songwriting. She started performing for audiences around the age of 10. She has performed at numerous events such as weddings and at venues such as hotels, bars and restaurants. She has also sung at National Queen Shows in Grenada and University Concerts while studying in Trinidad.
She has also participated in Pure Grenada Music Festival and Spicy Divas in Concert. Adding to her repertoire are several original songs which she has written such as "Lay", "Come to the Light", "Voices of the Sun", "Indomitable Minds", "No Excuses", "We are More" and "C'est La Vie." She gets inspiration for her songs from life's interactions and personal experiences. Interestingly, her audio and video cover of Sam Smith's "I'm Not the Only One" has received over 250,000 views on YouTube.
Sheereen is influenced by artists such as Lauryn Hill, Alicia Keys, Tracy Chapman, Nina Simone, Tori Amos, Alanis Morresette, Bob Marley, Rihanna, Machel Montano, Beyonce, Aaliyah, and many more artists both underground and mainstream. Her favourite genres are: R & B, acoustic music, neo soul, reggae, soca, alternative music, contemporary/pop music, electro pop or dance and funk. She expressed that she keeps an open mind towards trying new things and emerging musical genres.
Our 2nd place winner holds a Bachelor's degree in Sociology from The University of the West Indies (UWI). Some interesting facts about her include her love for art, sketching, fashion and costume design, as well as nature and the outdoors.
When asked about her love for music, Sheereen said "I've come from a very creative and musical family, although my father was a historian and politician, I strongly remember his love for music and him listening to different genres from reggae to soul, to love songs and this love was basically transferred to me and my siblings, me being the youngest, my older sibling would always play all possible genres of music…and I would be listening to and dancing to it. I was strongly influenced by this. I also have a brother who is a vocal coach and musician who has influenced my passion for music. My love and passion for music is embedded in my blood and it's something that has always made me happy, and it's my outlet. Singing/songwriting has become a form of self-expression for me."
Sheereen shared that she learnt of the GWP-C Theme Song Challenge from a family friend. According to her "I have a passion for songwriting and after reading up about GWP-C and what its mission is, I felt more compelled to enter." She expressed that she had never heard of IWRM before the competition. According to her "I had to do my research on what it was actually about, it was very enlightening, I learnt a lot about IWRM, things I never knew before. You know it's funny how we take for granted having clean water in our pipes and not acknowledging the process of water security and having clean water to drink and use."
Sheereen expressed that she is happy to have been a part of this competition. In her words "It has been an eye opener and has also given me greater affirmation in my abilities."
Meet the 3rd Place Winners – Atiba Chance & Jervais Le Gendre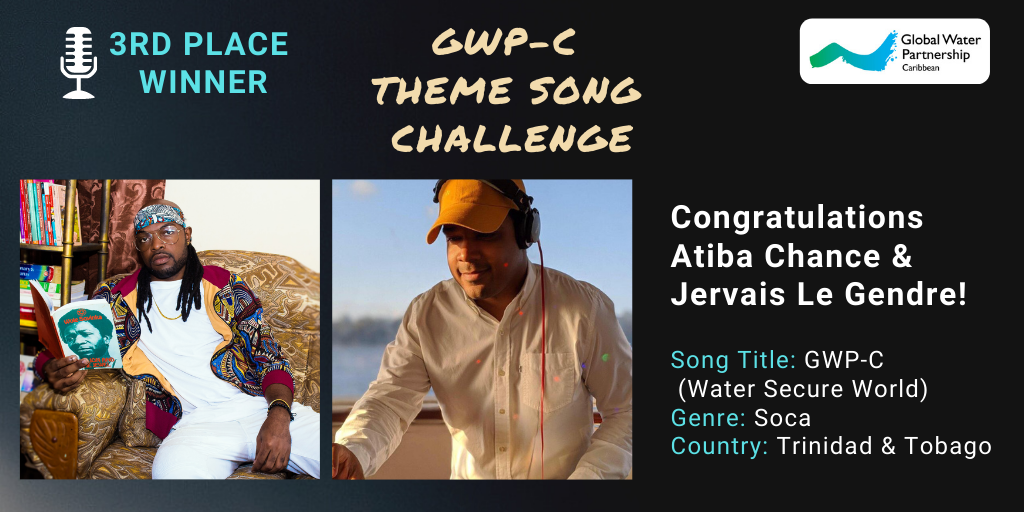 Atiba Chance and Jervais Le Gendre are the 3rd place winners in the competition, with their Soca entry "GWP-C (Water Secure World)." Press play below!
Atiba Chance dubbed "Xone" (Pronounced Zone) is an emerging singer, songwriter and younger brother of Soca Artiste Preedy From Trinidad and Tobago. He has written/co-written songs for many known artistes both big and small like Kes & Nailah Blackman (Workout), Lil Bits (Automatic), Preedy (Say Yeah), Farmer Nappy (Miss Meh) and many others in genres like hip hop, trap, dancehall and pop for both foreign companies and artistes alike. You can find him on Instagram @xonemusic.
In Atiba's words "I got into music after studying and working in film…when I finally stopped living for people and started living for myself, also because I couldn't see myself doing anything else and being happy." He explained that he found out about the GWP-C Theme Song Challenge from a friend and then told Jervais about it. According to him "I was compelled to join the competition because I wanted to test myself as a songwriter and I genuinely believe in having a water secure Caribbean." He added that the competition "has definitely made me glad to know that there are organisations and programmes made for providing water resources and information across the Caribbean and the world."
Jervais Le Gendre who partnered with Atiba on the song, is a 30-year old Trinidadian musician, who began his musical journey at the age of 5 with the piano, eventually shifting to become a guitarist at age 15. He has performed with multiple bands, playing many different genres of music. Within the past 7 years, he has extended his reach into songwriting and music production and as of recent, DJing. He currently resides in Australia but is still highly involved in the Trinidadian culture and music scene.
Meet the Honourable Mention Awardees
Jamal Gittens – Honourable Mention Awardee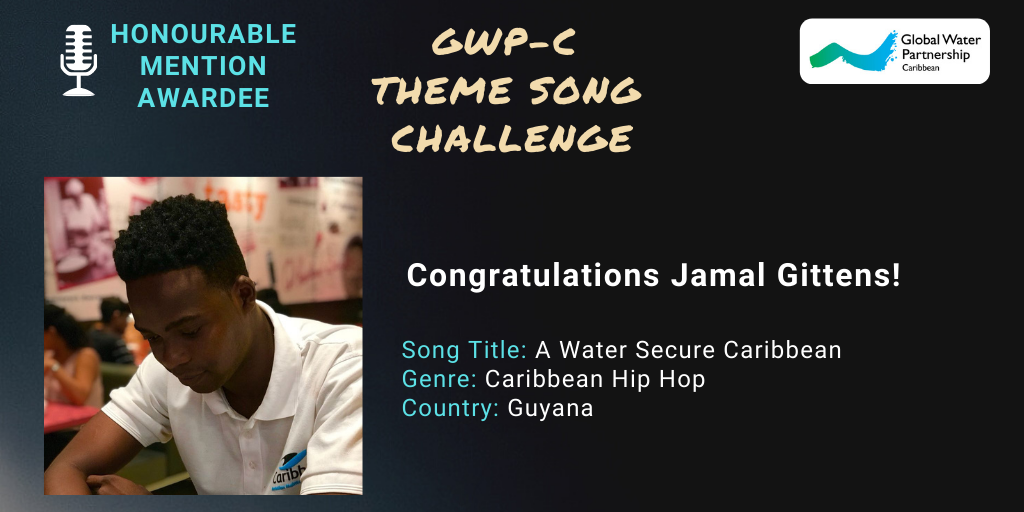 Jamal Gittens is an Honourable Mention Awardee for his "Caribbean Hip Hop" entry "A Water Secure Caribbean." Press play below!
31-year old Jamal Gittens is from Guyana and is a singer, songwriter, sound engineer, video graphics editor and a computer technician. His mother Pamela Gittens was a popular Jazz singer and according to him "I think this is where I got my talent and inspiration from, since I was exposed to all the songs she would play repeatedly when practicing for shows." At the age of 15, he started writing and singing songs alongside his brother Levar Gittens, and they then formed a group called G-Money Federation along with their close friend Marvin Dodson.
Jamal shared that he learnt all that he could on his own about studio equipment and software and the skills needed to do his own productions. Since the formation of G-Money Federation, the group has written and composed music together up to present day.
He credits his passion for music to his mom and the support from his brother and grandmother, Ena Abrams. He shared that from early on he would hear a few songs that he liked and wanted to hear them over and over again. He remarked "when I got tired of it, I played around with words until I realised, I could make my own music…so now I can never run out of the music I like."
Jamal shared that his brother found out about the GWP-C Theme Song Challenge on Facebook and encouraged him to enter. Prior to entering the competition, Jamal had never heard of the concept of IWRM. He said, "entering the competition heightened my awareness on the issue of water security" and it is clear to him that water is a finite resource.
According to Jamal "This was a great opportunity and I am honoured to be a part of not just a competition but an educational and impacting event in history to raise everyone's awareness when it comes to water management. I am even more grateful to have been given an Award for my participation."
Edward Gregory Joseph – Honourable Mention Awardee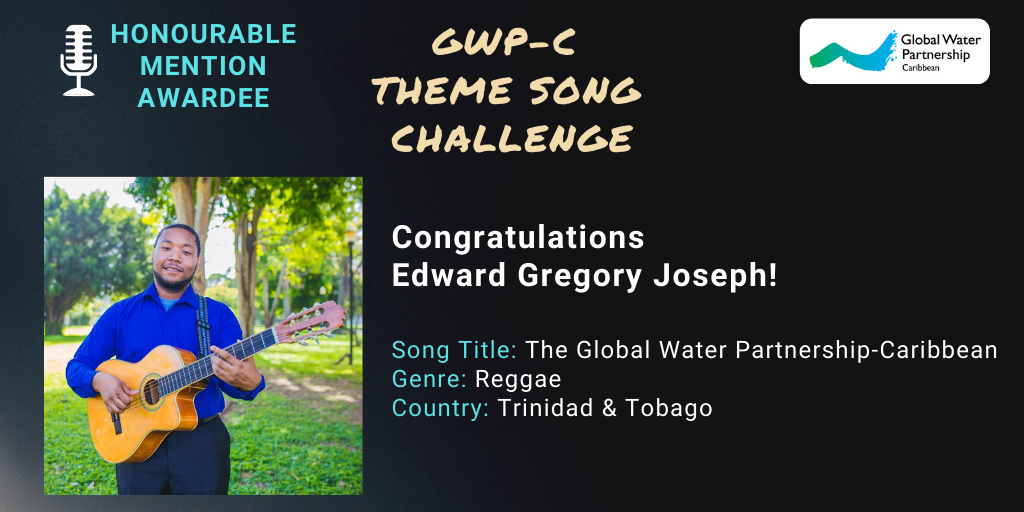 Edward Gregory Joseph is an Honourable Mention Awardee for his Reggae entry "The Global Water Partnership-Caribbean." Press play below!
Edward Gregory Joseph commonly known as 'Gregz" is a musician from Paramin, Trinidad and Tobago. He began a life in music at a young age at the Trinity All Generations School of the Arts (TAGS). In 2013, he obtained a Bachelor of Arts degree in Musical Arts (Special) from The University of the West Indies (UWI), St. Augustine Campus, being awarded the Newman Alexander Prizeforbest music arts degree student 2012/2013.
Aside from currently being a music teacher at Mucurapo West Secondary School in Trinidad, Edward is a multi-instrumentalist whose passion for learning new instruments, performing and arranging have led him to be part of a few bands in different capacities; as a performer, an arranger and in some cases musical director.
He shared that from an early age he had an interest in music, and a love for musical instruments which his parents fully supported. According to him "Being a performing musician brings an indescribable joy to me. Being able to see the reactions any audience member has towards a performance and hearing feedback on how the performance and music was delivered, drives me to continue being creative."
Edward told GWP-C that he found out about the Theme Song Challenge on social media. When asked why he was compelled to enter the competition, he said "I enjoy writing both songs and jingles, even composing a winning jingle for the National Parang Association of Trinidad and Tobago (NPATT) in 2018. Coupled with that, the encouragement from close friends and family made me feel obligated to enter."
Prior to entering the Song Challenge, he explained that he was not familiar with the term IWRM. However, he pointed out "I am now aware of how essential our region's freshwater management is and it is comforting to know that there is a partnership programme working toward ensuring it's security."
In light of entering the competition, Edward shared "Never be afraid of trying new things which challenge you. That challenge may just be the opportunity that you need to take you one step closer to achieving your dreams."
Diana Chapman – Honourable Mention Awardee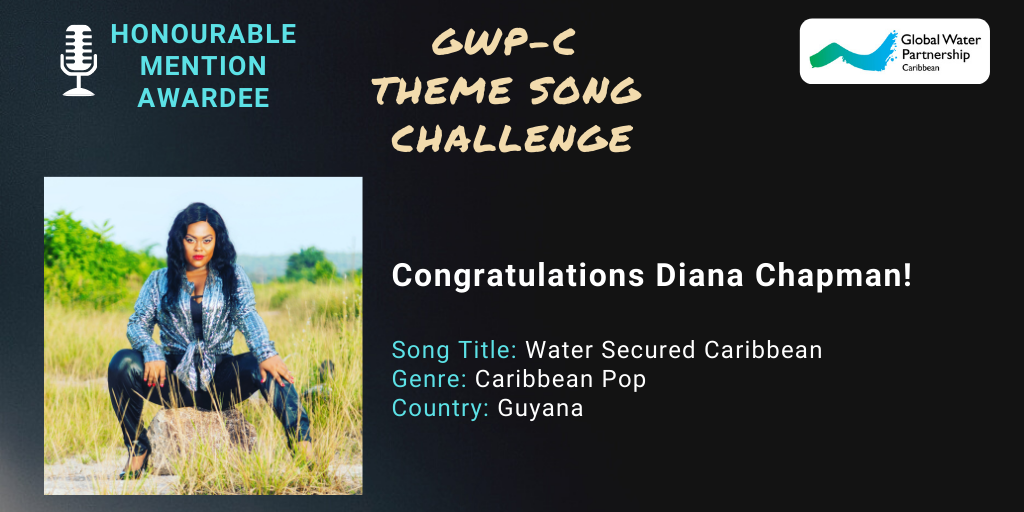 Diana Chapman is an Honourable Mention Awardee for her Caribbean Pop entry "Water Secured Caribbean." Press play below!
Diana Chapman, a proud Guyanese from the mining town of Linden, is a Recording Artist and also a Radio Broadcaster. She has been performing for over 10 years and is a former Junior and Senior Calypso Monarch of Guyana. Diana was honoured as an Outstanding Youth in the field of Arts and Culture by the Regional Chairman in her hometown and also Awarded a 'Civic Responsibility Award' by a Non-Profit Organisation "For the Children's Sake Foundation." She is also the winner of LIAT's 2015 Jingle competition, which had submissions from many Caribbean countries. Diana has represented her country well at Carifesta in Haiti 2015 and Trinidad 2019, also gracing the stage representing Guyana in Kazakhstan for the World Expo 2017, which accommodated over 100 countries.
Her love for music started when she was a child; dancing in school competitions for many years. Music drew her attention strongly, until one day she came across two outstanding artistes; Michael Jackson and Beyonce; which sparked her interest in singing. She then started to experiment on her vocal abilities during the year of 2008 when Carisfesta was hosted in her country Guyana. From then to now, Diana has grown into becoming a strong performer and is determined to continue learning and growing in her art form.
Diana learnt of the GWP-C Theme Song Challenge on Facebook. According to her "I wasn't sure I was going to enter, but constantly seeing it on my Facebook feed, I became curious to know what it was actually about; so I decided to learn more about it." After gaining much knowledge and agreeing on the concept and intentions of GWP- C, she then decided that her contributions may be worthwhile. She then took up the challenge to write and record a song that would be easy for the public to grasp, while trying her best to educate through the composition. She added this is the reason she started the song with a question that asked, "Have you heard of GWP-C?" She said "I did this because just like me, I'm sure many would be hearing of GWP-C and IWRM for the first time; so I wanted to grab the attention of the listening public immediately."
The Honourable Mention Awardee further shared "I've always heard the term "Water is Life" but not very much have I sat to think about water security and how our water systems are being managed and the importance of management. This Theme Song Challenge made me more aware of the importance of having a system that fits the needs of different situations, one fix does not fix all, so it's definitely important to work along with policymakers in the different countries to plan the best system that works for their communities."
GWP-C remains dedicated to advocating, building capacity and communicating knowledge to support Caribbean countries in better water management. Moreover, it aims to continue to engage various target audiences in different and meaningful ways on good water governance and management.