Albania: A country that has significantly improved gender equality in politics
Albania has made significant improvements in advancing the normative framework for gender equality in recent years and in some areas progress is evident. Several international commitments are presented in the national policies and strategies and some of them have been well implemented. However, along the water-energy-food-ecosystems Nexus and with respect to climate change impacts, which disproportionately affect women and the rural poor, references to gender are lacking. Due to focus and selected investments in some areas rather than others, Albania has progressed in some areas more than others. But for a sustainable, inclusive, and prosperous society, progress needs to be even in all key development areas.
Albania has shown progress in the Global Gender Gap Index of the World Economic Forum (WEF) by being ranked the 25th among 156 countries, as per the 2021 report . Similarly, it scores relatively high in the first and only reference report so far on EU's Gender Equality Index (GEI) with 60.4 out of 100 points, which is seven points below the EU-27 average.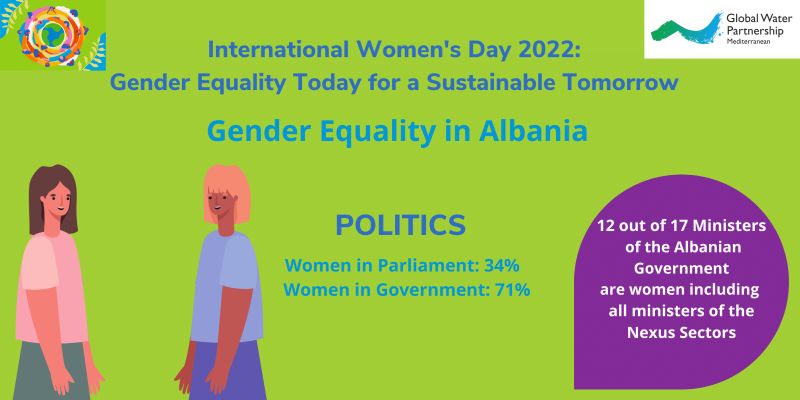 This is a significant improvement compared to previous years, especially if we refer to the first year when the WEF started to measure gender gap (see Table 1 below). As per these data, while there is some progress or even regress in the measured categories, the main area that has particularly contributed to Albania's distinct progress in gender equality is primarily women's increased formal representation in political decision-making.
As of today, women hold 12 ministerial posts out of 17 (including Ministers of State and PM) with 71% female ministers, thus ranking Albania at the top of the countries with female representation in ministerial positions. Women in parliament hold 34% of seats with 47 out of 140 Members of the Parliament, and at the local level women are also represented at the rates of 13,1 % women as Mayors and 43,6 % women as Councilors. This is a significant improvement taking into account that just 8 years ago, the percentage of women mayors didn't surpass 2% and women councilors 12%.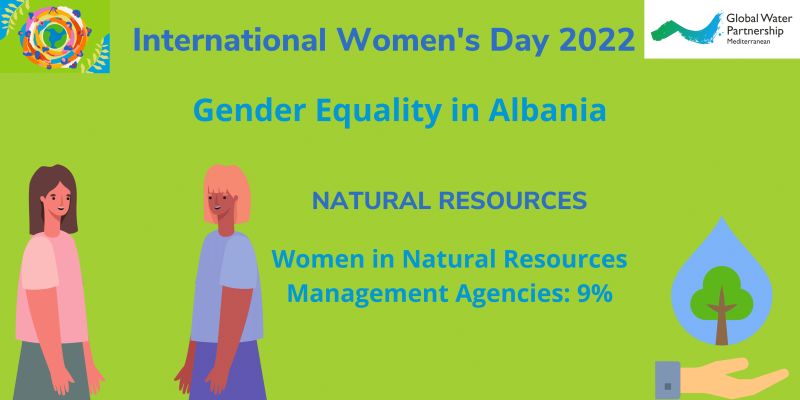 But what about other key development areas?
The above impressive figures are not however matched by equality scores in all other GAP sub-indices such as Economic Empowerment and Opportunity, Educational Attainment and Health and Survival gaps as shown in the table below. As per the Global Gender Gap Index (GGGI) of the World Economic Forum (WEF), the most distinct gap between women and men equality is in the Area of Health and Survival where actually there has been regress over years. The other two categories such as economic participation and opportunity and educational attainment have marked progress.
Albania

Score

Global Rank

Score

Global Rank

Years

2006

2021

Global Index

0.661

61

0.770

25

Economic participation & opportunity

0.661

38

0.748

35

Educational attainment

0.989

58

0.999

42

Health and survival

0.955

110

0.956

147

Political participation

0.038

105

0.377

30

Source: WEF, 2006, 2021.

Scores: Parity = 1.00; Imparity = 0.00; Ranks are among a total of 144 countries and 156 countries
Table 1. Women progress in gender equality since 1st World Economic Forum index on Global Gender Gap
The Nexus sectors: Gender mainstreaming has not yet been integrated into the Water-Energy-Food-Ecosystem sectors
While Nexus sectors cover very critical development areas, some of them have yet little to no focus on gender equality. Many of the strategies in the sectors of water, energy, agriculture and environment have been prepared already for more than five years with the majority of them finishing by 2030. This year is also the Agenda 2030 deadline to combat inequalities and promote gender equality and the empowerment of women and girls; and to ensure the lasting protection of the planet and its natural resources amongst other objectives.
Few of these national strategies have made efforts to include gender perspective and address gender issues, and are still far from having a mainstreaming or transformative approach integrated and budgeted. This is the case even with the National Strategy on Gender Equality 2021-2030 that has only recently referred to nexus sectors for the first time: "…the work and information in these areas is still at very preliminary phases, because mainstreaming gender in these sectors is yet very difficult and challenging" noted Mrs. Brunilda Dervishaj, the Director of the Sector of Policies and Strategies for Gender Equality and Social Inclusion in the Ministry of Health and Social Protection.