The power of Water-Energy-Food-Climate Nexus analysis to influence outcomes on the ground can be unleashed only if it is framed in response to real-world challenges, as seen through the eyes of local stakeholders, and building upon their sustainable development vision. This is a key pillar in the REXUS approach, which employs Participatory System Dynamics Modelling, in order to uncover underlying drivers of resource conflicts, like climate change, and find ways to mitigate conflicts and exploit synergies. The uniqueness of the REXUS project approach lies in being able to model dynamic interactions between sectors not just in today's static environment, but over time, allowing the envisioning of concrete scenarios that stakeholders can act on.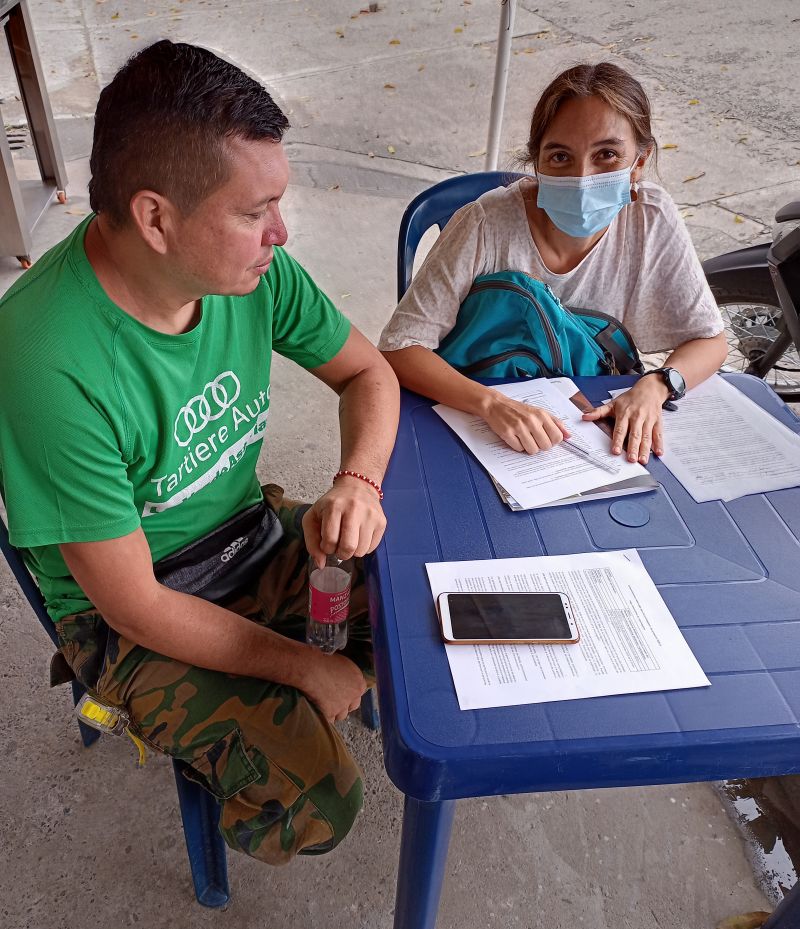 Marcela Beltrán, CIAT, Rexus pilot project leader for Nima, conducts interviews with local stakeholders from across all water-energy-food-ecosystems Nexus sectors in the Nima river watershed.

Following on from meetings with local administrators in the Palmira region, in Cauca Valley, Colombia, REXUS pilot leader CIAT is now interviewing users from all Nexus sectors to understand local needs and challenges. Interviewees include representatives of rural community councils, presidents of rural community aqueducts, and representatives from commercial enterprises.

Among other questions, stakeholders from all sectors of water, food (land/agriculture), energy, and ecosystems were asked to identify the status of their perceived natural resource security, highlight needs, threats and challenges, and describe interconnections to other sectors. The interviews have been fruitful in collecting and understanding local visions about the area, and have highlighted key differences in the framing of challenges between sectors, as well as between upstream and downstream users in the Nima river watershed.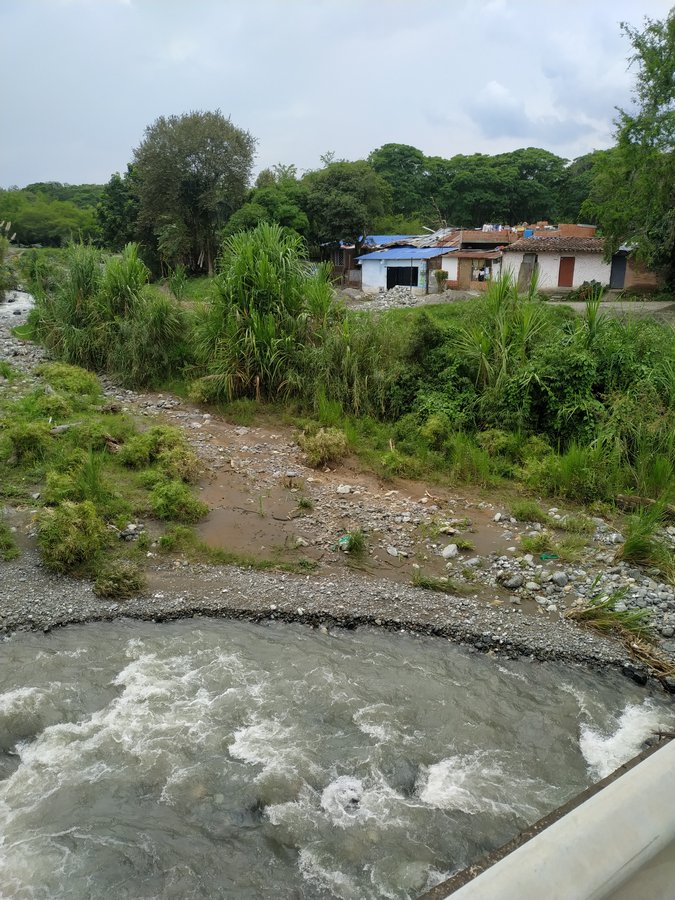 Pollution from untreated domestic sewage, as well as from livestock and agricultural farms, was highlighted by stakeholders as a key threat to water security for local communities, who often rely on the Nima river for their drinking water supply.

Lack of proper sewerage was highlighted as a significant risk upstream in the Nima river watershed, where waste is discharged into the river, endangering the water supply of local communities. The nine community aqueducts locals use, drawing water from springs that feed the Nima river, in turn compete with the forest ecosystem's water needs. Competition also arises with the needs of the pine plantations of the local paper production company, which however provides some employment opportunities and sponsors social activities in the area, such as tourism, and caretakes a natural forest protected area.

Sugar cane is grown intensively in the region, adding to water demand for irrigation and related industrial processing. The sugar cane association is engaging in compensatory activities to protect water resources such as restoration of forest in upstream areas. There is also an incentive to use water more efficiently, through drip irrigation and by recycling water in processing, since during periods of drought potable water needs come first.

Downstream, some communities face daily interruptions in the supply of potable water. Pollution from waste from pig and chicken farms and was also highlighted as a threat here.

This complex mosaic of local stakeholders' views is invaluable in order to frame Water-Energy-Food-Ecosystems-Climate Nexus analysis in terms of actual 'on-the-ground' challenges. The input of these interviews will inform the design of forthcoming stakeholder workshops in the area, which will provide an environmental diagnosis with proposed nature-based solutions for the Nima watershed. Through this tool, the REXUS project aims to empower local stakeholders to take action with a longer-term view of mitigating conflicts, exploiting synergies and mapping out sustainable pathways for the future across sectors.