On their way to the town's main square, visitors to Greece's popular summer island destination of Folegandros will find a water cooler offering much-needed free water. But the water offered by the 'Zero Drop' program water cooler is unlike any they have drunk before. It is not water from a spring; it's not treated groundwater; and it's not desalinated water.
It is water produced from air.
The Zero Drop Program was designed to tackle the intense water scarcity challenge facing Folegandros. As one of Greece's most popular tourist destinations, Folegandros' 800 residents welcome more than 40,000 visitors each summer, placing an extremely high demand on the available water resources, result in a significant shortfall of water supply versus demand during the peak summer months.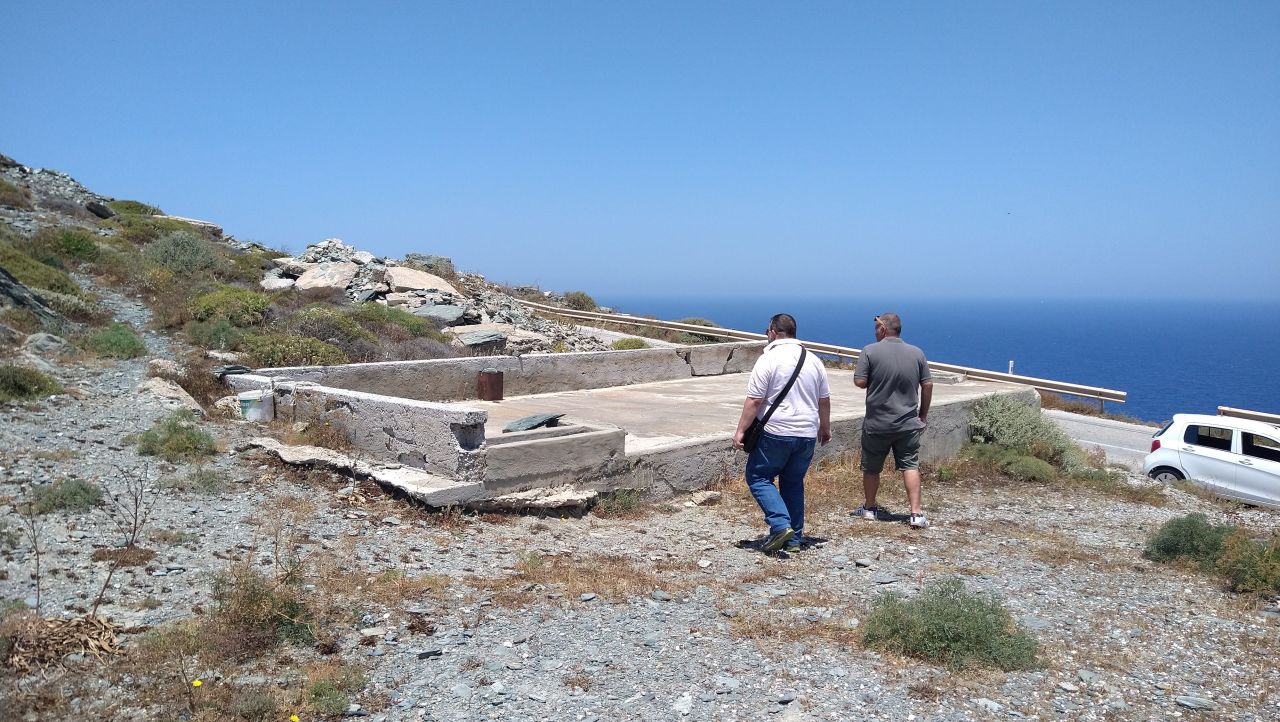 The Zero Drop project team examining potential locations for hydropanel installation.
Implemented by GWP-Med in collaboration with the Municipality of Folegandros and funded by The Coca-Cola Foundation, the Zero Drop program implemented a series of interventions, most notably a large scale optimization of the island's desalination infrastructure, which successfully covered the daily shortfall in water supply during summer months. Specifically, the technical intervention has the capacity to provide the existing seawater desalination units with additional seawater and supply the island with 350 m3 of drinking water per day. This amounts to a boost in water supply of 42.000.000 liters per year (assuming the extra capacity is exploited only for 3 months per year).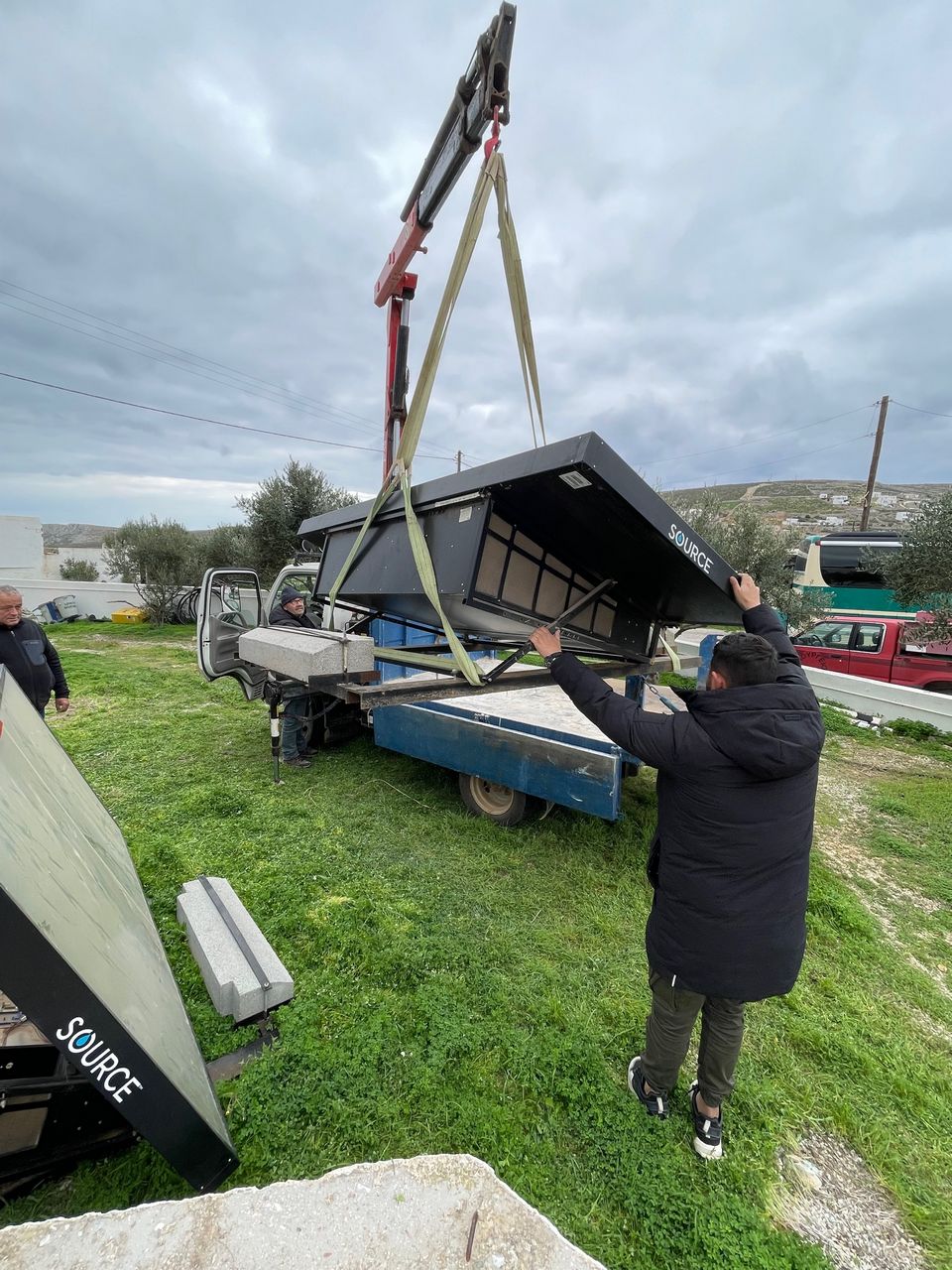 Installation of the Hydropanels.
In parallel, the program coordinated a wide-ranging awareness raising campaign for visitors and locals on the need to appreciate and conserve water resources.
As the Zero Drop program's innovation component, the Zero Drop cooler, provide a tangible demonstration of the potential of a new technology to tackle water scarcity in remote locations. The cooler draws water from an array of 6 'Hydropanels', installed by the project's technology provider, Idator, which contain atmospheric condensers to convert air moisture into water, using renewable energy from solar power. As a result, carbon emissions are zero.
The installed Hydropanels, behind Folegandros' town hall.
The Zero Drop experience highlighted that, as a new technology, Hydropanels face not only technological challenges, but administrative ones too, as there is no relevant regulatory framework in Greece, making the process for obtaining permissions for their installation and operation uncertain and onerous. In his presentation of the Zero Drop program at the Greek parliament in June 2022, Mr. Vangelis Constantianos, GWP-Med's Executive Secretary, highlighted the need to upgrade the legal regulatory framework for similar technical innovations in order to pave the way to upscaling. As a traditional island, in Folegandros, concerns about aesthetics are paramount, the Zero Drop project had to secure a location which would provide central access to visitors, while the Hydropanels remained unobtrusive.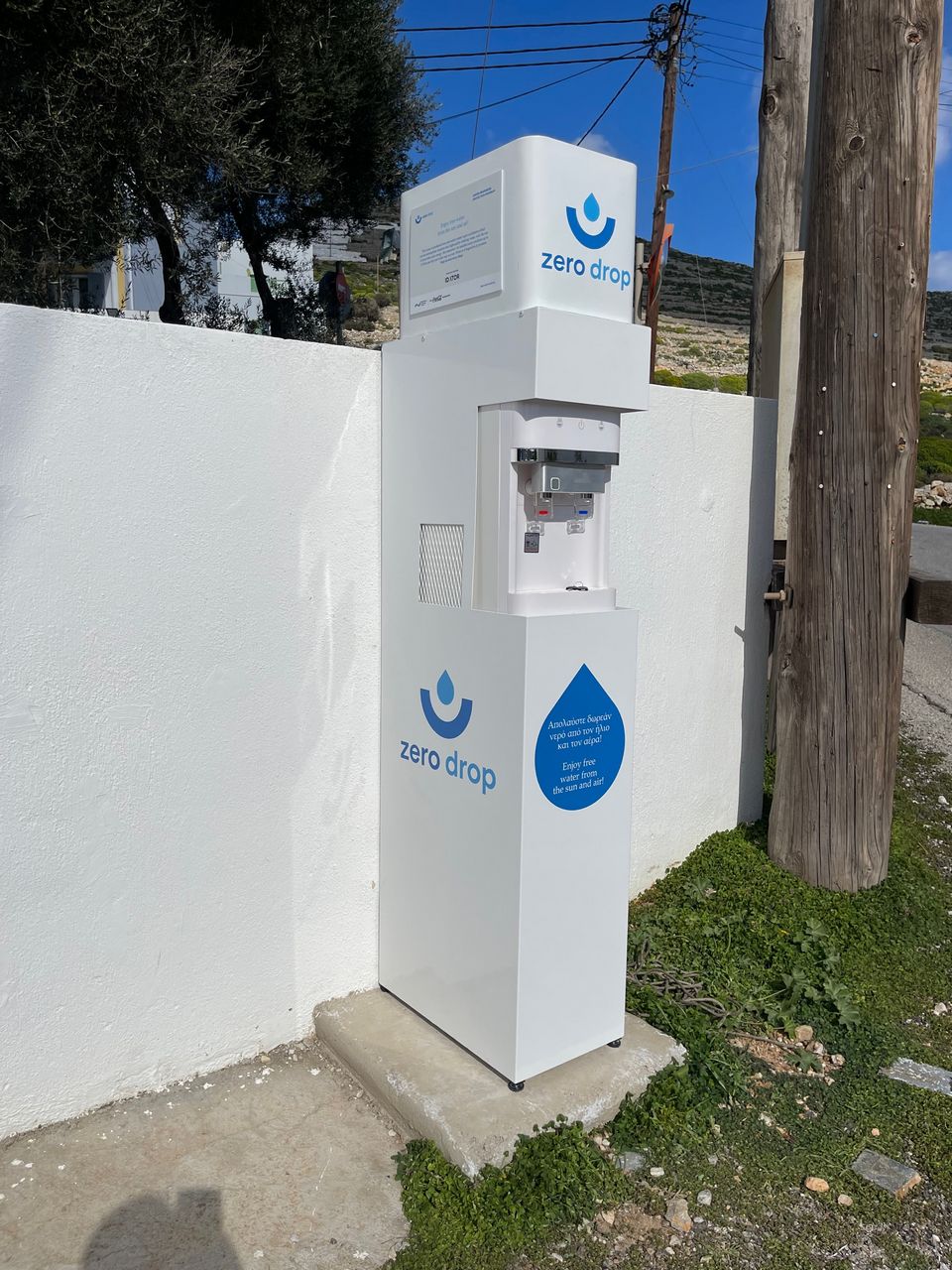 The Zero Drop water cooler, offering free water produced from the air's humidity.
As a pilot technology producing water from air with zero carbon emissions, the Hydropanels can produce a limited amount of water, with the Folegandros installation producing a maximum of 30 litres per day. As the sign on the Zero Drop water cooler warns: "Water may run out" – a constant reminder that water in this Mediterranean island paradise is scarce, and although technical solutions and innovations are necessary, a water saving attitude by visitors and locals alike will always be a key ingredient to achieving water security.