Cairo Water Week 2020, from 18 to 22 October, is bringing together key institutions from the Arab world, EU and Africa, and more than 1200 participants from across the globe. GWP-Med is co-organising the following events:
Water Governance & Business Forum: 19/10/20
GWP-Med is the key technical partner in the upcoming "EU-UfM Water Governance & Business Forum", led by the EU Delegation in Egypt and the Union for Mediterranean (UfM) Secretariat. The Forum will address water financing and investment strategies in the region, relating to the implementation of UfM Water Policy Framework for Actions 2030 and the EU Green Deal, in the background of COVID-19 pandemic recovery efforts. The conclusions of the Forum will inform the future programming of EU support to Egypt and the North African region.
Register here (2 sessions: 19/10/20, 10.00-12.00 CEST and 12.30-16.00 CEST)
---
Strengthening the Role of Women in Water Diplomacy in the Middle East & North Africa: 21/10/20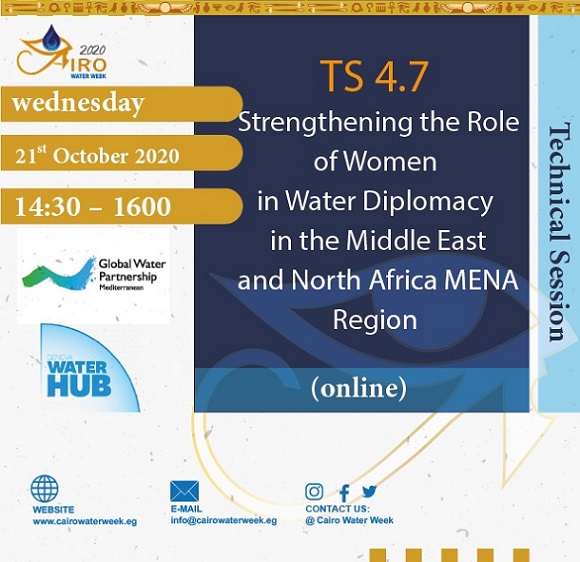 GWP-Med and the Geneva Water Hub are co-organising this session on strengthening the role of Women in Water Diplomacy, with emphasis on the MENA region. In this session, the results of the Comparative Study on Women & Water Diplomacy in the MENA region will be presented for the first time in the Arab world.The discussion will identify tangible actions for meeting capacity building needs, and it will seek to foster synergies with targeted regional institutions and development partners, in order to strengthen the role of women in water diplomacy.
Register here (21/10/20 14.30-16.00 CEST)
---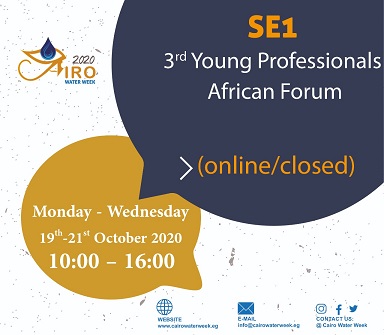 GWP-Med will also co-organise a session aiming to mobilise African Young Water Professionals towards the achievement of the Sustainable Development Goals, with a particular focus on addressing gender issues in water management. This closed session, taking place on Tuesday 20 October, is part of the wider efforts of the International Commission on Irrigation and Drainage (ICID) and the African Regional Working Group (AFRWG) to empower young water professionals.
Read more about the 3rd African Young Water Professionals Forum (Af-YWPF).