The collaboration started on January 2017 in collaboration with the Water Resources Department at the Ministry of Agriculture, Hydraulic Resources and Fishery.
A desk study review of previous drought events concluded that the three most impacted and key sectors for Tunisian economy are cereals, olive trees and livestock. Correlation between rainfall and the reduction of production and yields was calculated for the three last decades.
A Focus Group was established to validate the methodology, identify the drought vulnerability drivers, define the sensitivity and impact indicators, to fix the respective weights of these indicators and hence evaluate the socio-economic vulnerability of Tunisia to drought carried by the three sectors : cereals, olives and livestock. The Focus Group was formed by key authorities (water department, agriculture department, livestock office, olive research institute, cereals office, national institute of cartography and remote sensing,…). The Focus Group held two meetings, respectively in April 13th, and September 6th, 2018.
Progress and preliminary results were shared during the regional workshop held in Dubai (26-28 June 2018) with the participation of more than 35 participants from Jordan, Lebanon, Morocco and Tunisia.
The final vulnerability maps were presented during the international policy workshop organized in Dubai on 25-26 September 2018 by the United States Agency for International Development (USAID), the International Center for Biosaline Agriculture (ICBA), and the National Drought Mitigation Center (NDMC) of the University of Nebraska - Lincoln, USA.
Around 40 leading experts from more than 10 countries, including the Czech Republic, Jordan, Lebanon, Mexico, Morocco, South Africa, Tunisia, the UAE and the USA discussed available tools for policy makers to build efficient drought management policies, while sharing lessons drawn from the drowning lesson .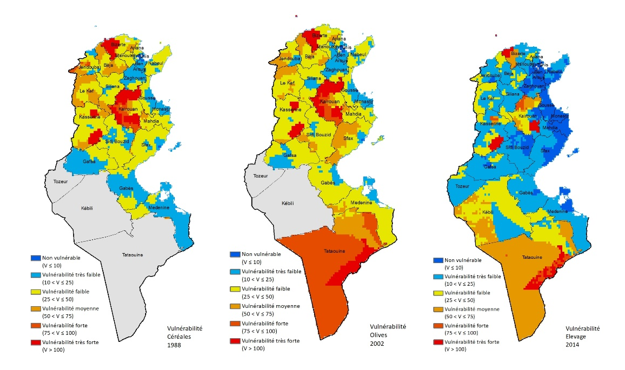 The MENA-RDMS project is led by ICBA in 4 countries of the MENA region, namely Jordan, Lebanon, Morocco and Tunisia. The project focused on drought risk management through the development of monitoring and early warning systems preparedness, and mitigation measures.
The project approach builds on the framework of the internationally agreed Integrated Drought Management (http://www.droughtmanagement.info/).