More than 40 representatives of National Designated Authorities (NDAs) for the Green Climate Fund (GCF), GCF Direct Access Entities (DAEs), and Water Ministries from 10 Mediterranean countries discussed how to accelerate access to GCF resources at the 'Technical Workshop on Project Preparation for Transformational Climate Resilience Water Projects in the Mediterranean Region for the Green Climate Fund', 10-12 June 2019, Brussels, Belgium. The event was attended by representatives of Albania, Algeria, Egypt, Lebanon, Libya, Mauritania, Montenegro, Morocco, Palestine and Tunisia.
Participants engaged in hands-on learning on the GCF setting, investment criteria, operational modalities and procedures for delivering climate finance through available GCF funding-windows. They considered fit-for-purpose examples of project design matching GCF financing instruments, and discussed how to enhance national coordination for GCF project preparation. Furthermore, they worked on 22 country-prioritized water-related project ideas to sharpen their climate rationale and paradigm shift potential.
Responding to countries' needs, representatives of competent authorities from Middle East & North Africa and Southeastern Europe countries expressed demand for support to strengthen the capacity of NDAs, DAEs and Water Ministries and agencies to prepare climate resilient water projects that meet GCF investment criteria, to address challenges in the mainland and the coastal areas. For these, the relevance of utilizing Water-Energy-Food-Ecosystems Nexus approaches, including as a contribution to addressing Water-Employment-Migration challenges, was highlighted.
Participants shared their commitment to utilize the knowledge acquired and to exploit available opportunities, including through the GCF Readiness window, to boost countries engagement with GCF. Furthermore, participants expressed their strong desire to continue collaborating in the Regional Workshop's follow-ups, across countries and with regional partners, to enhance accessibility to international climate finance in the region through experiences sharing, capacity building, concept notes' development support, etc. and called-upon the Union for the Mediterranean (UfM) and the Global Water Partnership (GWP) to facilitate a regional platform that can service this purpose in a partnership approach. Regional policy frameworks, including the UfM Water Agenda 2030 and its Financial Strategy as well as the UN Environment/MAP Regional Climate Change Adaptation Framework for the Mediterranean Marine and Coastal Areas, provide for its development.
The Mediterranean region is a climate change hotspot and is expected to face severe climate‑related hazards, such as extreme weather events like droughts and floods, increase of soil erosion and desert areas, sea level rise, etc., resulting to a range of negative economic, social and environmental impacts. Despite advancements in identification and prioritization of the countries' adaptation targets, their implementation faces tremendous financial challenge. In this respect, international climate finance is instrumental for bridging the financial gap. Hence, the need to strengthen capacity of competent national authorities and entities to prepare bankable climate water resilient projects.

Photo 1: Opening Session by UfM, GCF, GWP and GWP-Med
During the Regional Workshop, GWP and GWP-Med launched the publication "Addressing Water in National Adaptation Plans – Water Supplement to the UNFCCC NAP Technical Guidelines" in the Mediterranean. A copy of the publication was formally handed by GWP to the UfM representative, Mr. Almotaz Abadi, Managing Director, Division of Water & Environment (Download the publication here: https://www.gwp.org/en/About/more/news/2019/addressing-water-in-national-adaptation-plans/).
The Regional Workshop was organized by UfM, GWP-Med and GWP, with financial support by the Swedish International Development Cooperation Agency (Sida) and the GWP Water, Climate and Development Programme (WACDEP), with technical input from GCF and the World Meteorological Organization. It was part of the GWP-Med/Sida Project 'Making Water Cooperation Happen in the Mediterranean (Med Water Matchmaker)' and contributed to the GEF UN Environment/MAP Project on 'Enhancing regional climate change adaptation in the Mediterranean Marine and Coastal Areas'. The event was held back-to-back with the 10th Meeting of the UfM Water Expert Group (13-14 June 2019).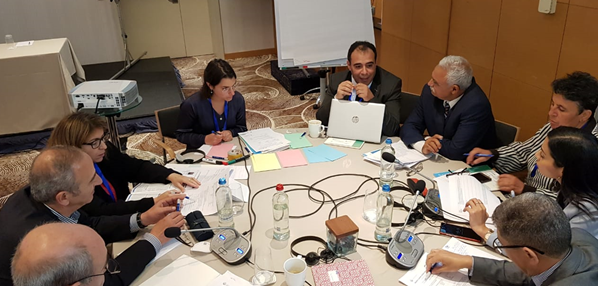 Working groups reviewing proposed priority project interventions to ensure that they contribute to the six GCF investment criteria
The Workshop was the third in a series of regional workshops organized by GWP in collaboration with GCF and regional partners, including for Africa (Pretoria, September 2018) with 24 African countries, for Asia (Philippines, October 2018) with 18 Asian countries, and the upcoming one for Latin America (Panama, September 2019).