Following more than 12 years of leveraging non-conventional water resources and promoting water efficiency to address water-scarcity and climate change impacts at local level in more than 38 Mediterranean islands, GWP-Med launched a new water saving initiative in partnership with Reckitt Benckiser's Finish dishwater detergent. The new initiative titled "Water is in our Hands" is now focusing on changing mindsets and habits within households in island communities, promoting a new culture of water saving and offering practical solutions to reduce water consumption at home.
Watch the video: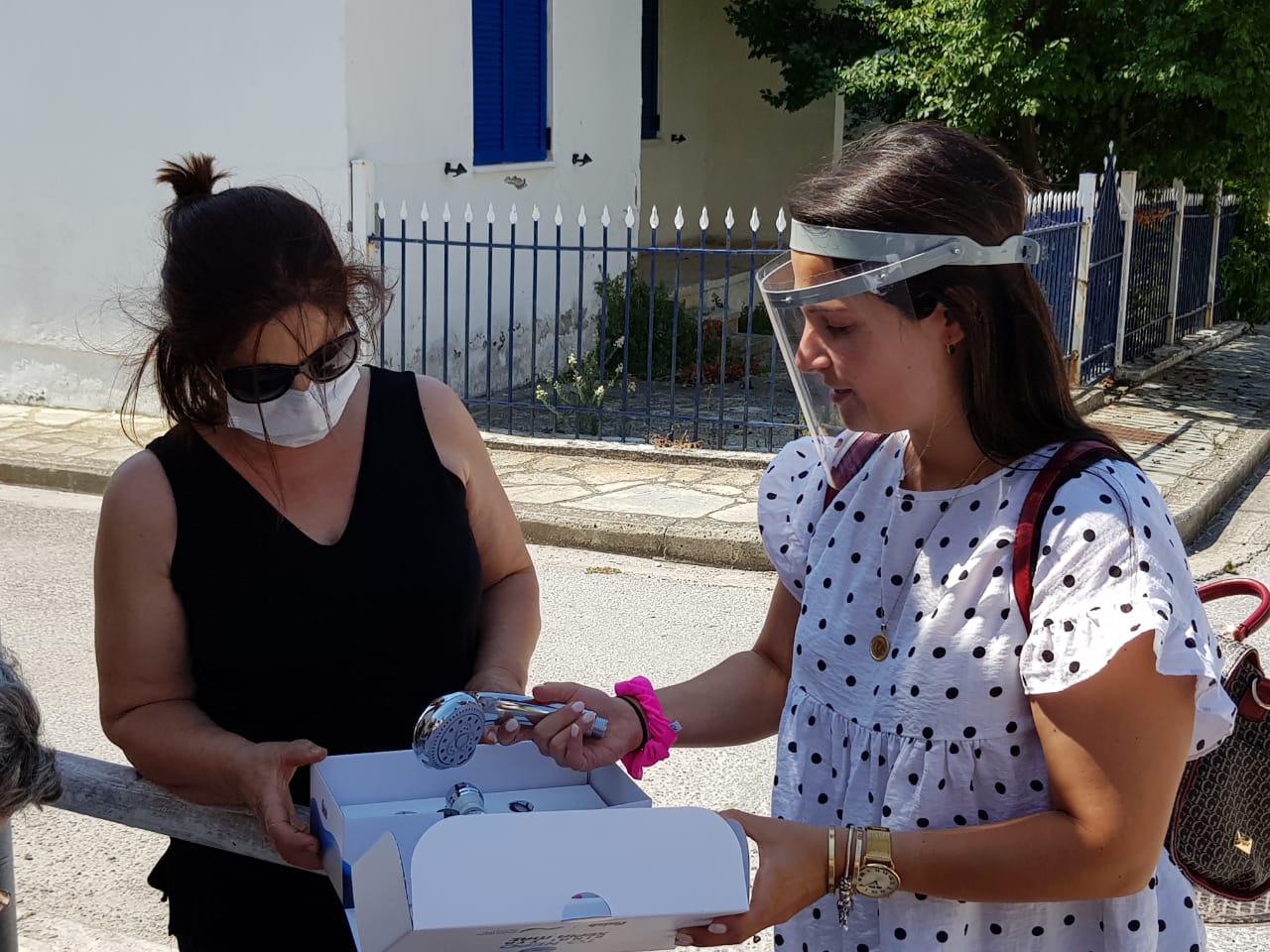 At a time of pandemic when the importance of water availability for hygiene could not be made clearer, the 'Water is in our hands' initiative will equip all households on the North Aegean island of Agios Efstratios, including tourist lodgings, with water-saving kits containing water-saving devices for the kitchen and bathroom. The GWP-Med team will demonstrate its use through onsite visits, while also educating on good practices on reducing water waste.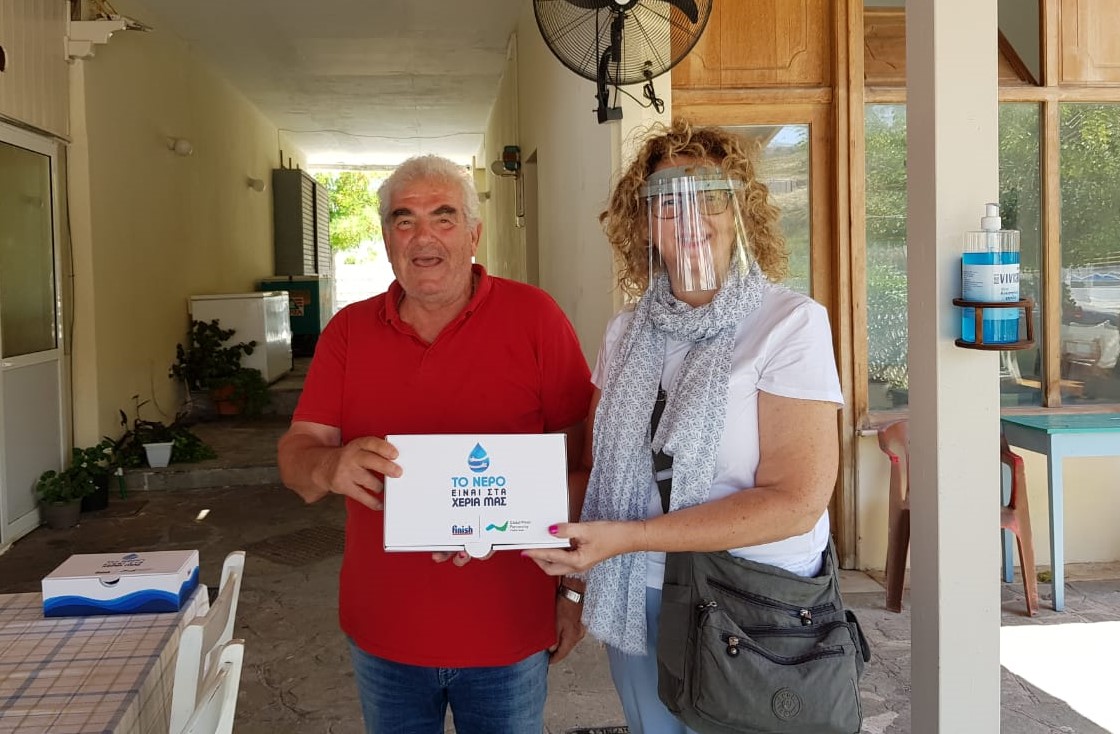 GWP-Med Senior Programme Officer Konstantina Toli disseminating the "Water is in our Hands" water-saving kit to the residents of Ai-Stratis.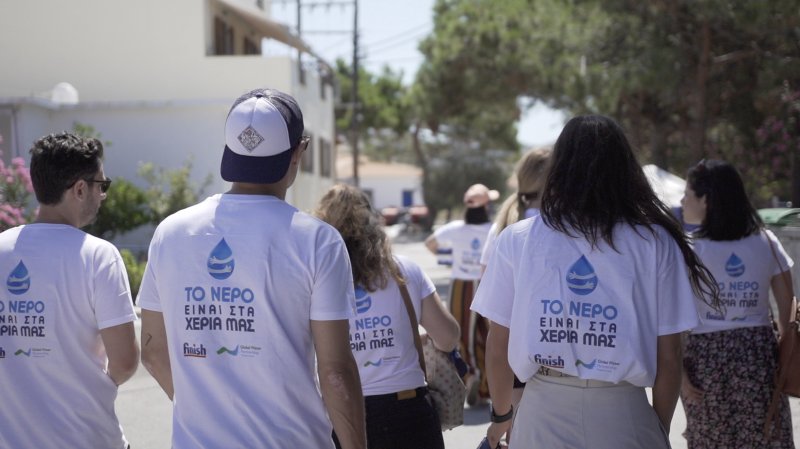 The island of Agios Efstratios, inhabited by 268 permanent residents, is the first stop of this new initiative. Agios Efstratios (aka Ai Stratis) is one of the very few Mediterranean islands that do not rely on desalination for water supply. Still, its aquifer is on the verge of salinisation beyond potable standards and, therefore, curbing demand, particularly during the water-stressed summer months is essential for its water security and in order to adapt to climate change. The "Water is in Our Hands" initiative is run in close collaboration with local authorities. It is aligned with Ai Stratis' vision to become a Green Island and it complements its broader actions for sustainable development, which include a plan to exclusively power of Ai Stratis by renewable energy sources.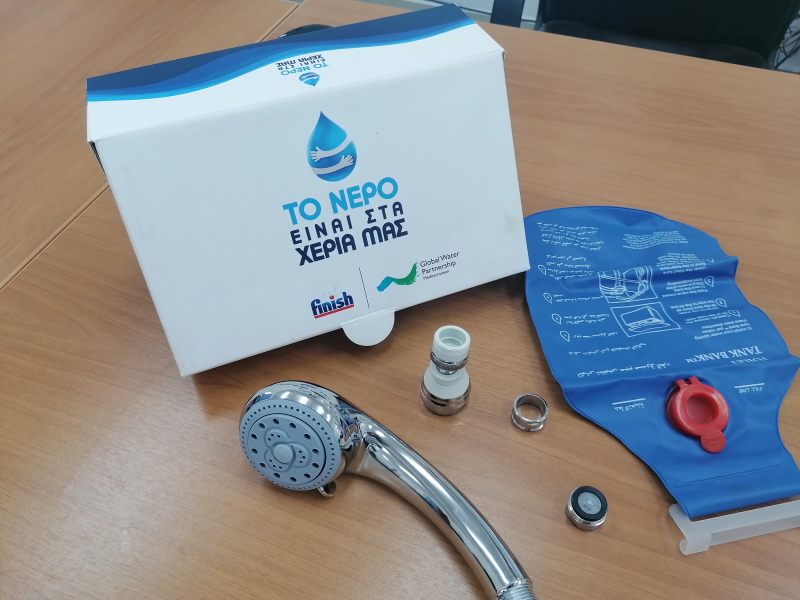 In line with the new GWP global strategy 2020-25, this new initiative mobilises the strength and reach of the private sector to effect change. The new initiative in collaboration with Finish, is planned for 3 years, aiming to reach several Greek islands, providing concrete tools to assist their efforts towards water-security. Through a website, social media content and TV spots, as well as exclusive content created by The National Geographic, the campaign aims to present the case study of Ai Stratis as wake-up call to action towards water-saving for households everywhere, whether in urban centres, or in remote rural areas in the Mediterranean.