Mr Angel Gurria, OECD Secretary-General and Global Dialogue High Level Panel Co-Chair, opened the meeting and welcomed participants. The Forum included 7 key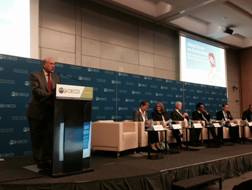 sessions (Water, energy, food: Risks and trade-offs for sustainable growth, Integrating the nexus into national planning, Regional and local perspectives on the nexus, Understanding the long-term trends and interactions, Getting the incentives right for investment, Mainstreaming the nexus in investment and development, The nexus in the post-2015 development agenda) and the side-event "New Perspectives on the Water-Energy-Food Nexus in Eastern Europe, the Caucasus and Central Asia (EECCA)".
GWP and OECD have launched a Global Dialogue on Water Security and Sustainable Growth to demonstrate current situation in the World and alternatives of development based upon available water resources for countries. Special expert group created within this program is preparing a milestone report on 'Water Security and Sustainable Growth' to be presented at the World Water Forum in South Korea in 2015.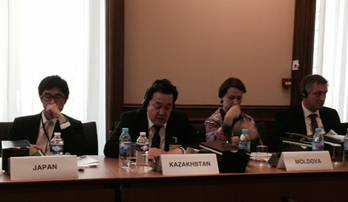 The Side Event "New Perspectives on the Water-Energy-Food Nexus in Eastern Europe, Caucasus and Central Asia EECCA)" explored the potential for a new nexus-oriented approach in the EECCA region that can provide an informed and transparent framework for determining trade-offs to meet water demands without compromising sustainability and exceeding environmental tipping points. This event was organised by the Environment Action Programme (EAP) Task Force. Ms.Dinara Ziganshina, SIC ICWC Deputy Director, participated on behalf of GWPCACENA.