The remote island of Oinousses in the northeastern Aegean has a long tradition of fighting water scarcity. Residents recall experiences of summers past where most of the time was spent securing some water to cover their most basic needs. The island's Mayor, Mr Giorgos Daniil, recalls: "As a young child, the situation regarding water availability was truly dire." He refers to a strict regiment where everyone was restricted to 90 seconds of shower time, to secure just enough water for all.
Watch the video:

Today, under his leadership, a range of water management measures have ensured that the situation is somewhat improved, mainly thanks to a desalination unit and related infrastructure installed. However, water is still provided to households only three times a week, which they store in tanks or cisterns in every house. This water is then used to satisfy basic household needs, but is not safe for consumption for drinking; potable water is also rationed and provided at specific times through shared municipal taps, otherwise residents have to rely on bottled water.
Drinking water is not available in homes, but through municipal taps that provide drinking water to the 800 residents of Oinousses at certain times during the week.
"Desalination has boosted our water supplies, but the energy cost is high. We need to raise awareness on the need to keep saving water and ensure that none of the newly available water resources are wasted. The island's residents need to be our allies in this effort", says Mr. Daniil. The need to manage water demand drove him to extend an invitation to the "Water is in our Hands" initiative, by Reckitt's Finish and Global Water Partnership – Mediterranean, which in its first year, in 2020, visited another remote island in the North Aegean, Agios Efstratios.
The initiative is providing water saving equipment to 450 households and tourist accommodation on the island of Oinousses, as well as its Merchant Marine Academy, aiming to save 1.000.000 litres of water over one year. Additionally, it will replace all the sink taps (kitchens and bathrooms) and the shower batteries of the local Boarding School, which hosts up to 50 high-school students from across Greece.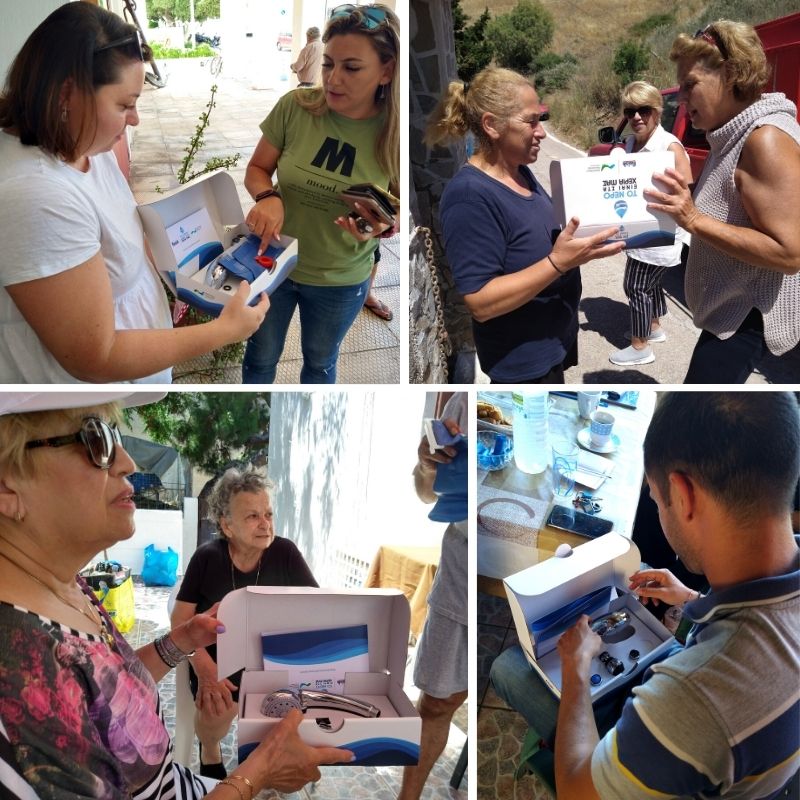 The GWP-Med & Finish teams distribute water saving kits to the residents of Oinousses.

Run in close collaboration with local authorities, the "Water is in our Hands" initiative is focusing on changing mindsets and habits within households in island communities, promoting a new culture of water saving and offering practical solutions to reduce water consumption at home. In July, an awareness-raising event gathering nearly 100 participants highlighted practical methods for water saving. Residents also had the chance to exchange water saving practices of their own, such as recycling the water used to wash vegetables, by collecting it in a washbasin and using it to water plants.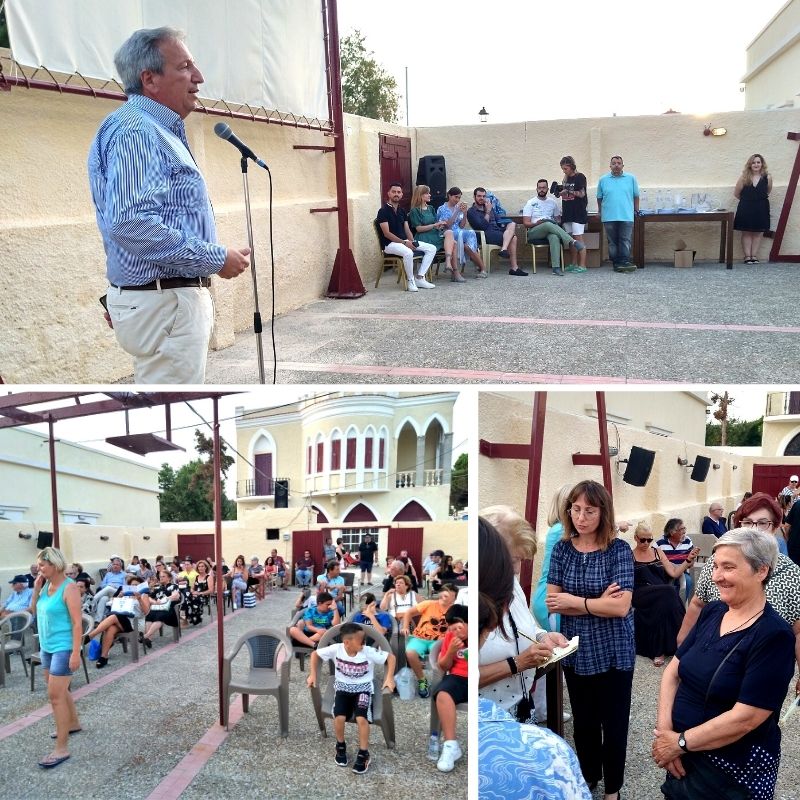 Mayor Mr. Giorgos Daniil addresses the resident of Oinousses on the importance of saving water, at an event organised by the "Water is in our Hands" initiative.
A dedicated part of the event focused on engaging and educating the youth of Oinousses in the culture of water saving.


This initiative follows on after more than 12 years of GWP-Med experience leveraging non-conventional water resources and promoting water efficiency to address water-scarcity and climate change impacts at local level in more than 40 Mediterranean islands.
In line with the new GWP global strategy 2020-25, the "Water is in our Hands" initiative mobilises the strength and reach of the private sector to effect change. This initiative in collaboration with Reckitt's Finish, is planned for 3 years, aiming to reach several Greek islands, providing concrete tools to assist their efforts towards water-security. Through a website, social media content and TV spots, as well as exclusive content created by The National Geographic, the campaign aims to present the cases of Agios Efstratios and Oinousses as a wake-up call to action towards water-saving for households everywhere, whether in urban centres, or in remote rural areas throughout the Mediterranean.

https://toneroeinaistaxeriamas.gr/