On Monday 6 June 2022, GWP-Med was invited to present the Zero Drop project at the Greek Parliament, as an example of an innovative integrated solution addressing water scarcity in the Mediterranean, particularly in islands facing intense pressures from tourism. Zero Drop is funded by The Coca-Cola Foundation and implemented in collaboration with the Municipality of Folegandros, a small island in the Aegean sea.
GWP-Med Executive Secretary, Vangelis Constantianos, presented the key pillars of the Zero Drop project, which through its main technical intervention, is helping optimise the desalination infrastructure of Folegandros. New boreholes have been drilled, providing an extra 350m3 per day of seawater for treatment, raising the island's treated water output by more than 60%. In this way, Zero Drop is helping save more than 10 million liters of water annually by drawing on non-conventional water resources, helping Folegandros on its way to becoming a model island with zero water losses.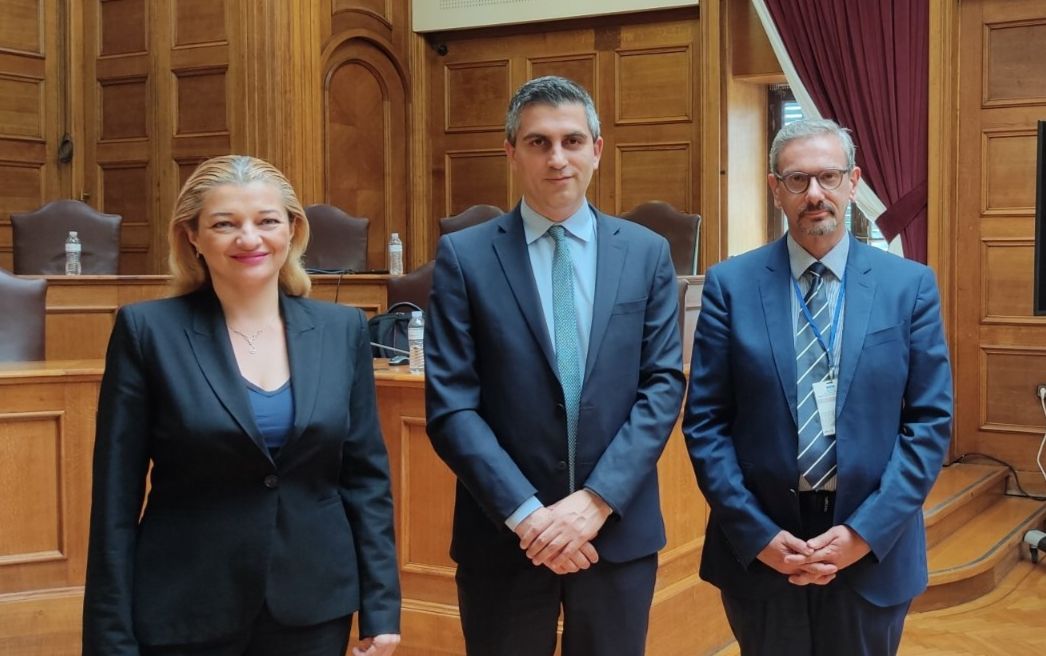 Dr. Dionysia-Theodora Avgerinopoulou, Member of the Hellenic Parliament and Chair of the Environment Committee of the Parliament, Dr. Christos Dimas, Deputy Minister for Research and Technology and Mr. Vangelis Constantianos, GWP-Med Executive Secretary.

Zero Drop is also empowering the local community to improve water management, educating Folegandros's schoolchildren and providing capacity building activities and tools for the hospitality sector.
Mr Constantianos, addressing the Parliament's Youth Committee and Environment Committee also described the project's innovation component, which consists of the installation of water vapor condensers which convert atmospheric moisture into high-quality drinking water, solely with the use of renewable solar energy. By showcasing innovative technologies, the project is aiming to stimulate further innovation and local adaptation of prototype technologies for small island conditions.
Watch Mr. Constantianos' presentation (with English subtitles):
Mr Constantianos' presentation drew from GWP-Med's recent experience in the Matchmaker 2 project, sharing lessons from the Nexus technical solutions, capacity building for effective entrepreneneurship, and youth engagement applied in that framework. The project 'Making Water Cooperation Happen in MENA: Piloting Tangibles', aka MENA Water Matchmaker 2, which is funded by Sida and UfM and implemented by GWP-Med, is another successful example of an integrated approach, aiming to equip UfM MENA countries, specifically Jordan and Palestine, with tangible and scalable local technical solutions, combined with employability capacitation as well as with selected applicable and shareable policy tools, for improved water management and climate resilience, through multi-stakeholder, multi-sectorial and gender mainstreaming approaches.