Efforts to implement the human right to water and access to sanitation in line with the Post-2015 Development Agenda are underway in the Mediterranean Region; however, the financial gaps for the water sector to meet the SDG-related needs of developing countries are massive and putting sustainable financing mechanisms in place, is considered as crucial.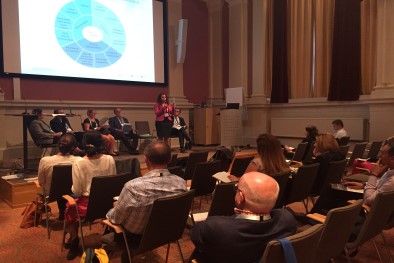 In this context, moving towards better governance can help towards moving to a more financially sustainable water sector. This was the main topic of this interactive session, moderated by Prof. Michael Scoullos, Chairman, GWP-Med, and including a mix of facilitated panel interventions and discussions. Best practices together with lessons learnt on the governance-financing nexus were shared, from the Mediterranean and beyond, including the core findings from the technical work of the project 'Governance & Financing for the Mediterranean Water Sector' in Jordan, Tunisia and Palestine. Ms. Esse Nilsson from Sida -with Sida being an important financial contributor to the project- highlighted the importance of the sustainable financing and good governance for the water sector for the MENA region, while Eng. Mohammad Al Dwairi, Head of Investment Division in the Jordanian Ministry of Water and Irrigation (MWI), shared specific experiences from his country.
Being a multidimensional and multileveled issue, water governance encompasses not only legislative, regulatory and institutional aspects (e.g. laws, regulations, and institutional settings), but it has also political, social, and economic dimensions, extending to water policies and strategies, to the relation among and between relevant stakeholders from within and outside the water sector at different levels. Adopting water governance principles and using performance indicators can be very useful tools towards better governance, as highlighted by Dr. Aziza Akhmouch, Organisation for Economic Co-operation and Development (OECD), who presented the 12 OECD principles for good water governance developed using a multi-stakeholder approach, aiming to set the standards for more effective, efficient and inclusive design and implementation of water policies.
Discussions confirmed that open and inclusive stakeholders' engagement is vital for the sector, and the private sector needs to be part of this process as it has an important role to play, especially when it comes to financing, providing technical expertise and developing CSR (Corporate Social Responsibility) and water stewardship modalities. Engaging key and appropriate stakeholders can enhance transparency, integrity and accountability, while inclusive decision making can lead to better and widely accepted solutions.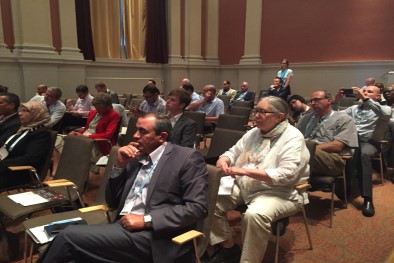 The issue of integrity and the role of corruption as key impediment to sustainable financing was addressed by Alice Jaraiseh, Stockholm International Water Institute (SIWI), providing examples from the South-Mediterranean Region and presenting the key findings of the Sida-funded/UfM labelled project Water Integrity Capacity Building Programme in MENA. Moreover, inclusiveness allows building trust. As Ivan Draganic, UNDP Office in Geneva/Global Water Solidarity (GWS) indicated, starting at local level, multi-stakeholder partnerships can provide a voice for local communities, including the most marginalised calling for pro-poor, inclusive and gender-sensitive action and then can be expanded/replicated to regional/national level.
The session was attended by representatives of different stakeholders, such as donors, governments, private sector, civil society and academia sharing insights and contributing dynamically to the dialogue.
The event was organised by GWP-Med and with the financial support of the Swedish International Development Cooperation Agency (Sida) within the framework of the UfM labelled project 'Governance & Financing for the Mediterranean Water Sector'.
-------------------------------
The 25th edition of the Stockholm World Water Week, organised by the Stockholm International Water Institute (SIWI), brings together actors from across the globe to discuss critical water challenges and reflect on solutions. Every year, more than 200 organisations convene events including scientific workshops on water-specific topics. This year, 'Water for Development' is the focus theme.