La conférence réunira des représentants des pays de l'Union du Maghreb Arabe (UMA) et du G5 Sahel (G5S), à savoir l'Algérie, le Burkina Faso, la Libye, le Mali, le Maroc, la Mauritanie, le Niger, le Tchad et la Tunisie.
L'objectif de la conférence est de soutenir l'accélération de la mise en œuvre des actions d'adaptation liées à l'eau dans le cadre des Contributions Déterminées au niveau National (CDN) pour assurer la sécurité hydrique et atteindre les Objectifs de Développement Durable (ODD) dans les pays de la région. Plus spécifiquement, la conférence a pour objectifs :
1. la consolidation des connaissances des pays en outils et approches d'évaluation des impacts et des vulnérabilités au CC et la priorisation des actions d'adaptation,
2. le partage des expériences et des bonnes pratiques en matière de conception et de mise en œuvre des projets à co-bénéfices (adaptation & mitigation) dans le secteur de l'eau,
3. la dissémination de l'information sur les opportunités de financements pour appuyer la mise en œuvre des engagements des pays définis dans les CDN et les ODD.
La conférence est organisée par les partenariats régionaux du Global Water Partnership respectivement pour la Méditerranée (GWP-Med), l'Afrique de l'Ouest (GWP-WA) et l'Afrique Centrale (GWP-CAf) conjointement avec l'Organisation Islamique pour l'Education, la Science et la Culture (ISESCO), le fonds des Nations Unies pour l'Enfance – Bureau pour l'Afrique de l'Ouest et du Centre (UNICEF WAC) et L'Organisation des Nations Unies pour l'éducation, la science et la culture – Bureau Multipays de l'UNESCO pour le Maghreb (UNESCO) en collaboration avec le Centre National des Ressources en Eau - Ministère de l'Hydraulique et de l'Assainissement en Mauritanie (CNRE) et la Commission Nationale Mauritanienne pour l'Education, la Culture et les Sciences (CNECS).
Note conceptuelle et agenda de la Conférence Régionale.
----------------------------------------------
Regional Conference on Financing water related Projects for the implementation of NDCs and SDGs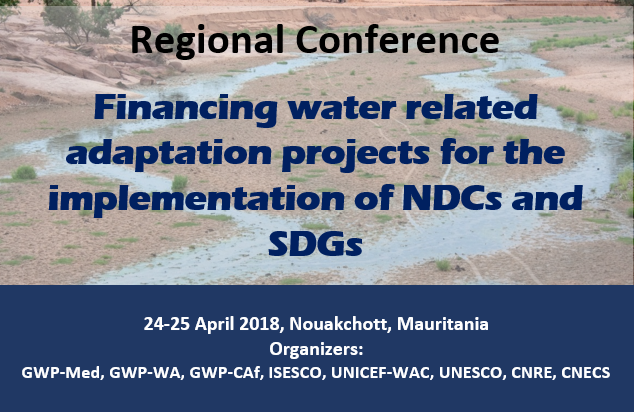 The Regional Conference "Financing water related adaptation Projects for the implementation of NDCs and SDGs: Challenges, perspectives and Opportunities", will take place on 24 and 25 April 2018 in Nouakchott-Mauritania.
The event will bring together representatives of the Arab Maghreb Union (UMA) and G5 Sahel (G5S) countries, namely Algeria, Burkina Faso, Libya, Mali, Morocco, Mauritania, Niger, Chad and Tunisia.
The aim of the Regional Conference is to support the acceleration of the implementation of water-related adaptation actions within the framework of the Nationally Determined Contributions (CDN) to ensure water security and to achieve the Sustainable Development Goals (SDGs) in the region' countries. More specifically, the conference aims to:
1. Consolidate countries' knowledge of tools and approaches for assessing impacts and vulnerabilities to CC and to prioritize adaptation actions,
2. Share experiences and good practices in the design and implementation of co-benefits projects (adaptation & mitigation) in the water sector,
3. Disseminate information on funding opportunities to support the implementation of the countries commitments defined in the NDCs and SDGs.
The event is organized by the Regional partners of the Global Water Partnership respectively for the Mediterranean (GWP-Med) , West Africa (GWP-WA) and Central Africa (GWP-CAf) jointly with the Islamic Educational, Scientific and Cultural Organization (ISESCO) , and the United Nations Children's Fund - Office for West and Central Africa (UNICEF WAC) and the United Nations Organization for Education, Science and Culture Multi-Country Office for the Maghreb (UNESCO) in collaboration with the National Center for Water Resources - Ministry of Hydraulics and Sanitation in Mauritania (CNRE) and the Mauritanian National Commission for Education, Culture and Science (CNECS).