"Investing in the water sector is the shortcut to boosting economic growth and achieve stability in the region: water is an element of dialogue and cooperation in the region that faces acute water shortages."
This was one of the key messages shared during the EU-UfM Water Governance & Business Forum that was held on 20-21 October 2019 during the 2nd Cairo Water Week (20-24 October 2019). The Forum was organised by the Union for the Mediterranean (UfM) with the EU Delegation in Egypt, in partnership with the League of Arab States, the Swedish International Development Cooperation Agency (Sida) and the Global Water Partnership-Mediterranean (GWP-Med).
The Forum discussed EU, Mediterranean and Egyptian water issues including the UfM vision, plan and action towards sustainable development and sustainable water finance, with emphasis on the European Investment Plan (EIP) and the European Fund for Sustainable Development (EFSD). The Forum had a multiple role and value:
It offered the opportunity to promote cooperation between EU and International Financing Institutions (IFIs), in particular with those IFIs working in the region;
It served as a technical follow up to the implementation of the UfM Water Agenda and Financing Strategy for Water, that were mandated by the UfM Ministerial Conference on Water (27 April 2017, Malta);
It also served as an intermediary step toward setting up the UfM Water Financing & Investment Forum, scheduled for 5 December 2019 in Rome, Italy.
GWP-Med Executive Secretary, Vangelis Constantianos and GWP-Med Deputy Regional Coordinator, Anthi Brouma, as speakers and moderators of the EU-UFM Forum's sessions
The EU-UfM Business & Governance Forum brought together around 100 different high-level actors involved in the water and financing sectors at national and regional level, serving as a platform for discussion among governments (Ministry for Energy and Water Management/Republic of Malta, Ministry of Water/State of Palestine, Ministry of Water Resources and Irrigation/Arab Republic of Egypt) , development partners (EBRD, EIB, AfD, IsDB, World Bank, KfW, OECD), private sector (SEURECA – Veolia, SUEZ), regional organisations (CEDARE, RAED, IME) and utilities (HCWW), to name some of the participants.
The Forum sessions highlighted the shortcomings but also the needed actions facing the water sector in Egypt and the Mediterranean region at large, with emphasis on the sustainable financing of infrastructure projects. More specifically, the main themes discussed included:
1. Strengthening adaptive capacity building and institutional frameworks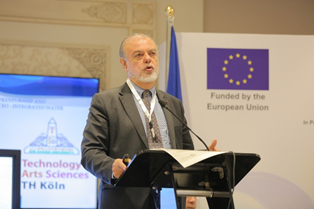 Prof. Michael Scoullos, Team Leader, Water and Environment Support (WES): EU Water and Environment Support in the ENI Southern Neighbourhood region, on strengthening adaptive capacity building and institutional frameworks
2. Ensuring Water Security and Climate Resilience for All
3. Sustainable Financing for the Mediterranean Water Sector: Role and Requirements of Public Private Partnerships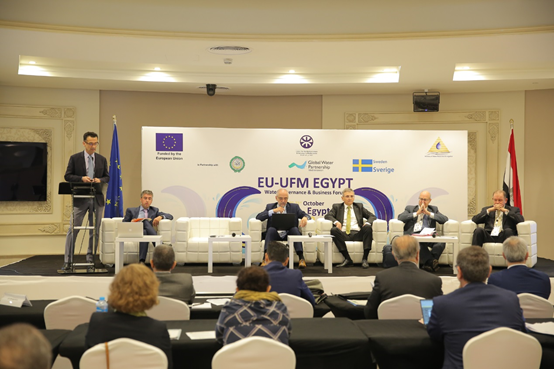 Experts from OECD Environment Directorate, Egypt's Ministry of Finance, SUEZ, European Investment Bank, and Mediterranean Water Institute, in one of the Forum's most interactive sessions, on Public- Private Partnerships.
4. Development Partners' coordination and Harmonization for optimal Water Resources Management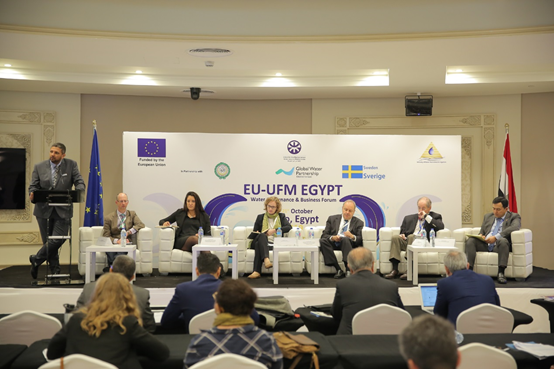 Dr. Ayman Ayad, Sector Manager for Water and Utilities, EU Delegation to Egypt welcomes experts from EBRD, Agence Francaise de Developpement (AFD) -Cairo Office, KfW Office Cairo, World Bank, IsDB and GWP Chair of Technical Committee to look into current practices in development partners' coordination and ways to evolve them for better water resources management
The Forum highlighted the fact that interlinkages between water security and economic growth make the quest for water security a collective goal that needs to involve as many different and diverse actors as possible. In this process, development partners have a crucial role to play and the EU-UfM Water Governance & Business Forum declared its goal to assist with the development of a roadmap for regional action, guiding the financing and investment in the water sector.
For more information please visit https://ufmsecretariat.org/eu-ufm-water-governance-business-forum/.