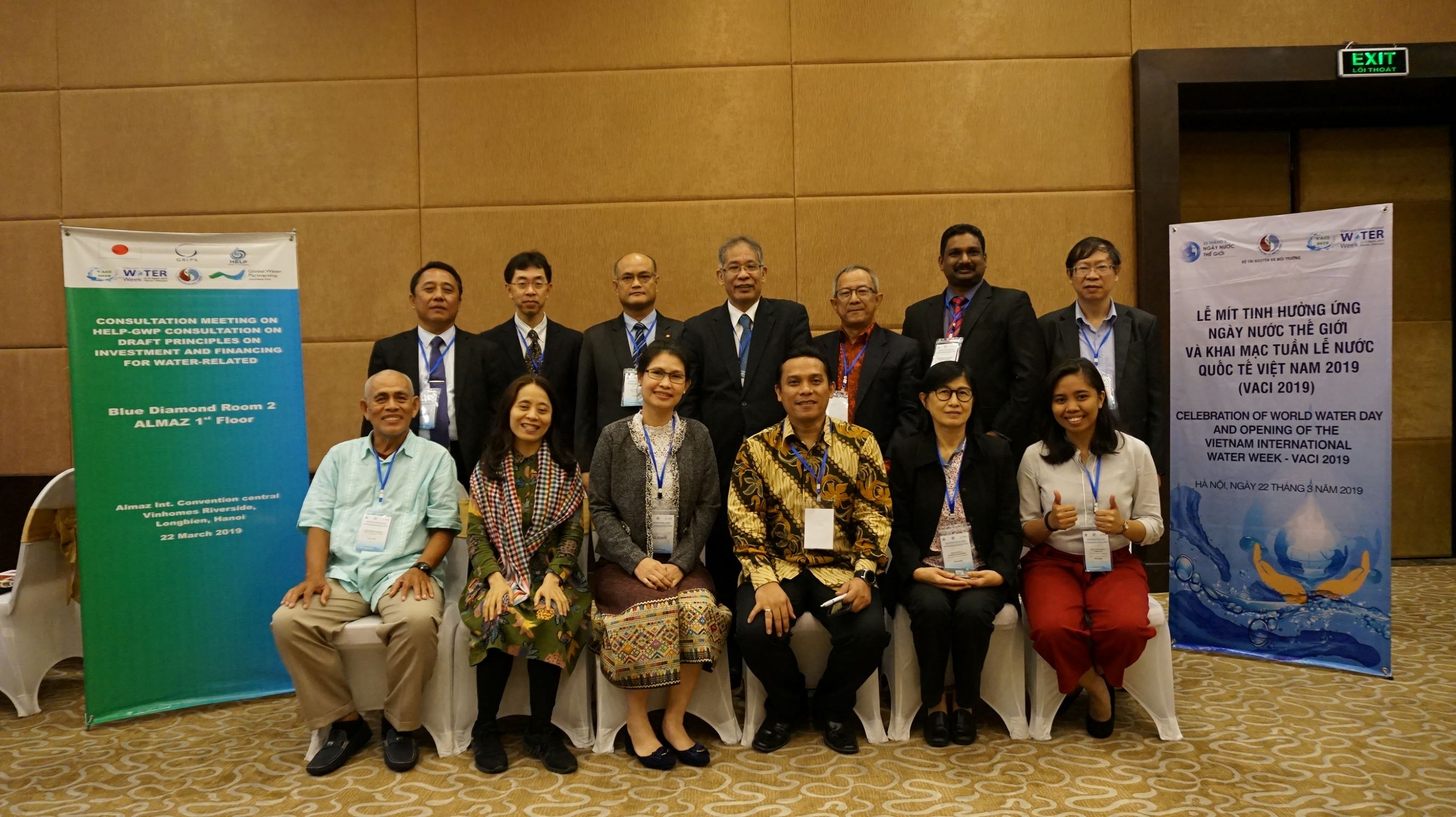 photo: Group photo of the sponsored participants and organizer
During the consultation meeting, the participants were welcomed by Professor Hoang Thai Dai, the Steering Committee Member of Vietnam Water Partnership and second secretary of Japan Embassy for Socialist Republic of Vietnam Mr. Takuya Kudo. Both remarks emphasized the importance of water-related disaster risk reduction (DRR) amid the heightened uncertainties due to climate change. With the vast experience in managing disasters for many years, the Japanese government sees the importance of investment and financing for DRR especially in water-related disasters. Japanese government fully supports the international effort to formulate principle of financing and investment for water-related DRR and share its experiences, lesson learned and best practices to raise awareness of countries to put more attention on this matter.
Professor Kenzo Hiroki coordinator of HELP (High-level Leaders and Experts Panel on Water and Disaster), professor of GRIPS (The National Graduate Institute for Policy Studies) argued that disasters are increasing in numbers and impacts. Based on the finding of CRED - The human cost of natural disasters report in 2015, water related disasters accounts for 95% of all disasters that have happened. It was reported that the world has lost 2.7 trillion USD in 20 years (1995-2015) by disasters. The highest impact of disasters are experienced by the most vulnerable group and therefore, water and disasters is strongly linked to poverty issue.
Dr. Vong Sok assistant director of Sustainable Development – ASEAN Secretariat highlighted that water-related disaster risk threatens the region development process and business. These are done through the disruption of production flows of goods and services, worsening the balance of payments and government budgets, derailing economic growth and poverty reduction, which eventually give negatively effects on both the region short and long term development plan. He also added that the main threat to water availability and water quality in most ASEAN member states (AMS) is poor management, coordination and awareness. Rapid urban development and poor spatial planning leads to encroachment of the built environment into flood-prone areas and serious degradation of catchments. Under the blueprint of ASEAN 2025 "Forging ahead together", one of the key results area emphasized on the importance of resiliency.
Mr. Fany Wedahuditama the Global Water Partnership Southeast Asia (GWP-SEA) Regional Coordinator argued that preparedness must be measured, because "preparedness is the mother of luck". On his presentation he added that GWP-SEA is developing a tool that will enable country to assess their readiness status. By having the readiness status mapping, it is expected countries can develop their preparedness roadmap for water-related DRR which eventually leads to financing and investment plan for water-related DRR. The mapping of readiness should also linked to a systematic support system which will be coordinated under the water-related DRR facility, coordinated by GWP-SEA. It is expected the facility can start to operate within one or two years. The benefit of having country's preparedness or readiness mapping is that it can help to direct international support to the most needed country.
The main session on the draft principles on investment and financing for water-related DRR was presented by Mr.Tomoyuki Okada from the Ministry of Land, Infrastructure, Transport and Tourism (MLIT), Japan. He presented that the goal of the principles are: to double the investment and financing for water-related disaster risk reduction; and to shift international assistance from disaster response to preparedness from the current practice ratio of Emergency Response/Rehabilitation: Disaster Risk Reduction/Preparedness (9:1 to 1:9). After the presentation of Mr. Okada, participants were given sufficient time to complete questionnaire.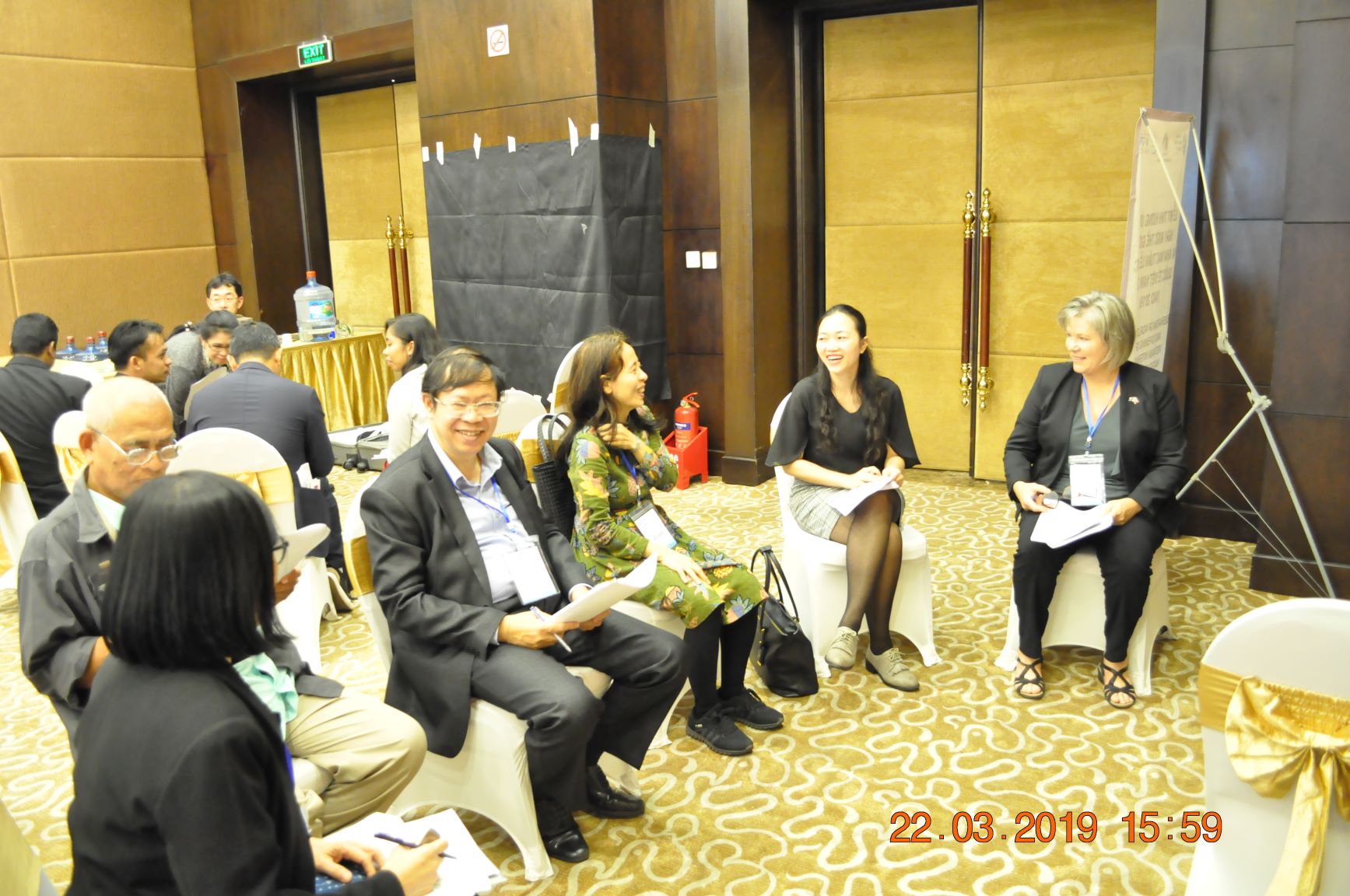 Photo: Group Discussion
After the break, the second part of the consultation meeting were consisted of several session. The first was focus group discussion. All participants were divided into 3 smaller groups each with a facilitator and a rapporteur to discuss the Principles and their operationalization and latter each group were given the floor to present their findings. The last discussion concerning citizens' perceptions about recovery from mega-disasters were conducted through 4 presentations from the representative of Malaysia Country Water Partnership, Cambodia Water Partnership, Philippines Water Partnership and Thailand Water Partnership. AW