Global Water Partnership Southeast Asia (GWP-SEA) since its existence in the region has supported Country Water Partnership in the adoption and implementation of IWRM. Among many initiatives that had been coordinated was the SDG Support Program. However, to date, growing problems on the ground sometimes might have short-term solutions or even more not yet have any solution. Furthermore, the presence of innovative solutions which have been developed by many organizations, are still yet to reach those who needs them.
Realizing this situation, GWP-SEA has organized meetings with several institutions or private with innovative solutions in solving water-related problems for countries in the region. GWP-SEA will facilitate the learning exchange forum and facilitate the development of collaboration projects.
The first exchange forum webinar series was held on 27 May 2021. Focus on infrastructures and ground monitoring, Detektia utilizes the latest RADAR satellite technologies and Artificial Intelligence to establish a reliable early warning system related to deformation in dams, infrastructures, aquifer, and entire cities.
Of the 84 registered participants, 44 participants were engaged directly through the online webinar. The participants representing different management levels and types of institutions, joining from different continents.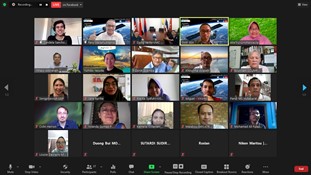 The DINSAR technology is applied to detect deformation in ground & infrastructures with millimeter accuracy. The EyeRADAR was developed by Detektia, based in Madrid, to provide solution for the civil engineering and groundwater sector.
The recorded session can be seen on GWP-SEA Official Facebook Page, here: https://bit.ly/3xccV5Z .
The presentation can be downloaded from the event page here: https://bit.ly/3fa8z9d