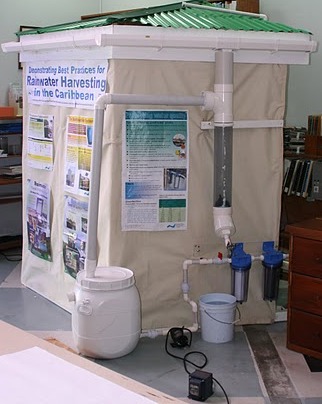 In partnership with the Council for Science and Technology (CCST), GWP-C applied for and received a grant from the Perez-Guerrero Trust Fund (PGTTF) to finance the RWH project. GWP-C then contracted the Caribbean Environmental Health Institute (CEHI) in 2009 to design and create a fully functional RWH model that could be adopted by water-scarce communities in the Caribbean.
In addition to CEHI constructing a portable RWH system specially designed to minimise contamination and enhance the quality of captured and stored rainwater, the other output of the contract includes the development of a regional toolbox on rainwater harvesting, to be used as an educational resource in promoting awareness of rainwater harvesting, namely in water stricken areas throughout the region. The toolbox contains useful information on RWH including reference documents on RWH in the Caribbean and public awareness information.
The model provides a very real example of how an actual rainwater harvesting system would operate as it is designed to allow water to be introduced to the system and persons can therefore have a live demonstration on how the system works. The model also includes interpretive information panels and pockets for toolkits that contain posters, leaflets, brochures, technical documents, handbooks among other material on rainwater harvesting.
For more information on our Rainwater Harvesting Model e-mail us at: info@gwp-caribbean.org