The main aim was to equip journalists and civil society representatives with a fine-tuned understanding of climate change challenges in the Mediterranean and wetlands' crucial contribution in mitigating climate change impacts through nature-based solutions, and reinforcing coastal communities' resilience while protecting biodiversity. Given the key role that media and civil society have to play in raising public awareness on challenges, impacts and solutions on climate change, the Training aimed to raise capacities for understanding the subjects at stake and to identify how scientifically accurate information can be provided on a regular basis, in order to help inform and engage the public on related matters.
The events were launched with a Training for Journalists and NGOs, on 16 December 2019.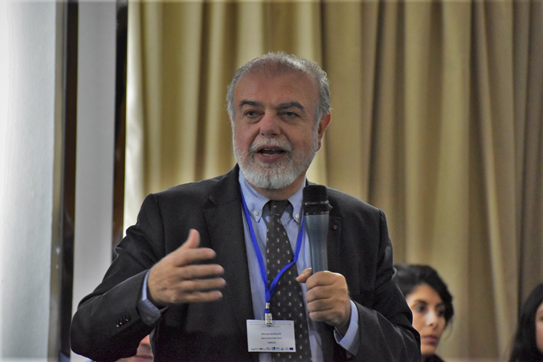 Prof. Michael Scoullos, Chair of MIO-ECSDE and GWP-Med, set the scene, explaining the important role and value of natural ecosystems, and wetlands in particular as well as the fundamentals of the the Water-Energy-Food-Ecosystems (WEFE) Nexus approach.
He also shared key elements of a forthcoming Handbook on Governance & Wetlands, supported by the MAVA Foundation, which includes a checklist for action on institutional settings, policymaking and management instruments towards coastal wetlands' sustainability.
Why was it important for this Training to take place now? Dr. Hammou Laamrani, League of Arab States' Senior Expert, explained that the Mediterranean region is confronted with an alarming ecological crisis that is intensified by climate-related shocks, since warming occurs at a rate 20% faster than the world average. By 2040, mean temperatures around the Mediterranean are projected to soar by 2.2°C, with harsh consequences on nature and livelihoods.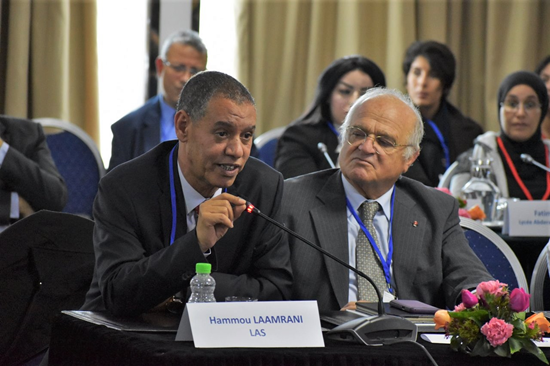 Dr. Hammou Laamrani, League of Arab States.
The Training focused on coastal wetlands, as one of the most efficient nature-based solutions to fight the effects of climate change. In spite of this ecosystem's critical importance, for more than a century, the combined assault of human activities and climate variability and change have wiped out half of the coastal wetlands around the Mediterranean. Agricultural activities, industrial pollution and human settlements either encroach on these ecosystems or break down their fragile balance. Mismanagement of wetlands can even reverse their role from carbon sinks to carbon sources and feed global warming. While conserving and restoring vulnerable wetlands is an absolute necessity in to fight climate change impacts, action is lagging behind in the Mediterranean.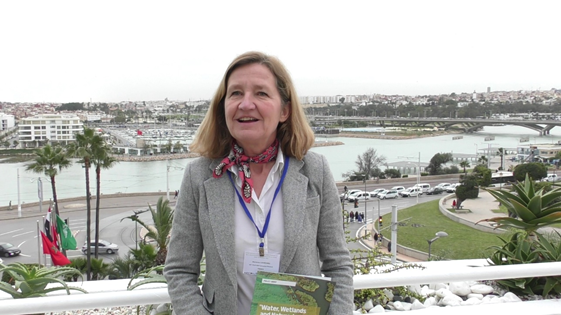 Marianne Courouble, Off Your Map, MedWet
"Now is the time for action for Mediterranean countries to really ensure that the next generation is not going to be affected by the effects of climate change. Coastal wetlands are part of the solution. Today, we met very enthusiastic journalists ready to make the maximum effort to raise the issue to the attention of the government and local authorities."
Relevant tools to address these impacts were presented by Dr. Sarra Touzi, GWP-Med Senior Programme Officer, such as through the WEFE Nexus approach that highlights the interdependencies between climate change, wetlands and the water, energy and food sectors. Drought maps are also an important tool for shaping management options and informed decision making.
"We discussed how the Nexus approach through assessing the interlinkages between water, energy, food and ecosystems can assist in identifying solutions, including nature-based solutions that, through the enhancement of the role of wetlands and ecosystems services, can assist in building coherent policies that look towards sustainable development and biodiversity protection at the same time."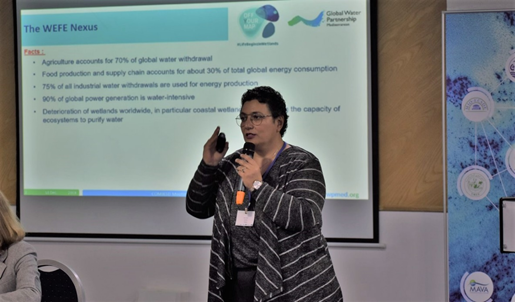 Dr. Sarra Touzi, GWP-Med
At a session facilitated by Ms. Louise Sarant from IWMI, participants discussed realities of working on climate change and wetlands as journalists, sharing challenges they are facing and common ways of addressing them. Furthermore, Mr. Faouzi Maamouri from WWF North Africa and Mr Luca Foschi from the MedSea Foundation shared their experience of working with journalists for two OFF YOUR MAP demo wetlands sites.
The voice of the new generation of reporters was also present and clearly heard as 'Young Reporters for the Environment' and Ambassadors of the 'African Youth Climate Hub' supported by the Fondation Mohammed VI pour la Protection de l'Environnement also contributed their knowledge and remarks.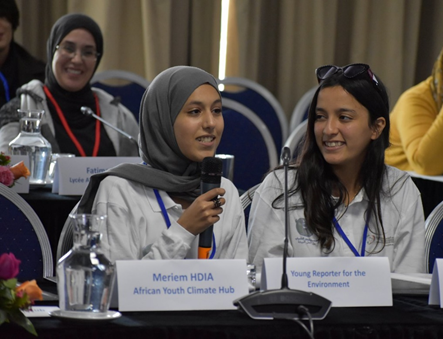 Finally, an expert-led session on data visualization tools presented the latest and best ways to report on and visualize environmental data.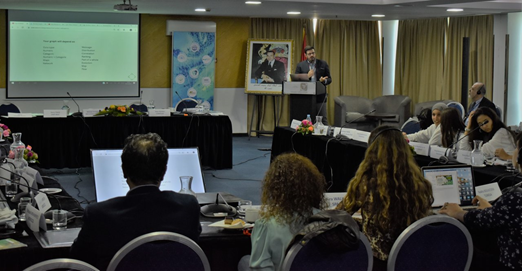 Mr Amr. Eleraqui facilitating the data visualization session.
Participants were also invited to participate on the following day (17 December 2019) in a meeting of Mediterranean Parliamentarians & Stakeholders dedicated to "Launching a new decade of sustainable development in the Mediterranean" hosted at the Parliament of the Kingdom of Morocco. This constituted a unique opportunity for journalists to be informed first-hand and directly interact with Members of Parliament from many Mediterranean countries as well as international organisations, experts and NGOs working towards a common goal in the region.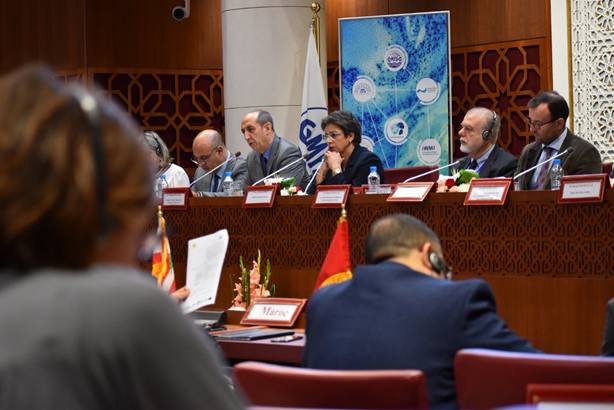 A field visit to the nearby wetland of the Rabat-Sale-Kenitra region took place in the morning of the 18th of December, providing the opportunity for hands-on understanding of the importance, challenges and opportunities from sustainable wetlands management.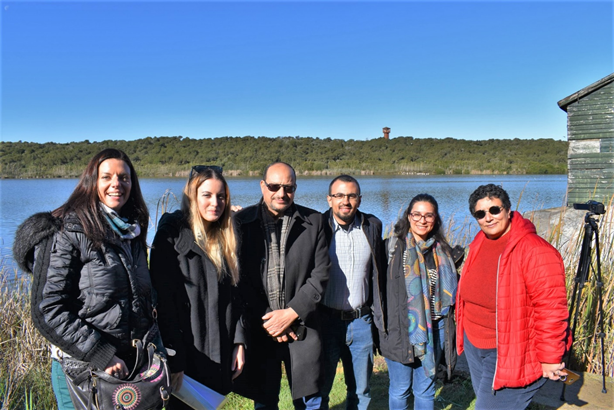 Ahmed Kotb, Al-Ahram Weekly Newspaper, Egypt, summarized the challenges, as well as the opportunities facing journalists in the region:"We need access to reliable data, easier access to officials and scientists and all types of sources that we can gather information from to convey the message more properly to the public and policy-makers. With these tools we can help them realize the importance and urgency to act on climate change and aspects that were previously maybe 'left behind', like coastal wetlands, which is a very important topic that I learned about in the training."
Nedra Boukesra, Tunisian Press Agency, highlighted that: "The most important challenge is to find the means and the angle that will make scientific information relating to the condition of wetlands more accessible to a wide audience. It is a question of having access to up-to-date and first-hand data on wetlands and their management in my country (in this case Tunisia) as well as in the countries closest to us (Maghreb) and partner countries (France, Italy, Spain)."
Louise Sarant, IWMI, expressed optimism regarding the impact of the Training, stressing that "it's a very good idea to bring journalists from a specific region together, especially environmental journalists who are often times struggling with the same sort of issues but have very different access to data, depending on which countries they are in. Some of the really interesting collaborations between journalists happen at this sort of conferences where they actually get to meet and realise that they are faced with the same issues."
The events were a joint effort co-organised by the Global Water Partnership – Mediterranean (GWP-Med), the Mediterranean Information Office for Environment, Culture and Sustainable Development (MIO-ECSDE), the "OFF YOUR MAP" campaign supported by the MAVA Foundation for Nature, the International Water Management Institute and the 'Making Water Cooperation Happen in the Mediterranean' project (aka the Water Matchmaker) supported by the Swedish International Development Cooperation Agency (Sida). The Training for journalists & NGOs was also supported by MIO-ECSDE Member Organisations based in Morocco: CMED and Spana.
OFF YOUR MAP" emphasizes the value of coastal wetlands. The campaign is a collaboration between 12 organisations: BirdLife, DiversEarth, GWP-Med, IUCN Med, MedINA, MedPAN, MedWet, PAP/RAC, Plan Bleu, Tour du Valat, Wetlands International, WWF.