Seventy percent of Earth surface consist of water, however the distribution of the water resources are vary. Fortunately, years of experience and the advancement of technology has allowed us to find pristine water sources, even when the others gave up and stated that there is no water in this area.
Juvenile water (magmatic water) is "new" water that is in, or derived from, materials deep within the Earth and has not previously appeared at the Earth's surface or circulated in the atmosphere. Magmatic water can form in very large quantities.

The innovative scientific methodology will allows us to provide water in hard-to-reach territories (granite, hills, deserts), and to put multiple boreholes on limited areas without charging existing known aquifers. The technology will also allow us to provide high-quality water with a stable flow rate, that is accessible for the long term.
Thus, the second of the series from the Innovative Solution for Sustainable Development was held with the topic: Magmatic Water, new water source for addressing freshwater scarcity on 19 August 2021. The event attended by approximately 60 participants who are based in Asia-Pacific and Europe.
The presentation opened by Ms. Rahma Elfithri, the Deputy Regional Coordinator of GWP-SEA and then followed by presentation from Mr. Ruslan Lavrinenko, the CEO of Zander Agro.
The presentation centered on the definition of magmatic water, and how we can distinguished it from any other water sources. Mr. Ruslan also explained the location of the successful magmatic water explorations, and the benefits of using the technology compare to the traditional method.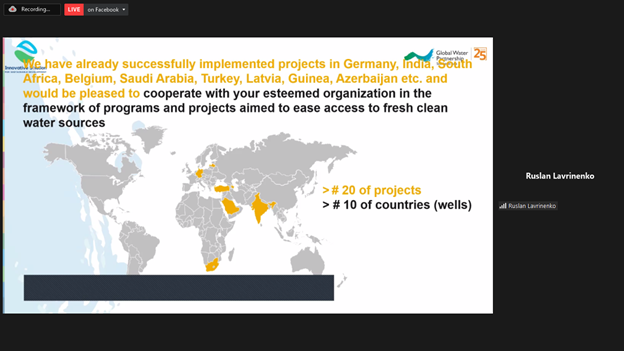 During the event several questions were raised in particular about the difference between magmatic water and ground water, methodology to extract the magmatic water and the key challenges in applying the technology.
For further reference, you can access the recorded webinar by from our Official Facebook Page here and get the webinar material from our page event here.