The annual GWPO Network Meeting is convened to provide an opportunity for Partners to learn from each other and exchange ideas with GWP. The Network Meeting also serves as a platform to adopt the strategic directions and policies; to recommend action to be taken by the Steering Committee ; and to comment on the yearly activity and financial reports of the Steering Committee.
Network Meeting 2022: Format & Agenda
This year's Network Meeting will be held as a two-and-a-half hour session as part of the Annual GWP Reginal Days. Sessions are open to ALL regions and all Partners are invited to join. There will be five GWPO/regional co-hosted thematic Breakout Groups as per agenda below: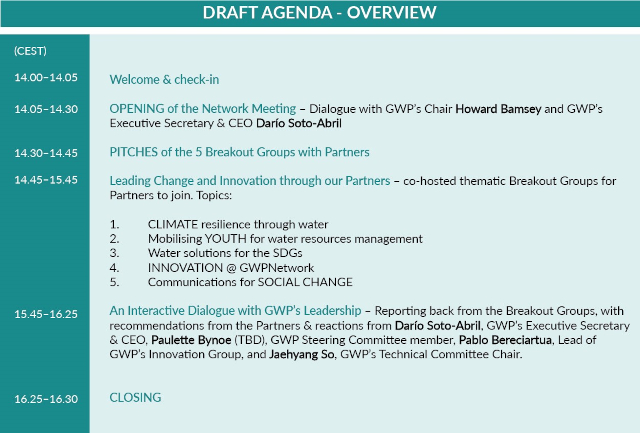 How to join
The 2022 Network Meeting will be a hybrid event with Partners joining online via Zoom. To join, register here:
The meeting will be broadcast live on our social media channels. Language interpretation will be available for the main plenary.
This year's edition is the fourth following three successful editions in 2018, 2019, 2020, and 2021.
Follow the GWPO website for constant updates on the Network Meeting.