A global initiative to support emerging leadership for improved water, sanitation, hygiene services, and climate resilience
Equitable and inclusive access to sustainable and climate-resilient drinking water, sanitation, and hygiene (WASH) services are crucial to human health and well-being as well as development and livelihood opportunities. Well-managed WASH services can support efforts to combat diseases like COVID-19, help people adapt to the impacts of climate change, empower women and girls, and underpin the achievement of broader sustainable development goals. A prerequisite for sustainable WASH services is the proper management of water resources. However, despite the critical importance of this issue, over 785 million people still lack access to water, and 1.9 billion lack access to basic sanitation. Fewer than 71% of the global population have basic handwashing facilities with soap and water at home.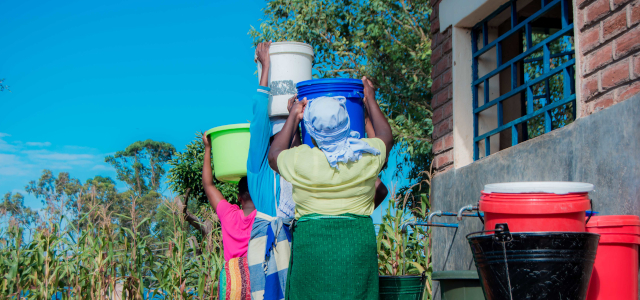 Women carrying water buckets on their heads
Developing countries, including Malawi and Tanzania, face the greatest challenges due in part to greater vulnerability to climate change impacts and fewer means to reduce climate-related risks. Current efforts to improve water security globally are falling short due to, among other things, a lack of useful data to inform decisions and policymaking, high-level leadership to prioritize action in favour of water security, and investment to increase resilience.
To address these challenges and to improve the resilience, health, well-being, and livelihood options of vulnerable populations, especially women and youth, UNICEF and the Global Water Partnership (GWP) are collaborating to implement the Global Water Leadership in a Changing Climate (GWL) programme, with the support of the Government of the United Kingdom, through the Foreign and Commonwealth Office (FCDO). Other partners include Sanitation and Water for All (SWA), Joint Monitoring Programme (JMP) with the World Health Organization (WHO), and the Alliance for Global Water Adaptation (AGWA).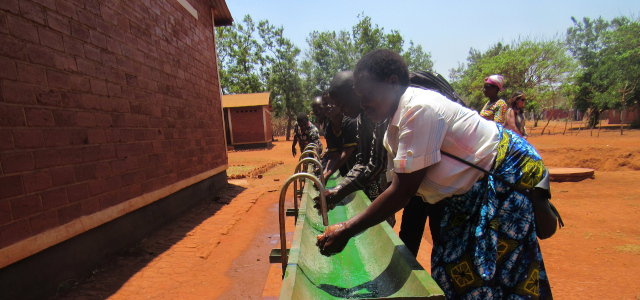 Community using communal taps
A ground-breaking global initiative, the GWL provides critical support to governments in selected low and middle-income countries (LMICs) to become international models for water leadership, demonstrating the socio-economic transformations that can be accomplished by making climate-resilient and gender-transformative water management and WASH services a political priority.
The Global Water Leadership Programme is being implemented in 10 countries: Malawi, Tanzania, Madagascar, Rwanda, Uganda, Central African Republic, Chad, Bangladesh, Nepal, and the State of Palestine.
Programme objectives and outputs
Initiated in May 2021, the GWL will run until 2024. Its primary focus will be to support governments to implement impactful and inclusive climate-resilient water policies and strategies that will result in better-served and more climate-resilient communities. It will also engage the water and WASH sectors to identify the impacts of climate change on their resources and services and to identify and leverage large-scale opportunities for climate financing. The Government counterparts in the identified countries are crucial partners in successfully achieving the key programme objectives, including:
Generating and analysing critical evidence and data on water resource management and WASH services in-country to aid in decision-making processes supporting transformative policies and strategies;
Identifying the impact of climate change on water resources and WASH services, discovering technical solutions, and embedding these into key national policies, plans, strategies, and priorities;
Driving progress by focusing national efforts on identifying bottlenecks and creating strategies to overcome them, including potential sources of new or existing finance;
Building political will and fostering dynamic collaboration between stakeholders to strengthen water governance and build back resilient, inclusive water resources management and WASH services;
Strengthening water leadership by creating a palette of new voices to advocate for the critical importance of sustainable water resources and WASH services for health, livelihoods, climate resilience, and economic growth in national and international arenas.
Creating the investment case for climate-resilient water resources and WASH services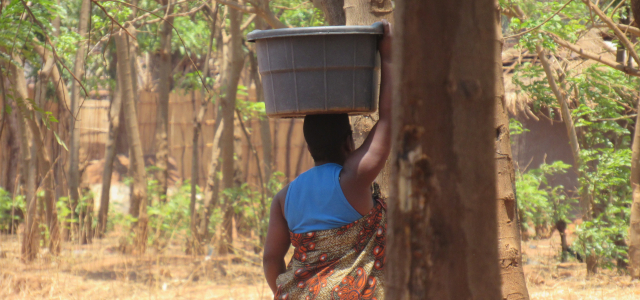 Woman carrying water bucket on her head