On March 22, 2016, a new page was opened for GWP China under the witness of the Ministry of Water Resources and the Ministry of Civil Affairs which recorded the independent legal status named "China Water Resources Strategic Studies" in Chinese and "GWP China" in English. On the occasion of World Water Day (22 March), GWP China hosted the 3rd Regional Partners' Meeting during which the new council members of GWP China were elected for a term of three years (2016-2018) in Beijing. The event gathered 270 participants who represented regional partners and elected Mdm. Qihua CAI as Chair of GWP China, who is the first lady chair in the region. There are totally 99 council members and among them 33 are standing members; 8 vice chairs and 1 standing vice chair. Prof. Hao WANG was elected as the Standing Vice Chair of GWP China.

Later in 2016, the Ministry of Civil Affairs issued the legal certificate to GWP China, receiving congratulations from of the Ministry of Water Resources, host institute—IWHR, and other partners. As in 2016, the Chinese Government approved The Law of the People's Republic of China on the Administration of Activities of Overseas Nongovernmental Organizations in the Mainland of China. It is designed to standardize and guide all activities carried out by overseas NGOs from outside China's mainland. The Law would protect their legitimate rights and interests and facilitate communication and cooperation. Under the Law, the management of all international NGOs would have legal validity.

By registering, GWP China adopts its statute in accordance with GWP vision, mission and development strategy, remaining its national and international strengths and features. Over sixteen years, GWP China has developed as a neutral platform of sharing IWRM concept and practices and water- related tools and experiences among stakeholders. On the other hand, it has enjoyed reputation at international stage through GWP network as well as cooperation with other international organizations. The outcomes are acknowledged and appreciated by the Chinese Governments at central, provincial and local levels. For celebrating the legal status of GWP China, Mr. Lei CHEN, Minister of Water Resources and Mr. Bo LI, Director General, Bureau of Social Organizations Management of the Ministry of Civil Affairs delivered their speeches in this regard.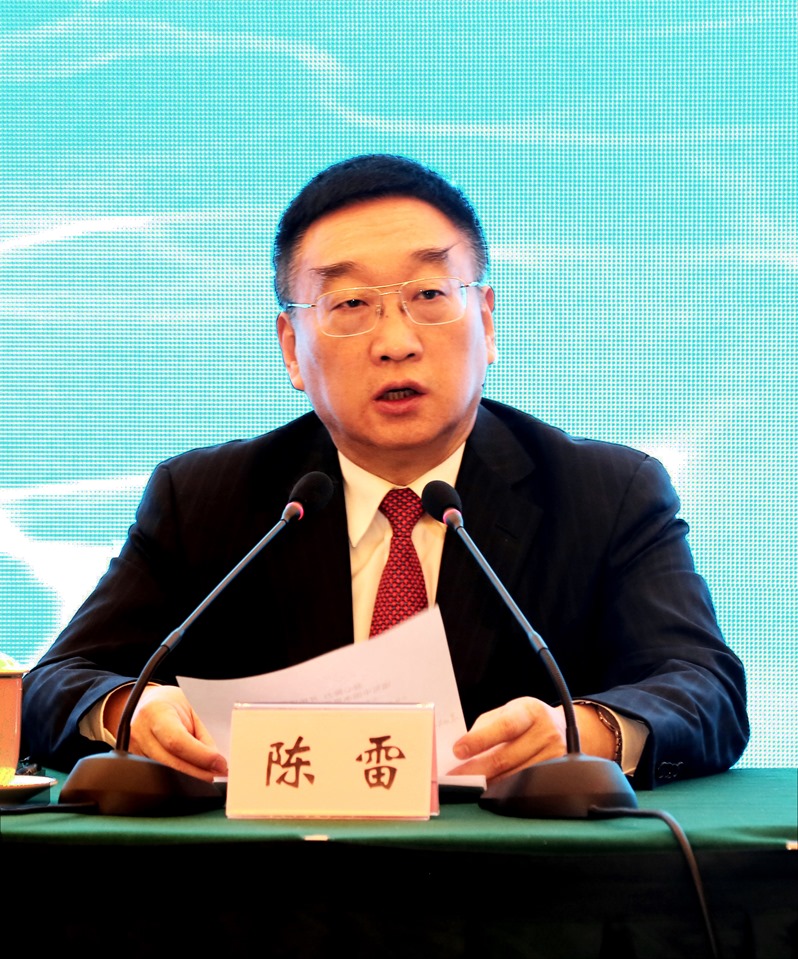 (Mninster CHEN expressed his hope on GWP China on its new page in the future.)
"China Water Resources Strategic Studies (Chinese Name) and GWP China (English Name) are two brands but under the same leadership. Its on-site investigations and workshops have obtained favorable results. It has made water governance concepts effectively spread, partnerships further expanded and international water- affair exchanges achieved. GWP China should focus on the strategic goal of ensuring national water security, fully make advantages of talents, intellectuality and connections, organize experts and technical force to conduct in-depth proactive, targeted and diverse policy studies on water resources, achieve more characteristic and high-quality products of thought, and strive to build a featured think tank with great impacts both at home and abroad", Minister Chen addressed at the 3rd Regional Partners' Meeting of GWP China on March 22, 2016.

Based on strong and legal base in China, GWP China will be able to organize the activities flexibly and also has larger free space in linking the national and international resources towards GWP goals and the SDGs in the future.