The celebration reviewed five decades of evolution and development of ASEAN. For fifty years, it has galvanized its position as one of the world's successful inter-governmental groupings. Various mechanisms have been established for political and security cooperation within the region, and between ASEAN and external partners.
These mechanisms have resulted in tangible outcomes for ASEAN, laying the foundation for economic and socio-cultural development. In efforts towards the realization of Vision 2025, ASEAN has made substantial progress. In the political-security pillar, further efforts have been undertaken in building a rules-based, people-oriented, and people-centered community. ASEAN has prioritized the maintenance of regional peace and stability through regional security architectures that it helped to establish. ASEAN remains proactive in enhancing cooperation and collaboration
At back-back thematic workshop after the anniversary, Prof YOU delivered achievements and lessons learnt of water management in China with other counterparts. The presentation consists of four elements, i.e. 'China's water resources & challenge', 'competitive water demand & changing in water resources management', 'the strictest water resources management system & its implementation' and 'development of water management'.
In his view, the Chinese government has settled objectives and measures of water resources governance. The first is 'index system' which refers to water drawing and consumption control at all levels; afterwards, the governance tools are optimized; and the most significant results include water right system, enforcement of regulations and balance of different water functions for domestic lives, industry and ecology.
'Although with remarkable achievements in water governance, we are still facing challenges and need to strengthen cooperation with colleagues from other ASEAN countries. Especially, the "One Belt One Road" initiative gives us more opportunities to share successful experiences in water resources management, and work out solutions for the challenges we confront generally', said Prof YOU by the end of his presentation during the workshop.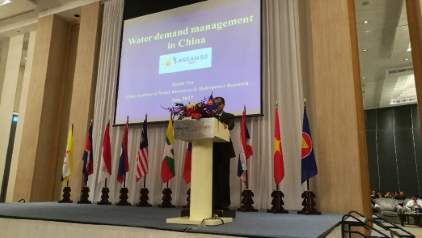 Prof YOU at the celebration event
According to 'Blueprint 2025', ASEAN has its plan to remain multi-sectoral and multi-stakeholder engagement platforms. Sub-regional organizations, academia, governmental organizations, non-governmental organizations, and civil society organizations, have all been engaged to generate buy-in and support for deepening the sense of ASEAN identity and for building and sustaining the ASEAN Community. Some of these engagement platforms highlight the inclusion of outstanding private sector members in the ASEAN Rural Development and Poverty Reduction Continued encouragement of children's voice and participation in the ASEAN Children's Forum, and partnership among tripartite partners and civil society in the ASEAN Forum on Migrant Labor are also regular activities under the ASCC. Concrete measures and initiatives are being ramped up to ensure a balance between development and sustainable environment. The ASEAN Strategic Plan of Action on the Environment (ASPEN) is being developed as a comprehensive guide for ASEAN cooperation on the environment until 2025.
Besides, the ASEAN Commission on the Promotion and Protection of the Rights of Women and Children(ACWC). ASEAN has also undertaken activities to enhance synergy between ASEAN Visions 2025 and the Sustainable Development Goals (SDGs).