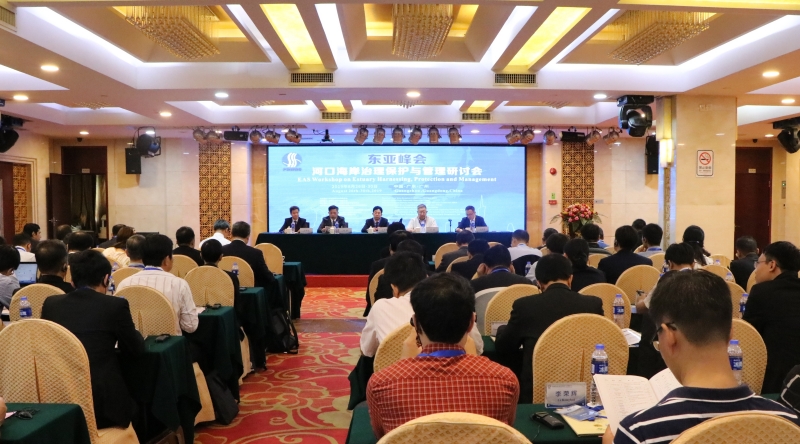 EAS on Estuaries Managment & Development
The East Asia Summit is a pan-Asian forum held annually by the leaders of 18 countries. Membership, in 2005, was initially all 10 members of South-East Asian Nations (ASEAN) plus China, Japan, South Korea, India, Australia, and New Zealand, further expanded to include the United States and Russia at the 6th EAS in 2011.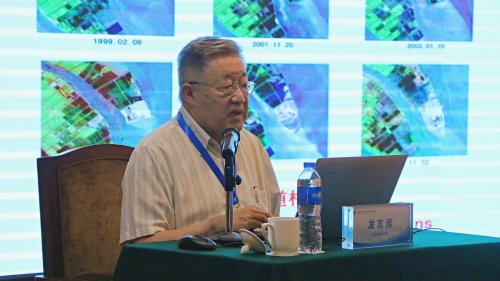 Hao WANG, Standing Vice-Chair of GWP China
Sharing his research outputs
Standing Vice-Chair of GWP China, Hao WANG, opened a critical map of the Pearl River to audiences in his academic lecture delivering risks and opportunities in the water management of river basin and estuary under the simultaneous circumstances.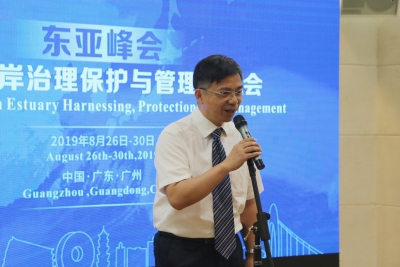 Hai JIN, Head of the International Eco-Tech Cooperation & Exchange Center, MWR
Addressing the Opening Ceremony
"Countries under the EAS framework are bonded by water. Sharing natural resources is responsible for ting partnerships and implementation of 'the Belt and Road Initiative'. Under the East Asia Summit mechanism, stakeholders are open to the strategic dialogues and gamut cooperation from natural resources to social-economic management. Exchanges in the estuary governance provide a bigger incentive to promote the sustainable development of estuary regions. The thriving process works as the major ingredient of achieving the UN 2030 Sustainable Development Agenda and the ASEAN Community Vision 2025", said Hai JIN, deputy director-general of the International Economic and Technical Cooperation and Exchange Center of the Ministry of Water Resources of China (MWR), in his opening remark on behalf of the water authority. Water primacy was espoused by his counterpart from the Ministry of Foreign Affairs of China, Xiaohui MA.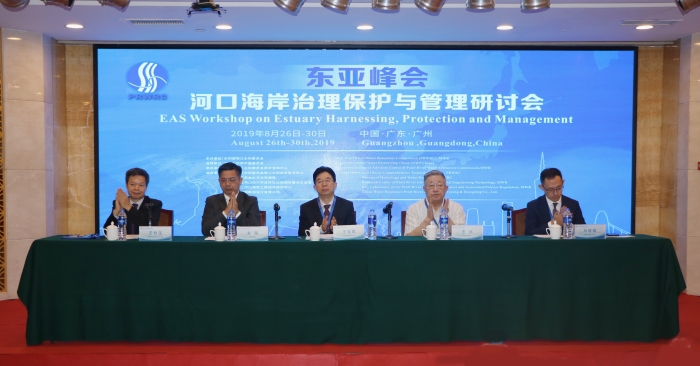 Qiusheng WANG, Hai JIN, Bao'en WANG, Hao WANG, Xiaohui MA
(left-right)
The Pearl River came into existence probably in 618 AD owing to a huge boulder in the riverbed, round and smooth as a grand pearl with sheen. Entitled "the Ocean Pearl", people believe that this river has been under the shelter regarding water security and sustainability. The long-life water flows for about 65.43 km2 with annual freshwater at around 520 billion m3. From the Yunnan-Guizhou Plateau to the South Sea, it runs across 8 provinces/autonomous regions, e.g. Yunnan, Guizhou, Guangxi, Guangdong, Hunan, Jiangxi, Fujian and Hainan, and the Hong Kong and Macao Special Administrative Regions.
"Pearl River Estuary is facing challenges as all regular large rivers, and risks like most coastal regions", said Bao'en WANG, Commissioner of the Pearl River Water Resources Commission of the Ministry of Water Resources. The commissioner emphasized, "we are wrestling with the most complicated problems. However, partnerships help us mobilize resources to push for climate resilience, water management and interregional processes in river governance. To its credit, GWP has conceived in multiple-stakeholder partnership, water-secure, sustainable and resilient development. Undisputedly, knowledge sharing is a motive making our way into mutual understanding and provoking collaborations between member countries in the pan-Asia."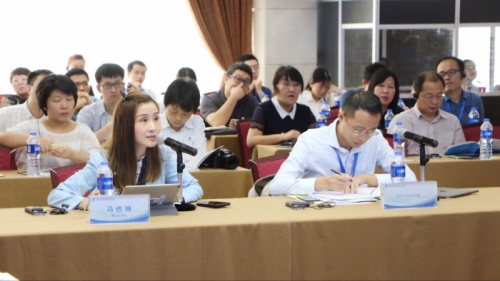 Yilin MA, regional communications officer, GWP China
Facilitating thematic session
The Pearl River Delta, a highly urbanized basin (urban ratio reportedly at 83% ), is responsible for the water consumption of over 200 million residents, agriculture, ecosystem, industry and navigation. These human actions and natural deterioration have taken a toll on this Delta such as typhoons, tsunamis, water pollutions, salt-tides, wastewater, riverbed erosions, subsiding, topographies, demographic risks and resource depletion topping the list of concerns. Island countries and regions in East Asia have grappled with common issues for years, bearing in mind that they bond with each other and share vast shorelines and numerous estuaries. These coastal states have fertile experiences in climate adaptation, disasters control, water security, engineering solutions to coastal erosion and ecosystem prevention.
In what can encourage representatives to gang up, the event is served with the prospect of omnidirectional exchanges and collaborations in water management, utilitarian innovations, estuary governance and disaster control that are liable to pursue social-economic development of coastal zones, eco and environmental resilience, and regional security in Asia.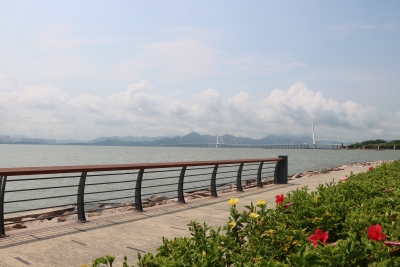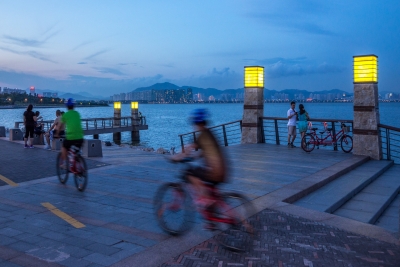 Shenzhen Bay

IWRM on river basin came into existence around 2 decades ago after PRWRC introduced the principle and implemented with partners to build pilots and catalyse positive changes in water governance. These developments drive systematic improvements in infrastructures, management skills, demonstration activities and water services. 'Super-Dam Coastal Landscape Zone' and 'Shenzhen Bay' is a good case in point. After thematic sessions, delegates were invited to visit the said pilots, correspondingly located in Guangzhou, the capital city of Guangdong Province and Shenzhen municipal, a major city in Guangdong Province and China's first 'Special Economic Zone' at the global level.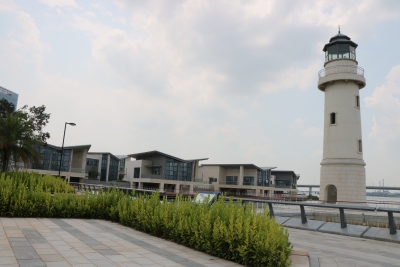 Super-Dam Coastal Landscape Zone in Nanshan District of Guangzhou is a classic water demonstration project liable to the development of Guangdong-Hong Kong-Macao Greater Bay Area (GBA). The pilot is 3 km in length and 60-130 m in width after the construction from 2014 to 2018. Containing a top-class levee, it introduces three advanced technologies including 'cascade wave dissipation platform', 'wave-resistance and vegetative ecological revetment' and 'ecological wave dissipation to the levee bottom with mudflat and intertidal sections'. These innovations alleviate the disaster control burden due to typhoons or tsunamis and conceive ecological space for plankton and aquatic plants.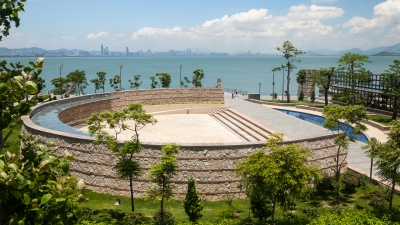 Shenzhen Bay (called "Back Bay" in Hong Kong) and its "Tech-Eco Park" illustrate the best water-friendly outcome. Bridging north of Hong Kong and south of Guangdong Province, the island project is under the joint governance of Shenzhen municipal authority and Hong Kong Special Administration Region, covering 90 km² with 17 km in depth and 6 km in width. On the Pearl River Estuary, the demonstration is situated in a semi-enclosed and shallow inner bay as a result of narrow outside and wide inside. Serving flood discharge, shipping, ecology and landscape, it has an array of management measures ranging from coastal pollution control, banks resilience, coast forming to beach-land ecosystem development.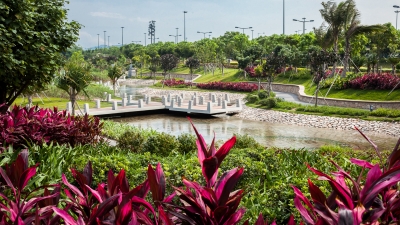 The utilitarian design of "Shenzhen Bay Tech-Eco Park" was launched strengthening public awareness of water, an icon of fluidity and connectivity. Sustainable spirit is embodied in detail comprising 'water gateway' as the park front-door, 'cloud terrace' for dining and entertainment, 'mountain terrace' for reflection, 'conceptual landscape' for outdoor social activities and 'river-deck promenade' as a hub linking all districts. It convenes business and tech giants such as Tencent, Alibaba, Huawei, Dell, Samsung, IBM, Philips, Epson, Thomson and Olympus.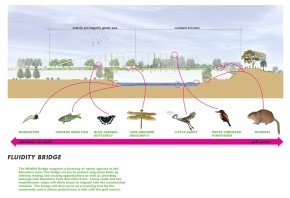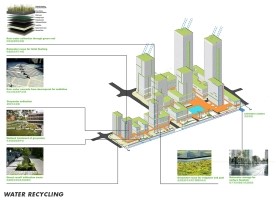 This nature-based project reflects water values in diversity made from rainwater, reuse water and stormwater. Stemming from locally existing physical features such as coastline, mountains, wetlands and habitats, designers demonstrate a blindingly harmonious relationship between human and nature. Besides water, they also capitalize on passive cooling, reuse-watering gardens, native plantings and wind harvesting for catering to multiple demands of residents and enhancing ecological sustainability as well. To its credit, Shenzhen is entitled 'the world-class innovative and livable ecological place'.
photos by Shasha CHEN, PRWRC