Prof Jiang drew visitors the view of 'contemporary progress of water digitization in China', 'pain-points in the progress', and 'involvement of the private sector in the smart management of water resources'.

"Water informationization, over the last decade of development, has achieved a bunch of outcomes, completing a certain scale of informationization progress. At the national level, it has more than 300,000 monitoring stations; a group of information systems containing flood and drought control, water resource management, soil and water conservation, and new strategies for further development, 'the National Intelligent Water Plan'", he delivered a general picture of the situation.

Considering pain-points, he said, "there are some challenges and pain-points in the process of water digitization.
First, it must clarify the needs on the informationization. Literately, water digitalization involves diverse targets, ranging from governments to non-profit organizations, enterprises, planning sectors, research institutes, and public or individual users. Information development has been mainly driven by the priorities of authorities that require a limited quantity of the application's functions, contributing to the loss of other groups or the neglect of functions. We should categorize various clients to meet their demands.

Second, it requests for more database and update of systems. Sufficient information is the fundamental support to find out existing problems, as well as to achieve accurate identification of the further development and rational decision-making. Yet, some gaps must bridge. For instance, half of the middle and small-scaled rivers are not under the water monitoring system. More than 90 percent of small reservoirs and dykes are still waiting for the security system that can monitor stream flow and sediment but fail to contribute to river governance and programme management that relies on human resources. The old-fashioned systems and instruments are weak in efficient investment, accuracy and effective management, expecting for a breakthrough and innovative technologies or devices in this regard.

Third, sharing information should involve multiple sectors. Among different professions, levels, sectors and industries, data and information exchanges have to improve, particularly aiming at smart water management.

Fourth, it needs to employ smart applications. In such a conventional industry as water, insiders are used to traditional skills and reluctant to new products. High-tech, referring to big data, artificial intelligence or virtual reality, rarely accesses to this sector, far behind the target of being smart. We are expecting more investments and various collaborations between related sectors."

Regarding the optimization in the relevant policies and regulations, Prof Jiang said that the government issued 'Water Tech Standardization System' containing 352 types of data and information. "After the first version of 2011, we should revise it to include areas regarding efficiency, unification, forcibility, scientization and openness.
The private sector, Huawei for instance, a High-tech giant, must realize the significant role of tech development in the protection for water, the source of lives, limited and vulnerable. Entrepreneurs should have passion for the water infrastructure that has an enormous market chance. Alliances with the water sector provide enterprises a reasonable and profound knowledge of the complexity of water management even the history of water governance is over two thousand years. Investment in water is a part of public services that only leave long-term benefits of the private sector without speculative space."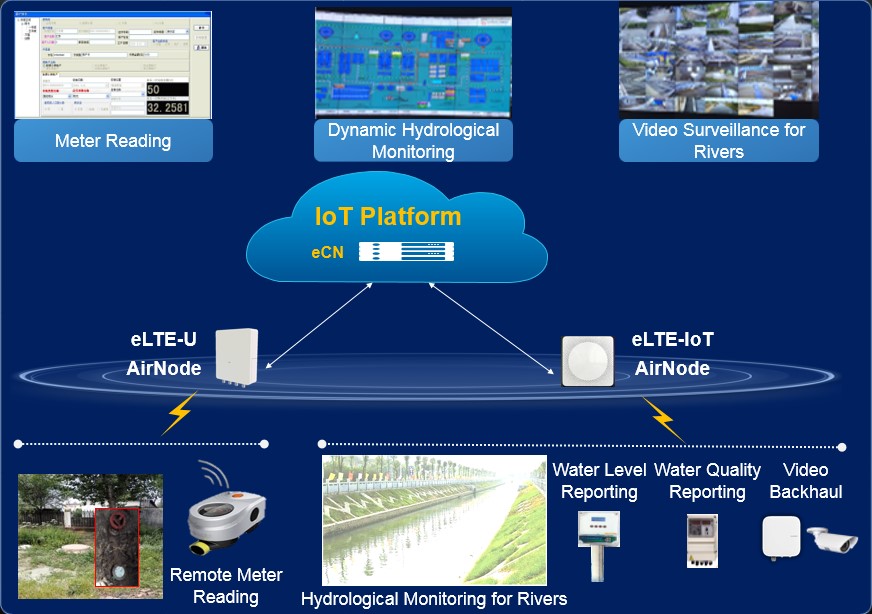 Huawei eLTE Smart Water Solution
"Concerning the operation of the smart water system, I recommend the government purchasing services a professional team to process daily maintenance as the decision makers should have critical information instead of tactics or skills of developing information", Prof Jiang said. In his view, an optimal model is fundamental to the sustainable development of smart water. He added an example, "the customer-oriented and hard-working company plays a reliable role in the decision-making. Huawei leads the telecommunication market that is competitive in network, human resources, timely response capabilities, cross-industrial management, and corporate culture. Its initiative programme of Shenzhen Smart Water is an excellent case. Huawei engagement on water development can play its tech powers in the public service. Cooperation with the water sector enables the performance to be more user-friendly and effective. "

"Shenzhen programme is an attractive story," Prof Jiang concluded, "the 'Water ChangeMaker Awards' of the Global Water Partnership is a great platform to share Huawei product with international stakeholders."
(cover photo from Huawei)