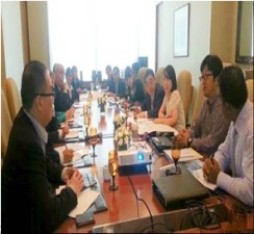 Collaboration Meeting with Korean Water Forum
GWP-SEA further actions to the global event started with joining in Korean Water Forum.
GWP–SEA Steering Committee met Korea Water Forum in Discovery Suite, Manila,on 12 March 2013, to receive a briefing regarding the program of the 7th World Water Forum which will be held in Daegu-Gyeongbuk, Republic of Korea in 2015, and discuss possible areas for playing roles in this important global event.
GWP Chair, Ms. Ursula Schaefer Preuss and the Chair of GWP TEC, Dr. Muhammed Ait Kadi, attended the meeting shortly.