The meeting had the accompany of leading team of GWP China and the head of significant partner organizations, including Prof Hao Wang, Standing Vice Chair of GWP China; Mdm. Qiuchi Shi, Deputy Director General of Ministry of Water Resources and Global Steering Committee Member of GWP; Dr. Yong Zhong, Secretary General of the Lancang-Mekong Water Resources Cooperation Center; Prof Yunzhong Jiang, Secretary General of GWP China; Ms. Doris Zhang, Finance Officer of GWP China; Mdm. Juan WU, Head of Administration of IWHR and Ms. Yilin MA, Communications Officer of GWP China.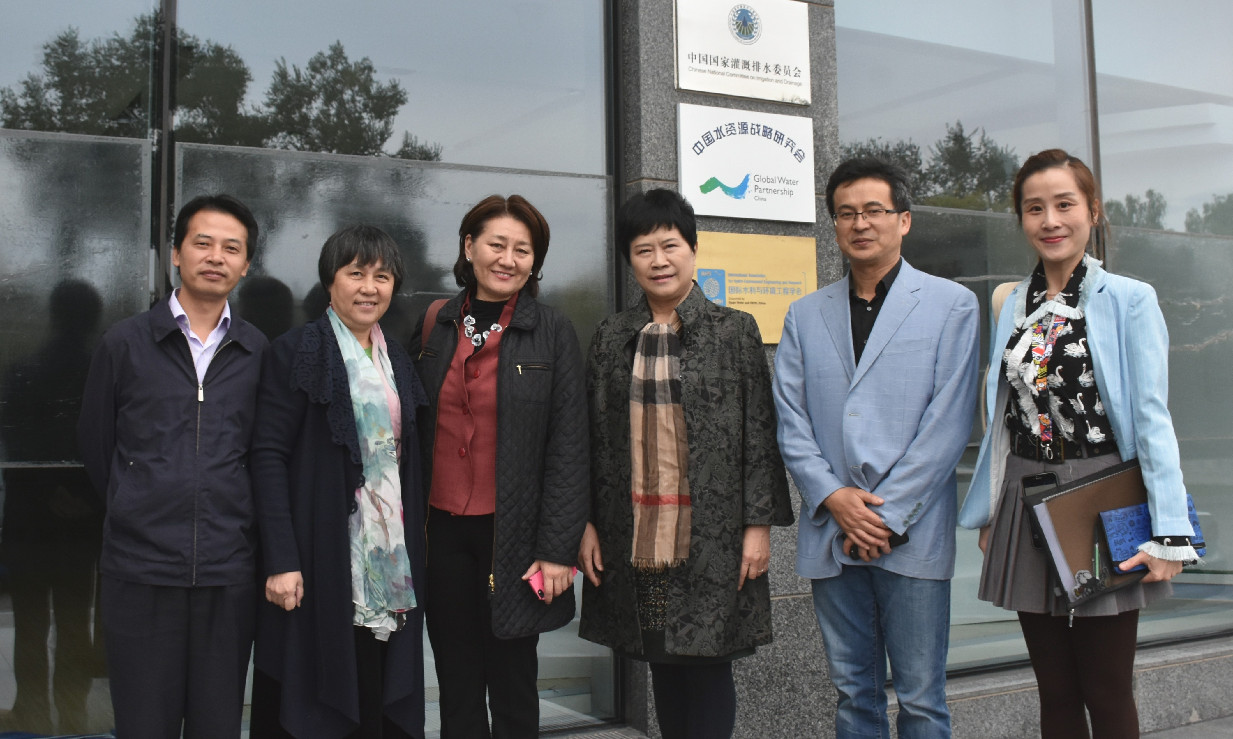 (left-right: Yunzhong Jiang, Qiuchi Shi, Oyun Sanjaasuren, Qihua Cai, Yong Zhong, & Yilin MA)
The conversation between two female chairs reached the consensus on many issues. The network health and sustainability are the most concerned, and both ladies agreed that GWP should carve a niche as an intergovern-mental agency and create a secure position of the IWRM power. Dr. Oyun decided that the Integrated Water Re-sources Management (IWRM) must be at the heart of the Global Water Partnership (GWP) and all its programs. Even IWRM has been widely used, the leading role of GWP in this regard appears gradually weak. The following strategy should keep the view to evolving IWRM, and the GWP's programs, practices, publications, and media will become an authoritative statement on this root. The consistency in the strategy and goals could be vital to the institutional growth and network development. Both sides also achieved that IWRM would advance with accept-ing climate, agriculture, ecosystem, the Nexus, etc. The organization should act as the chief knowledge holder of IWRM and make it aligned with as expansive challenges as global climate change, water security, SDG, etc.
According to Mdm Cai, the further progress will emphasize on IWRM, and it should implement through a proposed book, an award, and a forum. The book reflects the annual development of promoting IWRM and related practical lessons at the national level. The conference convenes stakeholders annually to raise the leader position of GWP and improve implementation of IWRM at all levels. At the forum, an IWRM award expresses appreciation to individuals or groups for their outstanding contribution to the IWRM promotion globally. Dr. Oyun delivered her gratitude to Mdm Cai and China regional team for the concrete suggestions to the further development of GWP network.
The lady chairs achieved the best agreement on the institutional building for the first-time communication. The conversation arrived at effective network planning, revolution, and improvement. It's also expected from GWP China to contribute more to the strategy designing of GWP organization after 2020.