The internal capacity building workshop was chaired by Prof Yunzhong JIANG, Secretary General of GWP China, with three objectives:
To review workout of 2016 and plan of 2017 in accordance with "GWP Change Agenda" ;
To help all CWPs finalize self-evaluation reports;
To enhance planning and reporting ability of CWPs in line with GWPO's requirements.
Based upon "Change Agenda", GWP China Regional Secretariat brought the latest organization development strategy of GWPO, i.e. institutional development, network with decision makers, climate and other related issues financing capacity, etc. The Coordinator of each Provincial/River Basin WP introduced their lessons and challenges in this regard.
Owing to varied conditions of water resource and policy backgrounds, each CWP has its particular achievements and tailor-made ways forward.

In Fujian Province, GWP China Fujian remained cooperation with Fujian Provincial Department of Water to implement "three-redline regulations" . In 2016, they also worked with related authorities to draft out activity plan to promote "river chief system" at provincial level.
The "River Chief System" was issued by China Central Committee and the State Council by the end of 2016. According to the System, the governors, mayors and county heads at all levels are responsible for their beats. River chiefs will be in charge of the management and protection of the watercourses. Under the system, each head of province, city, country and township is the general chief that takes charge of all rivers and lakes in his/her administrative region. The obligation of river chief refers to resource protection, shoreline management and protection, water pollution prevention and control, water environment management, ecological restoration and law enforcement monitoring.
Till 2022, GWP China Fujian will collaborate with Provincial Department of Water, Environment Protection and Urban-rural Development for "the Intelligent River Programme". The Programme is goint to embrace all rivers and lakes in Fujian as a result of setting up advanced information platform with an overall digital monitoring system.

In Hebei, the investigation of Jing(Beijing)-Jin(Tianjin)-Ji(Hebei) was conducted in 2016 and the research outputs were recommended to Hebei Central Government. In May last year, GWP China Hebei upgraded its leader team through an open election at Provincial Partners' Meeting. Looking ahead to 2017, the investigation would still emphasize on Jing-Jin-Ji. "GWP China Hebei should modify its research framework to add more information of municipalities of Beijing and Tianjin as the former report tilted towards Hebei Province only. Otherwise, the result would be attended to one place and lose another two cities", as Prof Jiang suggested.

While most partnerships had a smooth operation in 2016, the situation of GWP China Shaanxi was challenged by its institutional problem and gap of new generation of leadership of Shaanxi Provincial WP. It was agreed that GWP China Shaanxi should put institutional construction into the prior position.

GWP China Yellow River promoted collaboration of different river basin provinces for an integrated management of Yellow River. It brought a concept of ecological protection of river source areas into the management system of Yellow River Basin in 2016. Furthermore, GWP China Yellow River facilitated the Yellow River Conservancy Commission (YRCC) to set up cross-strait relationship through frequent technical and cultural communications regarding river basin management. In 2017, they have some progress targets, i.e. 'promoting cross-strait communication', 'raising public awareness of water and sediment' as well as 'developing a programme of integrated governance of river estuaries'. The expected outcome of this programme is an applicable strategy of integrated governance of river estuaries.

GWP China Hunan, together with GWP China, completed its study on water use in primitive terraced field. GWP China Secretariat, afterwards, helped them to draft out a case study based upon research achievement. The case was submitted to the Toolbox and shared with the world in 2016. In 2017, they will work on Dongting Lake Protection. In addition, they will organize knowledge training in rural areas. It is aiming at local officials and residents, helpiing them to understand and implement water pollution policies and regulations.

After the report of each CWP, Prof Jiang summarized progress achievements of 2016 and made some comments on the plan of 2017. First, GWP China Fujian should raise 'the Intelligent River Programme' from provincial to country or regional level. Second, GWP China Shaanxi and Hunan are facing the challenge of turnover and team management. The most important issue for two CWPs is to strengthen institutional construction and GWP China shall spare no effort to support all partnerships. Third, he suggested GWP China Yellow River combining two activities in 2017. Finally, considering the media trend, he encouraged each partnership to utilize varied media platforms, aggrandize influence of GWP China and Provincial/River Basin WPs and interact with the public freely.

As in the second part of the workshop, Mr. Zheng reviewed and commented on self-evaluation reports of CWPs. It's requested to revise report and improve quality of data according to the requirement of GWPO.

For a better knowledge and skill of developing strategy, annual plan and outcome report, GWP China Secretariat design a deliberate presentation to explain those files according to the templates and guidelines of GWPO. The annual plan and report of GWP are much different from the conventional ones. Framework, content, evaluation and budget should keep a line with its expected "outcome" and "impact". The definition of "outcome" is always debated. Due to a huge discrepancy, the outcome report and plan would be more concentrated on a well-round refinement of the definition, formation and outcome indicators, laying foundation of extracting advancements and efficacious contents. The presentation was shared with all partnerships after the training.

After the meeting, the Departments of Water and Environment Protection of Erhai invited GWP China Secretariats to inspect local reservation pilots of pollutant-holding wetlands, sewage disposal system of countryside and PPP model of waste water treatment in rural and urban areas.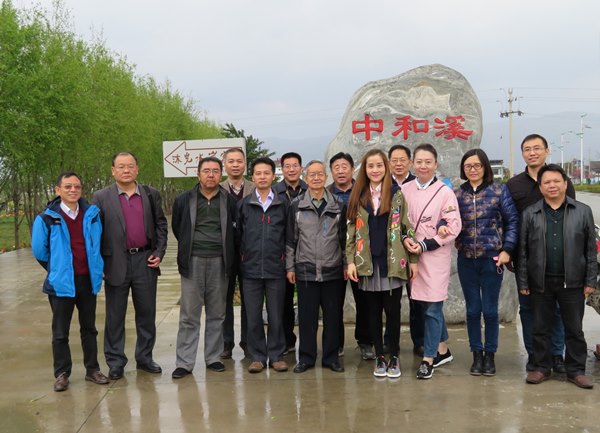 (Group photo of GWP China Secretariat Staff at Regional, Provincial and River Basin Levels)