On April 26, 2018, the Water Salon on "Fresh Impetus of SDG 6/7/2 for the Water-Energy-Food Nexus" was held in Beijing. As the initiators, GWP China, World Resources Institute (WRI) and Energy Foundation (EF) allied the SDGs regarding water, energy and agriculture, and set up a free place for governments, academic institutes, NGOs, corporations and media to share educational outcomes and practical tactics.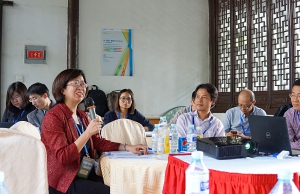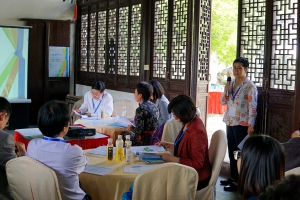 Prof JIinxia Wang Prof Yunzhong Jiang Dr. Lailai Li
Peking University GWP China WRI China
Challenges reflect that social-economic growth has raised demand for food and energy production, and eventually generated high stress on water resources. Restricted water would hardly sustain any more massive production of food and energy. It expected a set of solutions that consist of modules, technologies, governance skills for the challenges to SDGs regarding the water-energy-food nexus upon realities.
Water Salon was settled in an ethnic building where convened experts and practitioners from Energy Foundation, IUCN, WWF, China Institute of Water Resources and Hydropower Research, Peking University, Renmin University, Tongji University, China Water Power Press, Power Construction Corporation of China and Qiaonyu Foundation.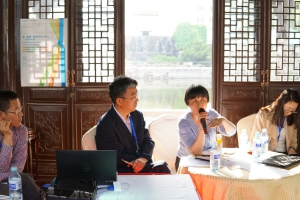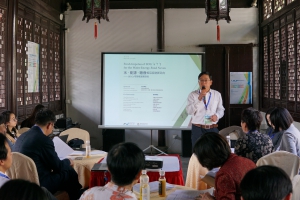 Prof. Dajun Shen Ms.Qiuchi Shi Mr. Zhongfeng Li
Renmin University MWR CWPP
Chaired by Yunzhong Jiang, Regional Coordinator of GWP China and Lailai Li, Chief Representative of WRI China, a small group of the invited shared various academic achievements and practical experiences. As a senior to water protection, policy development, ecosystem conservation and restoration, Qiuchi Shi stressed the theme to be adaptive to local status. She said, "The analysis on the water-energy-food nexus should differ from one region to another upon various realism. The last expected outcomes would be overgeneralized or unrealistic measures or tools." "Natural conservation is a substance to break down cities and regions", according to Yufeng Young, Honorary Researcher of Imperial College London & Expert of Energy Policy of Asian Development Bank, "bilateral interaction is decisive to the study of water-energy-food nexus modelling."
Jointly developing water knowledge productions with GWP China, the China Water Power Press (CWPP) sustained a strong backing to our events. As Zhongfeng Li, CWPP Vice President emphasised, "top priority to a knowledge advocator is getting 'the most state-of-the-art information' which appears a great opportunity and challenge to us. Water Salon is a brilliant stage to originate pioneering sense that would benefit all stakeholders." Knowledge invention was also stressed by Yan Zhang, Head of Programmes of IUCN. "IUCN has involved in ecology and wetland prevention. They are affected by water, energy and food development. In return, an ecologic function is also crucial to the nexus of water-energy-food. Ideally, it would achieve a matching point that aids pilot areas. Unfortunately, it has barely such case studies to learn." It's echoed when he proposed developing more cases striking a balance between water, energy and food.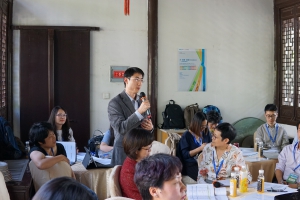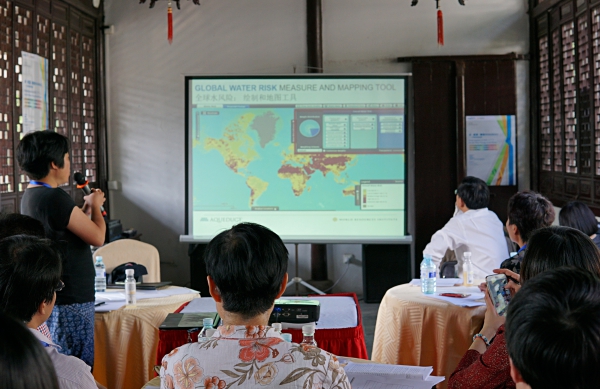 Prof.Chao Zhang, Tongji University Dr.Jiao Wang, WRI China
Regarding the social and economic values, Jinxia Wang, Professor of Advanced Agricultural Sciences, Peking University, reflected some cases that impeded water-energy-food nexus and further development. Her experiences and practices proved how difficult the government would be able to carry on policies at the local level. "A trade-off between individual farmers, local departments and enterprises are overwhelming crucial which depends on the coordinative mechanism and an interest balance among stakeholders", said Prof Wang. On behalf of the private sector, Fang Dong, Senior Supervisor of Legal and Risk Control Department, Power Construction Corporation of China, held that PPP Module refers to sufficient leverage in the coordination of individuals, authorities and corporations.
Lijin Zhong, Special Assistant to President of Energy Foundation, created a harmonious and free atmosphere for the guests engaging in open discussions. Regarding 'water', 'energy' and 'food', Dajun Shen from Renmin University, Chao Zhang from Tongji University and Jianxin Mu from IWHR, shared their updated attainments. Their standpoint presented that 'water-energy-food nexus should be a common language for the related sectors'; 'inland nuclear power plants might occur risks to water if we would promote a large scale of the concentrated solar power (CSP) in northwest regions'; 'most research modules have barely conducted historical trends and seasonal variations'.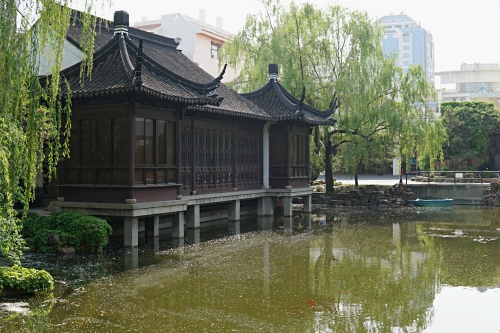 Ping Yuan Hall, East Lake Villas
Water Salon Venue

According to Lailai Li, water-energy-food nexus reflects the unbalanced water distributions, which requires joint efforts and integrated management. In the final comments, Yunzhong Jiang summed up highlights of discussions. He underlined some priorities for a better nexus, including 'a guideline of water saving', ' a spatial structure of water, energy and food', and 'a government-led, market-oriented and public-participated management system'. More highlights and creative inputs would be collected into the "Water Salon Insights" afterwards.