The youth-theme showcase, launched on August 29 during the 2019 WWW, was facilitated by Julienne Roux, Senior Specialist of GWP and Minh Nguyen, Youth Project Designer of ADB. Julienne, on behalf of GWP, illustrated a strategically global map of the institutional implementation on the youth theme. And her counterpart, Minh from ADB delivered a runaway success of youth engagement in water development and management in Asia. GWP China released a good case in point such as 'Summer School of Junior Water Professional', 'Promotion of Junior Water Prize' and 'River Chief Training & Volunteering Campaigns'.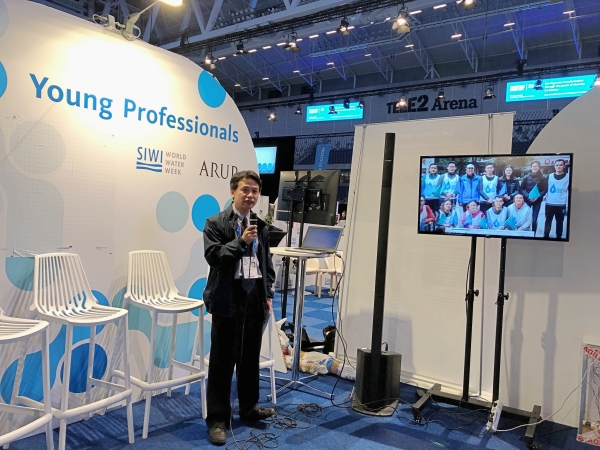 Yunzhong Jiang on 'Youth Participating in Water Security'
Coming after the five-minute video presenting the said stories, Yunzhong Jiang, regional coordinator of GWP China, brought audiences ensemble inputs from partner organizations such as the China Institute of Water Resources and Hydropower Research (IWHR), China Water Education Center of Ministry of Water Resources, China Water and Power Press (CWPP), Shenzhen Municipal Youth Association, and National Water Museum of China on this theme. Feedbacking 'what is the unique role of young people in achieving water security?', Yunzhong said, "Water and other natural sciences, conventionally, have emphasized on historical records and old school experiences. Traditional rules and tools were once an overwhelming feature in the water governance and relevant policymaking, but their functions have been dwindling in recent years. Fragile performance in water prevention has killed off the reputation of the old-style water management system after extreme disasters and climate change impacts brought conservators to knees. It comes just as new theories, sci-tech and younger generations arrive when extra complicated challenges are looming. While promoting innovations and updating management skills, we should welcome young professionals who are more adapted to fresh ideas and advanced technologies into the preserve of decision-makers".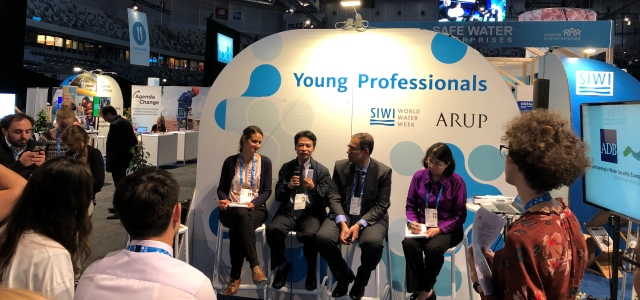 Julienne Roux, Yunzhong JIANG, Vijay Padmanabhan, Minh Nguyen
(left-right on panel)

Under the WWW's theme, "Water for society - Including all", GWP collected filmed comments from visitors on the "Voices of Water". A host of 115 videos demonstrated the public attention on water issues in a variety ranging from "freshwater is our right", "support indigenous peoples' right to water", to "water is everybody's business and should be for all to access and use." Alongside the coworking campaigns of GWP and ADB, other regional partnerships alike organized youth-oriented events, such as 'Intergenerational dialogue at World Water Week explores youth engagement in water governance' by the GWP CEE.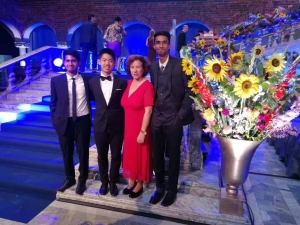 Teenager representative, Bole PAN, inscribed his name on the Junior Water Prize. He shared his team workout with international adult visitors and peers. Experts from GWP and the Ministry of Water Resources and the Ministry of Ecology-Environment of China formed a top backup group alongside Bole in Stockholm, Sweden where hosted the World Water Week.