The Junior Water Prize (JWP) Final was supported by GWP, GWP China, China Institute of Water Resources and Hydropower Research, the Ministry of Water Resources, the Ministry of Ecology & Environment, the Ministry of Education, Xylem and SIWI. Opening ceremony was addressed by Wenfeng Zhou from the Ministry of Water Resources; Jiazhen He from the Ministry of Ecology & Environment; and Shuping Lv from Xylem (China).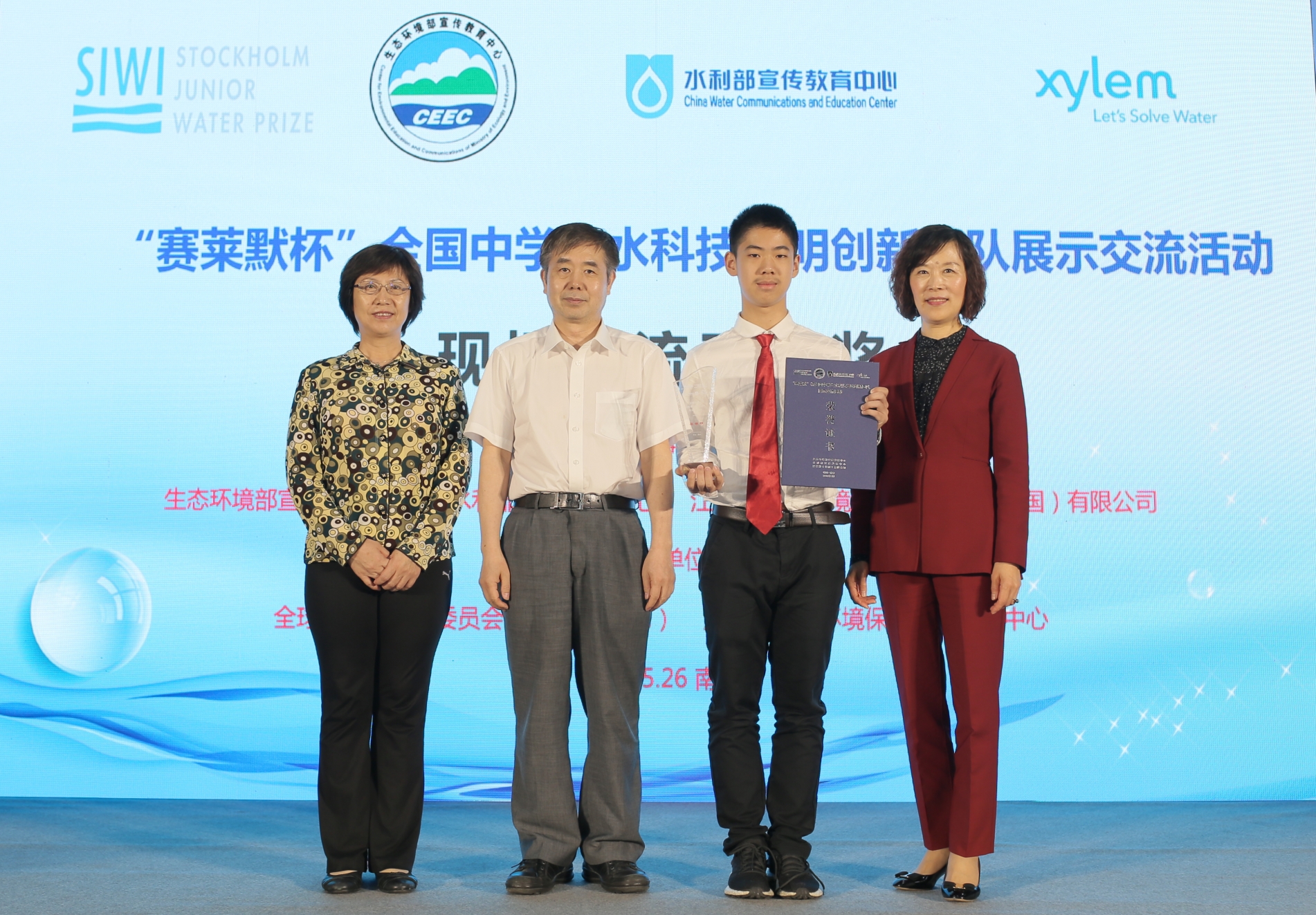 (left-right) Wenfeng Zhou, Jiazhen He, Bole Pan & Shuping Lv
It is the 17th cycle of JWP at the national layer which combines social innovation workshops, with mentorship, materials and equipping young people with entrepreneurship skills. Innovative non-formal learning opportunities, both in and out of schools, can help provide 21st-century competencies for gaining adequate employment. Annual JWP convenes young talents representing 100+ schools around the country that are committed to supporting the campaign and to encouraging students to involve in the innovation and technology application for sustainable water development.
JWP is the top-ranking water-related academic award that provides opportunities for adolescent girls and boys to participate in processes and decisions that affect them is one of the most effective ways to build their skills and confidence, and to improve their ability to communicate with others. Participation in social, economic, political and cultural debates not only contributes to civic engagement, but it also enhances adolescents' ability to hold governments and other duty bearers to account. Adolescents can provide unique and invaluable contributions to their families, communities and broader society and must get supports in doing so. Engagement of younger generations in water development is one of GWP's vows at global, regional and national levels. Regional offices have frequent exchanges on methods and intelligent resources. Missions in common between GWP China and Central-East Europe (GWP CEE) in this regard arrive interregional collaboration that brings Danka Thalmeinerova, former regional coordinator of GWP CEE, to join in the Jury in China. Danka is rich in experiences of guiding the students on the international junior water-related awards in the European countries. Thanks to the GWP efficient network, she can invest those resources in other regions and benefit Chinese adolescences.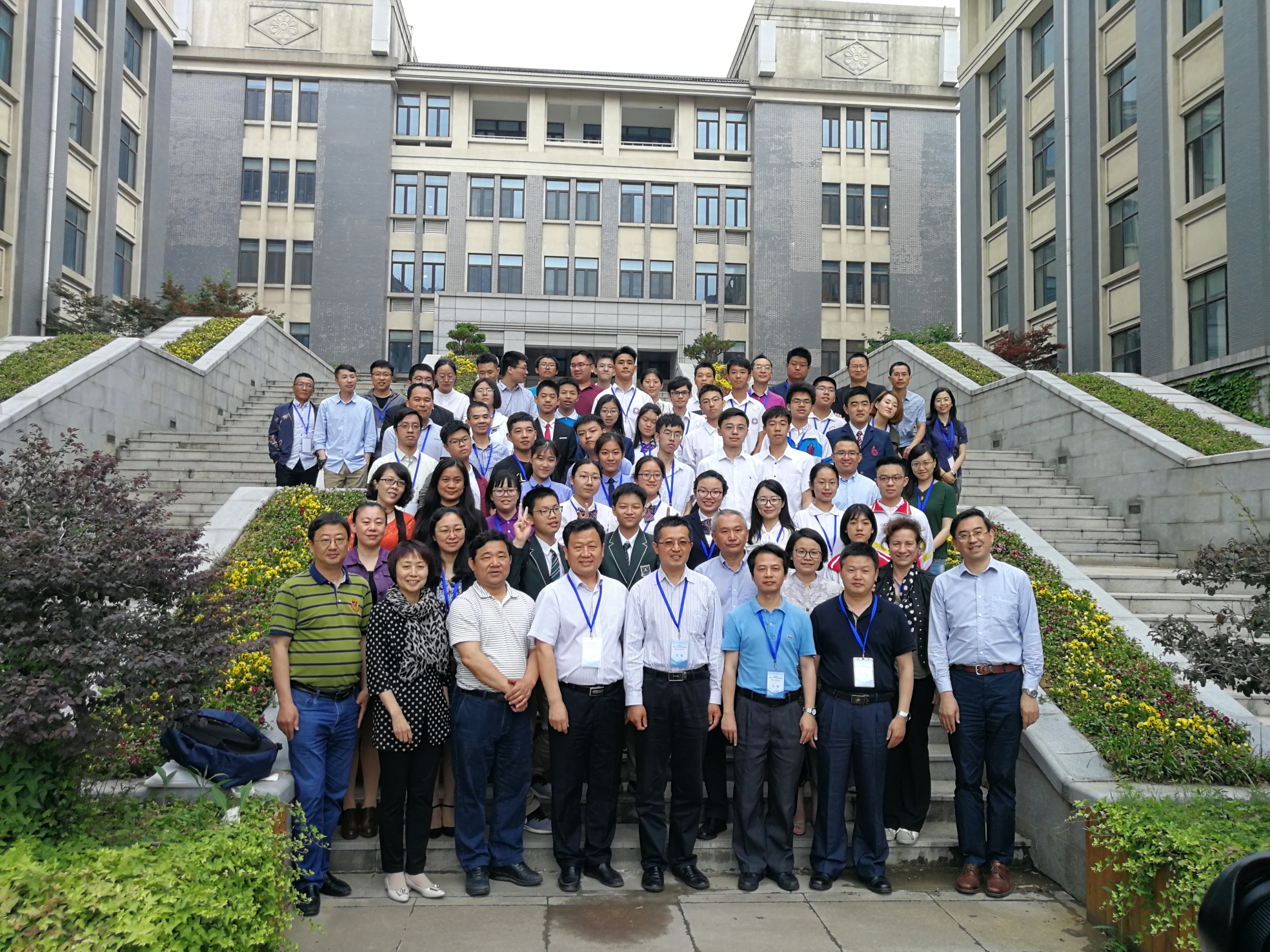 Jury & Candidate Students of JWP
As a Jury member of JWP Final in China, Danka was impressed by remarkable progress in education and interest of young Chinese generation in water issues. While recalling the event, she said: "The Junior Water Prize is not just a single competition, but a long-term commitment of many young talented students and their teachers. Presentations show innovations were surprisingly very close to applications—usually, it takes a lot of time from the idea to the results. For example, there was a group of students that engaged hundreds of their friends to use a bicycle close to the local Lotus Lake – by pedalling (and sporting), the energy could be transformed to pump the water from the lake to a purification station. Besides, biker would reach a selected energy goal and win a lotus seed."
Including Danka, the Jury has widespread professional experts and practitioners, including Yunzhong Jiang, regional coordinator of GWP China; Jing Peng, vice president of the China Institute of Water Resources and Hydropower Research (IWHR); Zhenxu Zhu, Deputy Director of Public Participation Dept. of the Ministry of Ecology & Environment; Lening Ma, R&D Manager of Xylem; Mingquan Yan, Professor of Peking University; and etc.
"Innovations and projects made me fully aware that 'youth is to be regarded with respect'. It's convinced their knowledge and skills in science will extend quite beyond the senior", said Yunzhong Jiang who was surprised and content to witness immense talents of youngsters. Ziping Shao added: "There was a teacher of over 70 years old from Shanghai still active in tutoring students." Ziping has engaged in the youth capacity building in water development for many years with the Ministry of Water Resources. She was grateful for the full contribution of Jury experts and touched by students, their schools and parents who have committed to this pursuit for over a decade. She said: "Even some students would meet the biggest challenge of 'General College Entrance Examination' in two weeks, they still kept enthusiasm on this campaign, so were the schools and parents. We cannot do any workouts without public contributions and engagements." Her counterpart, Zhiqiang Jiao with the Ministry of Ecology & Environment, stressed that JWP has a history of 17 years in China. "Prosperity and reputation of this campaign occur in solid supports from schools and teenagers. Jointly with related organizations, we have set up a platform to youngsters engaging in water and environment development via their talents and innovations", said Zhiqiang Jiao.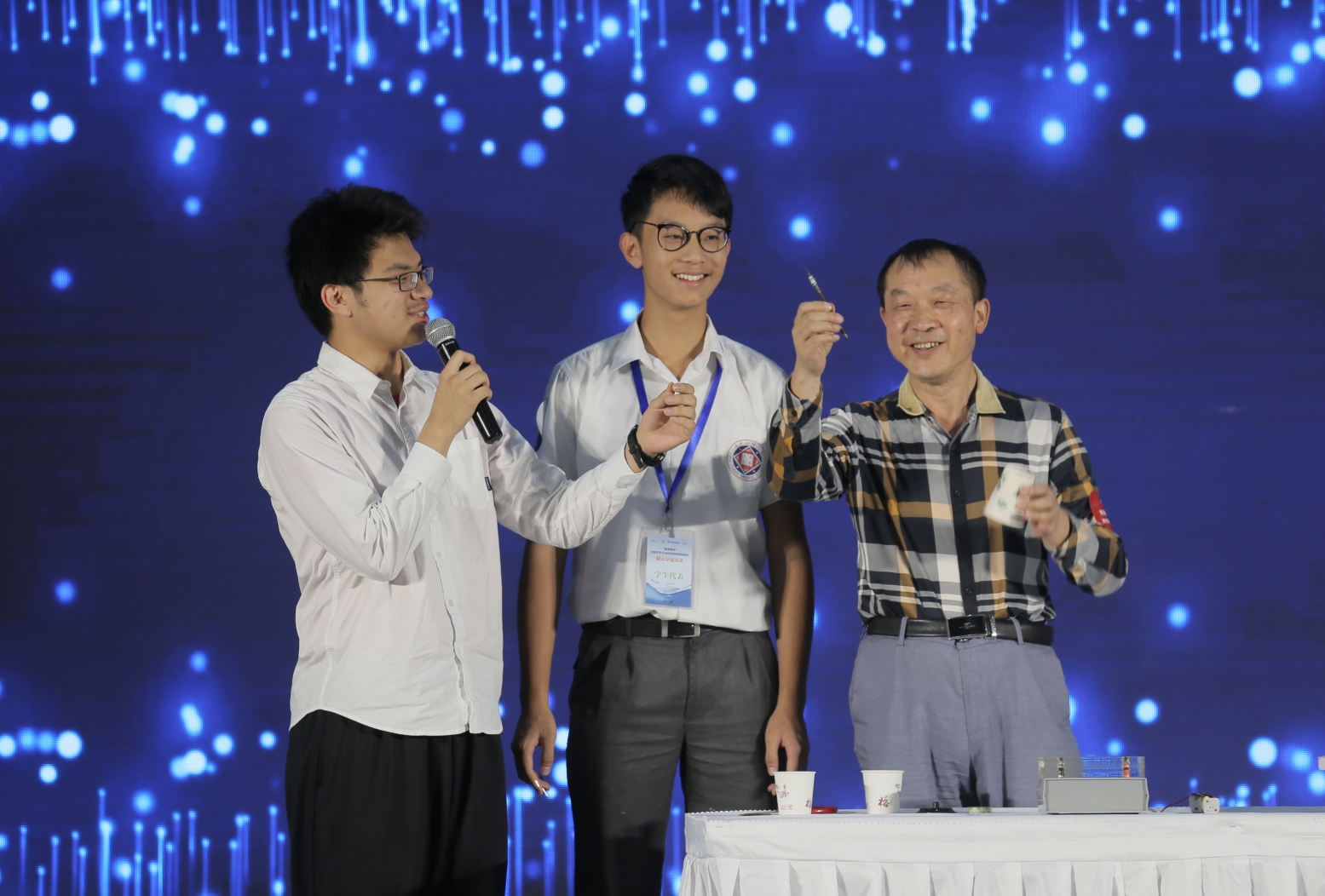 Young Talents with Their Innovation
Candidate students varied in setups and focus, and their projects were wide-ranging from laboratory tests, proposals to strengthen monitoring systems, to concrete IT based applications but all united in their expedition to create a more water wise world. Those varieties pushed and challenged the Jury. Jing Peng, water professional in practice and coaching with IWHR, said: "The toughest was to vote for the final ranking as each student presented us a unique gift. Different strengths in stage performance, innovation, technology application, and communication occurred in their diversities on competencies, backgrounds and disciplines, too hard to tell the best."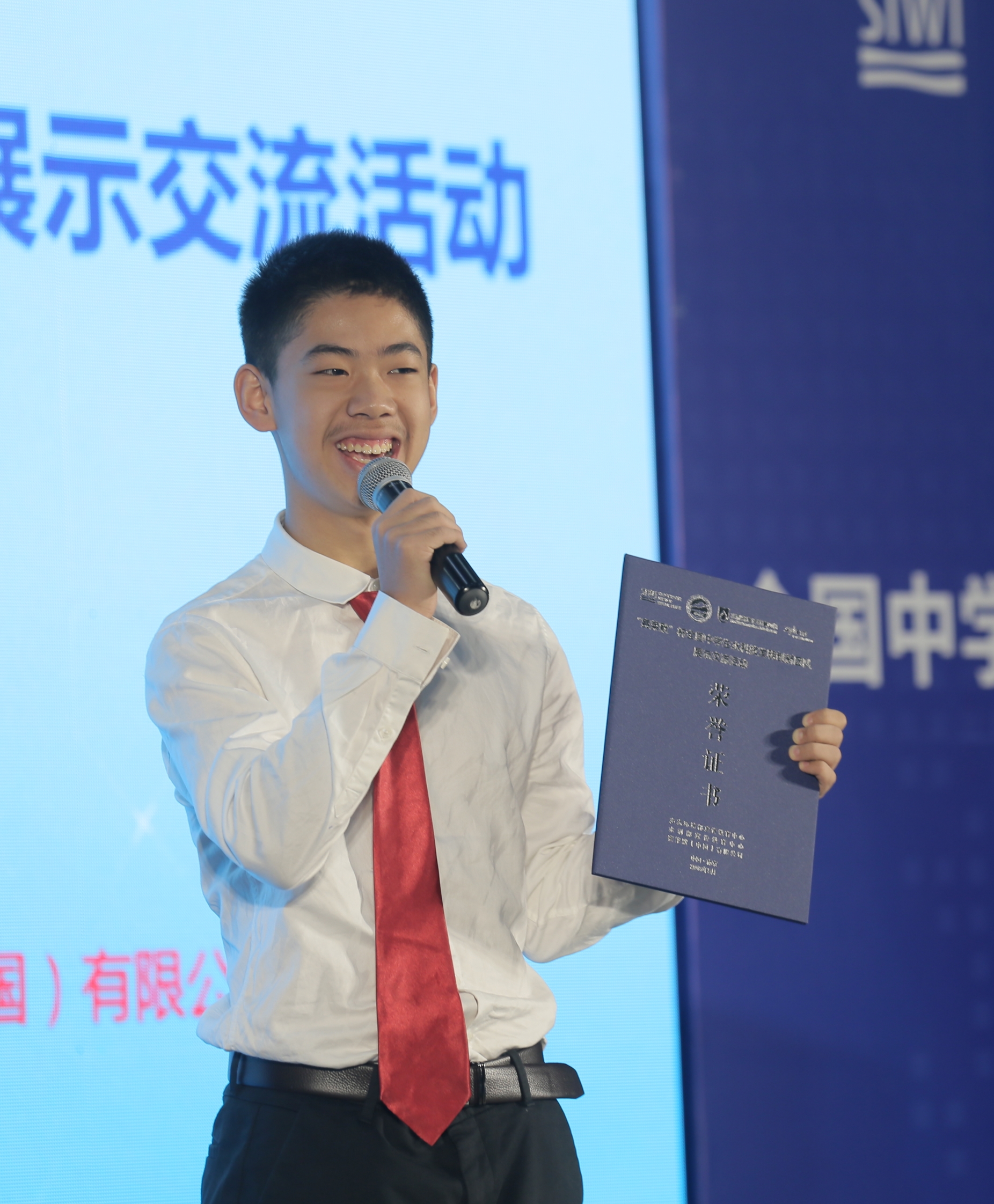 Bole Pan
Bole Pan, a 16 years-old student from Guangdong Province, will represent China at the international final held during the World Water Week in Stockholm. Together with his teammates, Bole breakthroughs conventional technologies of seawater desalinization that mobilizes solar power as a power source for Hybrid Capacitive Deionization (HCDI) without secondary pollution or high energy consumption. His invention can upgrade existing tools of seawater desalination and improve water quality and quantity, particularly in arid coastal and island regions worldwide. When asked what motive behind his participation, Bole said: "JWP provides me with a communication space with top water-related professionals and specialists who are the best tutors to help me improve this project. Freshwater on the planet is too rare. I hope it can be used for this challenge, contributing to a sustainable water world for all."
Blessed by his peers from Beijing, Shanghai, Macau, Guizhou Province, Hubei Province, Shandong Province and Hebei Province at the final event, Bole will join the 23rd annual competition of JWP of the World Water Week in Sweden. By late August 2019, Bole will convene with other national junior representatives from 35 countries, including: Argentina, Australia, Bangladesh, Belarus, Brazil, Canada, Chile, China, Cyprus, Denmark, Ecuador, France, Germany, Hungary, Israel, Italy, Japan, Latvia, Malaysia, Mexico, the Netherlands, Nigeria, Norway, Republic of Korea, Russian Federation, Singapore, South Africa, Spain, Sweden, Switzerland, Thailand, Turkey, Ukraine, United Kingdom and United States.
Every year, thousands of students between the ages of 15 and 20 passionate about water and the environment in 30-40 countries gather Stockholm in the summer season. They bring their projects to cover a variety of water-related topics, from strict scientific and technology-oriented innovations to ideas of a more political and social nature. GWP in some regions, including the Central and Eastern Europe, Central America, Southern America, Africa, the Mediterranean and China, has played a critical role in facilitating the youth engagement in water development and management. At the global, regional and national layers, we promote the multiple-stakeholders partnership and youth/women facilitations. GWP remains a high reputation of setting up an international, neutral and water professional platform for any interest groups at each level. It enables us to bridge gaps, explore networks and coordinate relationships that arrives a multi-sectorial consensus on joint contribution to the junior water innovation programme, and to support youngsters to be competitive on the international stage and more active in the global water community.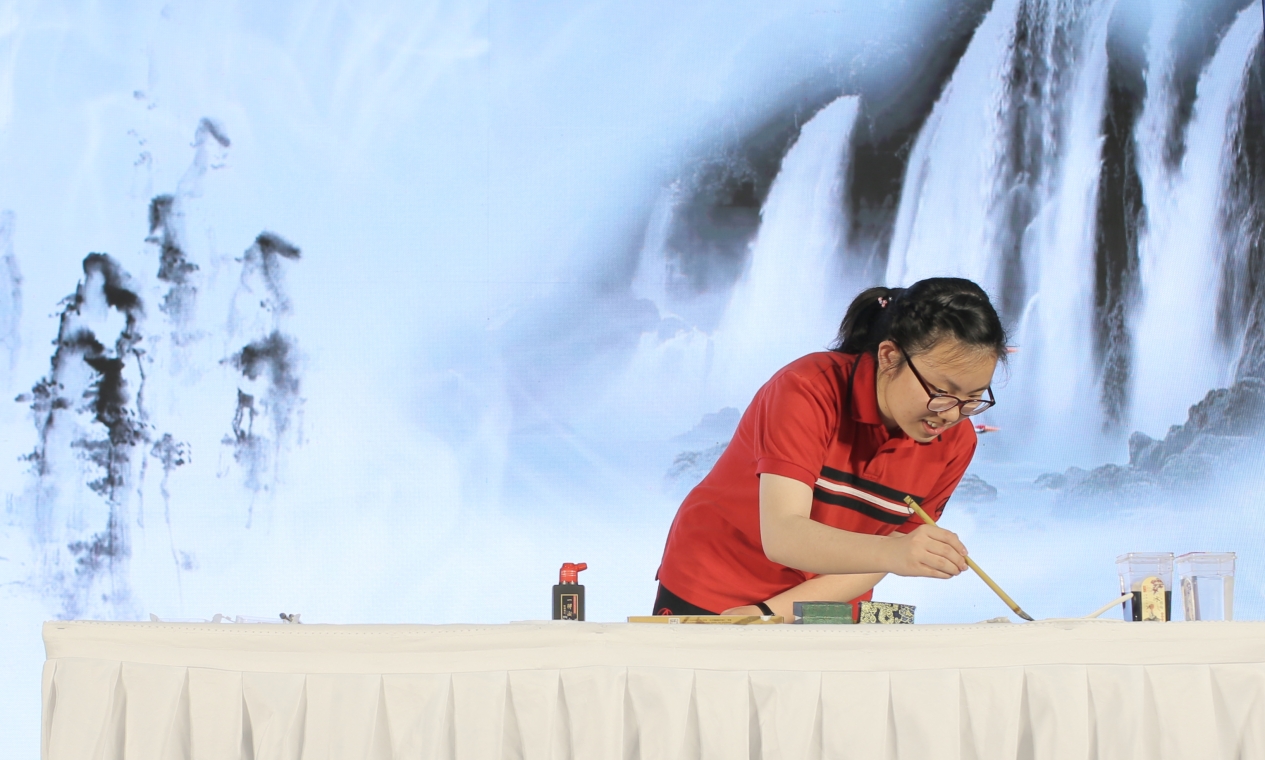 Youth Love on Water via Science & Art
(cover photo: final junior competitors from Beijing, Shanghai, Macau, Guizhou, Hubei, Shandong and Hebei)