World Water Day, on 22 March every year, is about focusing attention on the importance of water. The theme for World Water Day 2018 is 'Nature for Water' – exploring nature-based solutions to the water challenges we face in the 21st century.
The statistics state that 2.1 billion people live without safe drinking water at home; affecting their health, education and livelihoods. Committing the world to ensuring safe water for everyone 2030, SDG6 can convene all stakeholders to contribute to a target on protecting natural resources and reducing pollution as this goal covers the entire water cycle and cuts across social, economic and environmental dimensions of sustainable development. SDG6 is also essential for meeting other goals on food, energy, biodiversity, etc.
#ActOnGoal6 is one of the global campaigns of GWP network, GWP China Region, jointly with other twelve Regions in Europe, South Asia, Southeast Asia, Latin America and Africa, has dedicated to the promotion and implementation of SDGs at the national level. The most repetitive outcome is facilitating member countries on their reports to UN agencies on Indicator 6.5.1 integrated water resources management (IWRM). IWRM is a tool to enable states to provide a dialogue between the sectors that are dependent on water, and when water is scarce, this can lead to conflicts, and IWRM is a tool to resolve such disputes.
IWRM plays a critical role in water governance, security of the environment, food, energy and ecosystem, as well as social & economic progress in a sustainable manner. China issued 'the Most Stringent Water Management System' in 2011. According to the System, water management is not an obligation to a single authority or some particular groups any longer. Instead, it would affect economic growth, environmental protection and food security. Thus, it calls for coordination among all stakeholders for implementing the System and improving legal systems to facilitate implementation at each level. SDG6 is supportive for governments to review pros & cons and create/ optimise mechanisms for coordination among various sectors.
GWP China, relying on its academic partner, World Resources Institute (WRI), has been active in promoting SDG6 at national and regional levels for collaboration or full participation of management institutions/team. Further large-scale constructions would not ease water risks, we emphasise on improving management capability and efficiency. Practices of 'the Most Stringent Water Management System' reflect benefits of optimising governance proficiency that embodies in the latest release analysis report of WRI with GWP China's help on data and information. Dr. Jiao WANG, Senior Digital Data Expert of WRI, summarized as "the System is the most effective upon its impact on water efficiency and pollution control. On average, annual water consumption decreased to 1.6 billion m3 in 2015 compared to 5.1 billion m3 before 2010." (as Figure 1)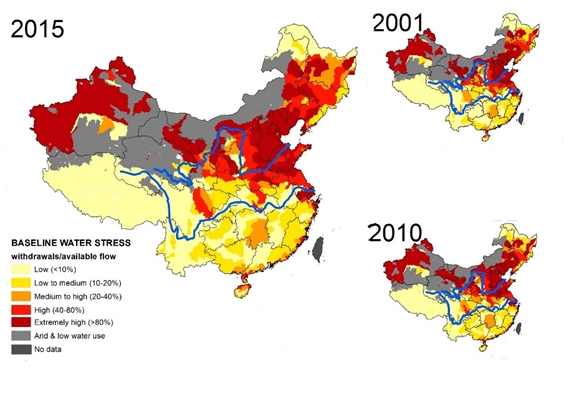 Figure 1
Dr Wang is leading the Aqueduct Mapping Water Risk Programme in China. This programme reflects water stress baselines in different countries/regions regarding various conditions, e.g. growth of population, economic development, agricultural plan, etc. "It's rational that water stress of China in 2015 increased by 0.2% compared to that in 2010 by 2%, and for five years (2010-2015), the national population augmented by 41 million", said Dr WANG.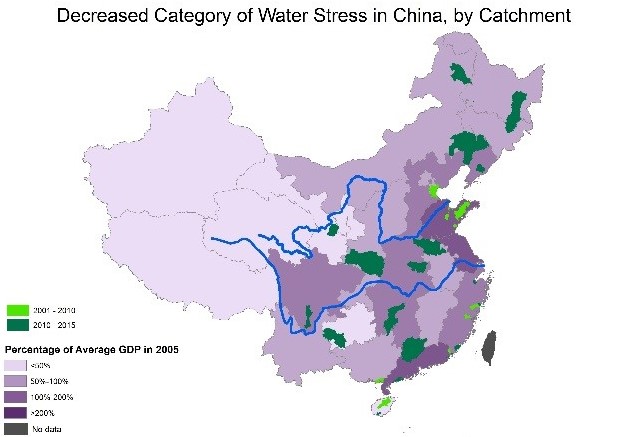 Figure 2
On her report, the efficient governance methods can relieve the pressure of a part of catchments (Figure 2 in green) along the Yellow River, and also improve water efficiency in agricultural (Figure 3), domestic (Figure 4) and industrial (Figure 5) sectors. Data & figures are quoted from the analysis report of Dr. Jiao Wang with WRI, more can be obtained here.



Figure 3 Figure 4 Figure 5
On 22 March 2018, GWP China, with GWPO and partners, kicked off #ActOnSDG6 campaign that targets at facilitating stakeholders via our multiple stakeholder partnerships which can speed up the coordinated action when is needed.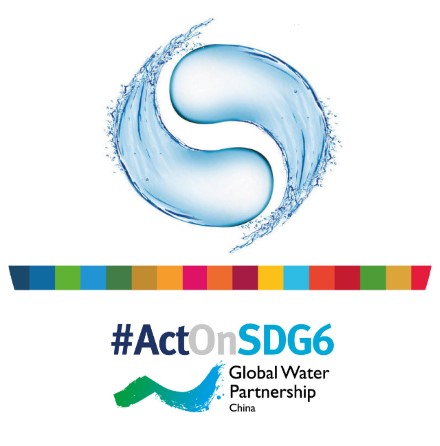 While celebrating the World Water Day and raising "Nature for Water", we are calling for your attention as well as other decision-makers' to water management actions which refer to integration across sectors and further investments in water for a healthy and sustainable natural environment. GWP's multi-stakeholder partnerships can speed up the coordinated action that is needed.