Held in Gabon from the 29th of October to 02nd of November 2018 under the theme "Toward Achieving Water Security and Safely Managed Sanitation for Africa", the 7th edition of the African Water Week brought together hundreds of delegates, including some thirty Ministers from countries across the continent from all over the world, to support the achievement of Goal 6 of the Sustainable Development Goals (SDG6), which calls for the ensuring of safe drinking water access and sanitation for all.
As a platform for mobilizing the various stakeholders to discuss and seek collective solutions to water resources and sanitation problems in Africa, the African Water Week represents the highest level of political commitment in the water sector in Africa, and is addressed to governments, regional institutions, international partners, the private sector, the scientific community, the civil society and the media.
All the 5 regions of GWP Africa were represented and actively participated in the nine sub-sessions of the week. They were led by Mr. ROSS Hamilton, President of the GWP network, whose presence demonstrated the importance of Africa and AMCOW for the entire GWP network.
Represented by its Regional Coordinator, Mr. Hycinth BANSEKA, the GWP-CAf Secretariat actively participated in various sessions, particularly those on "The Contextual Analysis of Sanitation in Gabon: Opportunities and Perspectives (in relation to the SDGs)" organized by the Ministry of Water and Energy of Gabon and "Water security, infrastructure, investment and innovation". Speaking at the microphone of journalists, Mr. BANSEKA, recalled that one of GWP's priorities for the 7th edition is to support governments and partners in project preparation to facilitate investments in water and sanitation infrastructures that are resilient to climate change. He said: "The NEXUS (Water-Energy-Food) approach optimizes investments in water value chains and will be at the heart of the Africa Water Investment Program (AIP) initiative under development for African countries.".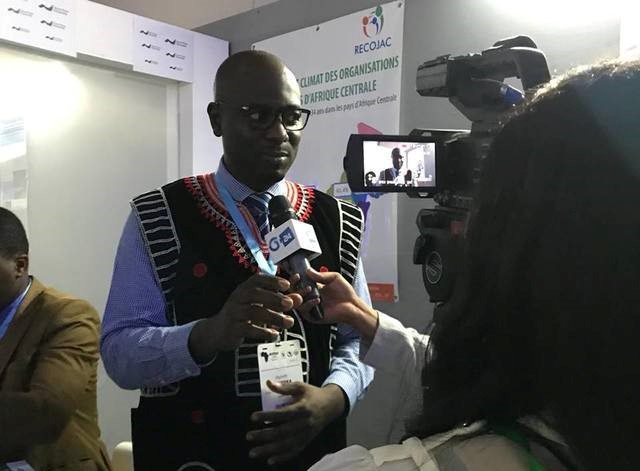 Mr. BANSEKA speaking to journalists
As part of AMCOW's commitment to promote the achievement of the African Water Vision 2025, as well as the global sustainable development goals related to water security and sanitation (SDGs, Agenda 2030), and to concretize on the way forward for the realization of the African Union Agenda 2063, the African Water Week is organized every two years by the African Ministers' Council on Water (AMCOW), in collaboration with the African Union Commission and development partners.