The workshop which brought together private and public structures in charge of plastic waste collection and recycling, civil society organizations, and government institutions is in line with a Source-to-Sea (S2S) project initiative that GWP-Cameroon is working towards developing for the city of Douala, to be implemented by the urban city council. The workshop marked the beginning of open discussions on the prospects of developing a project on waste management and plastic pollution control in Douala which will reduce plastic pollution on the hydrographic network and the coastal water courses.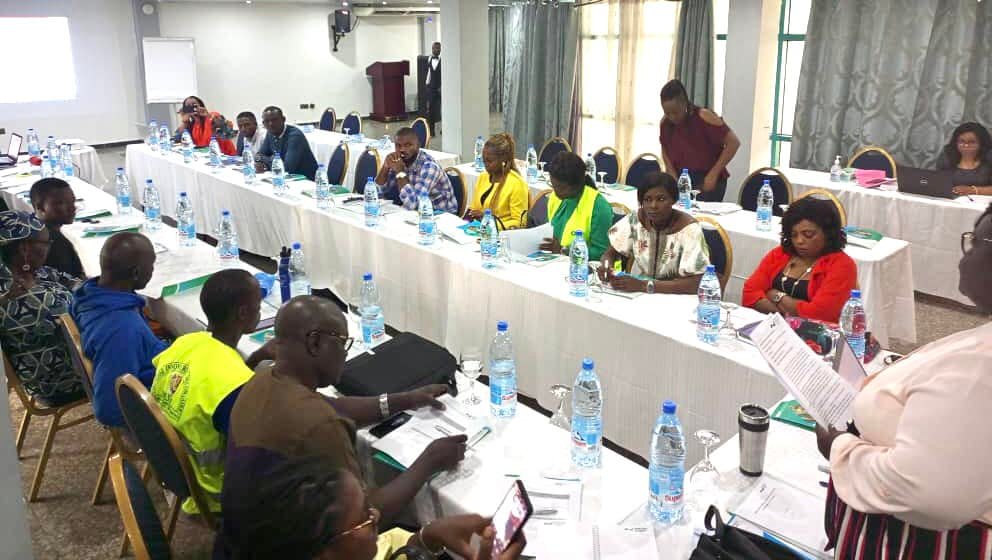 Speaking at the opening ceremony, the representative of the Douala 5 council and steering committee member of GWP -Cameroon, Madam Mbocksi Jacqueline said, "the fight against plastic waste which is partly responsible for the increased urban flooding of the city and the plastic pollution of the Wouri watershed requires the joint effort of all stakeholders". An affirmation that was applauded by stakeholders as they each presented their structures and how they're helping to combat plastic waste pollution in the city.
The participants were enlightened on the Source-to-Sea (S2S) Approach and how the potential project fits into the wider scope of the S2S Approach. Regarding the results of the two previous studies carried out by GWP-Cameroon, it was revealed that the Wouri, Dibamba, and Mungo watersheds were particularly affected by priority flows of pollutants and sediments. This is caused by the heavy economic activity of numerous industrial and agribusiness enterprises as well as sand mining, rapid urban development, and inadequate WASH systems in these sub-basins causing both social and environmental impacts. By also conducting a stakeholder analysis as well as the governance framework governing waste management, these studies highlighted challenges faced by stakeholders in the field of waste management and pollution control and proposed recommendations for concrete actions to be taken in the city of Douala.
To ensure the acknowledgment of women's role in the collection and recycling of plastic waste, the WACDEP-G program' was presented to participants by the program coordinator, Murielle Elouga. To demonstrate this, a participant, Mama Rose shared her experience as an individual collector of plastic waste in her neighborhood in Douala. She expressed the challenges faced notably, name calling and the theft of the collected waste – all of which will be taken into consideration under the gender aspect of the project to be developed.
After presentations, participants engaged in group discussions geared towards enriching the stakeholder analysis table and the governance framework on the laws related to waste management and the institutions/actors in charge of implementing these texts. They made contributions to complete the plan of action for the development of a project to combat plastic pollution in Douala and promised their support towards the effective implementation of the said project.