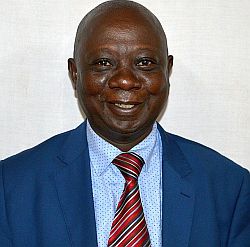 The new Chair of the Country Water Partnership in Central Africa Republic, Mr. YAKENDE Rodrigue Prosper, is an expert in Tropical Agriculture with over twenty-five (25) years of experience in the areas of agricultural policy development, research, disaster risk management. He is currently the Agricultural Affairs Officer at the Ministry of Agriculture and Rural Development in the Republic of Central Africa, and the national Focal Point for the Comprehensive Africa Agricultural Development Program (CAADP).
He is also having consultancy experience with the World bank, Food and Agricultural Organization (FAO), and other international and regional institutions. He was elected Chair of Central Africa Republic Country Water Partnership on the 18th of August 2017 in Bangui, during the annual Steering Committee meeting of the CWP.
He is married and a father of 4 children. Please join us to welcome the 2nd Chair of GWP Central Africa Republic, Mr. Rodrigue YAKENDE, into the GWP family.